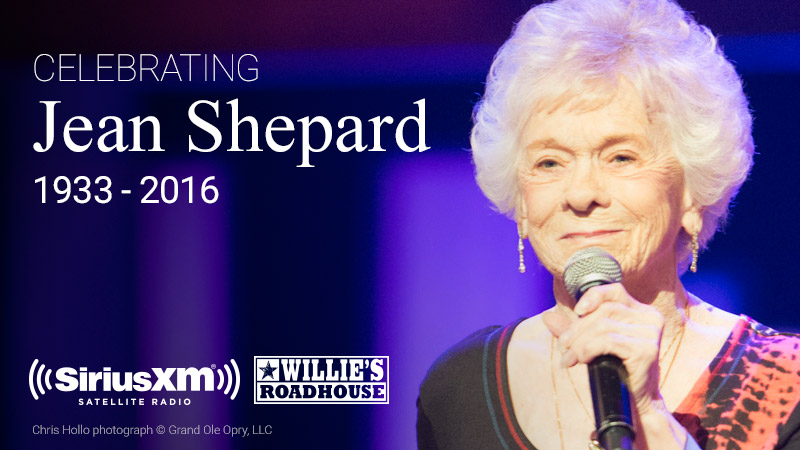 Country Music Hall of Fame member Jean Shepard, a legendary presence at the Grand Ole Opry, died on Sunday in Gallatin, Tenn. due to complications from Parkinson's and heart disease. She was 82.
Willie's Roadhouse (Ch. 59) will air a special celebrating Shepard's life on Friday, Sept. 30 at 1 p.m. ET. Dallas Wayne is hosting the one-hour preogram which features poignant conversations with her her longtime friends and fellow "Grand Ladies of the Grand Ole Opry" Jeannie Seely, Jan Howard and Jeanne Pruett, as well as Country Music Hall of Famer Bill Anderson and a conversation between Shepard and legendary DJ Bill Mack.
The show will also include some of her best loved hits and several performances from the stage of the Opry over the years, as well as her 2011 induction speech into the Country Music Hall of Fame, and will be rebroadcast on Oct. 1 at 10 a.m. ET and Oct. 2 at 8 p.m. ET.
Shepard was a pioneer for women in country music, recording 24 albums between 1956 and 1981 while releasing 73 singles on the Hot Country Songs chart. Her first major hit, A Dear John Letter, which was a duet with Ferlin Husky in 1953, was her lone single to top the country charts and also crossed over into the Top 10 on the pop charts. The song was also the first post-World War II record by a female country singer to sell more than a million copies.
Shepard became just the third woman to join the Opry in 1955, after Kitty Wells and Minnie Pearl, in 1956. Shepard's success as a solo act, as opposed to being a member of a family team or couple or a band's female singer, helped pave the way for future solo singers such as Loretta Lynn, Patsy Cline and others. She was inducted into the Country Music Hall of Fame in 2011. Shepard remained a member of the Opry for 60 consecutive years, a feat achieved by only one other person and retired from the stage on Nov. 21, 2015.
Country music singers called in to express their condolences and recount fond memories they had with Shepard.
"You think of Jean Shepard, and it's really kind of hard to be sad," said Bill Anderson, who was also a member of the Grand Ole Opry. "The first thing I do when I think of Jean Shepard usually is to start laughing because I remember some crazy funny thing she said or did throughout her life. She certainly brightened the corner where she was for all of those years."
"Jean was one of the nicest people that I can ever remember," Jeanne Pruett said. "There were times she'd go on one of her roadtrips and she'd let me come over and help her pack her clothes to take them with her. To tell you the truth, that's how I knew she had six pairs of nylon hose, because I helped her pack to go on the road that time. I told everybody I knew, that was the richest woman in Nashville Tennessee."
"I had this idea at some point for us to do Heartbreak Hotel, just go into a shakin' version of Heartbreak Hotel," Jeannie Seely recalled of a moment during an all-girl show of the Grand Ole Opry. "When I was talking about all of us shaking our shoulders and hips and everything, Shepard said, 'I can't do that, Seely.' And of course Shepard had outdone all of us."
"The first time I met her was at a disc jockey convention in Nashville," said Jan Howard, who had two of her records covered by Shepard. "We ran into Jean in the lobby. She said, 'Well, Howard, I'll get the money, because I'm on capsule.' I said, 'I know, but I got the glory.' (laughs) I liked that."
Shepard is survived by her husband Benny Birchfield, her sons Don Hawkins, Harold Hawkins II and Corey Birchfield, her two sisters, her two brothers, 25 grandchildren and five great-grandchildren.
For a free 30-day trial, check out http://www.siriusxm.com/freetrial/blog
---
---
---