Will Jane Fonda and Lily Tomlin bring '9 to 5' costar Dolly Parton on 'Grace & Frankie?'
Grace & Frankie … and Dolly? Longtime friends Jane Fonda and Lily Tomlin reunited on screen for Netflix's comedy about septuagenarian frenemies who learn their husbands are more than just law partners. Season 2 of Grace & Frankie is now … Continued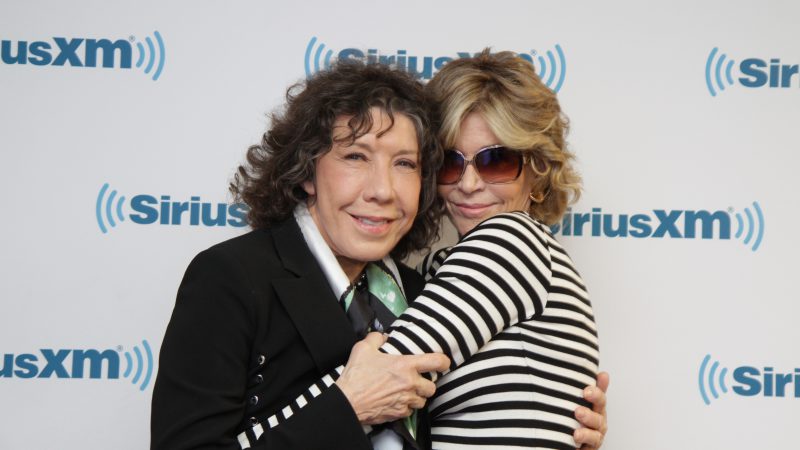 Grace & Frankie … and Dolly?
Longtime friends Jane Fonda and Lily Tomlin reunited on screen for Netflix's comedy about septuagenarian frenemies who learn their husbands are more than just law partners. Season 2 of Grace & Frankie is now available on Netflix, and the legendary actresses are already shooting new episodes. So during their EW Morning Live interview Friday, hosts Jessica Shaw and Dalton Ross asked if their 9 to 5 costar Dolly Parton could ever make a cameo.
"Never say never," Fonda demurred.
"Yeah, never say never," Tomlin said. "That's a good answer."
But everyone agreed the country icon's best role would be playing herself — so it sounds like Fonda's WASP-y Grace and Tomlin's hippie Frankie are headed to Dollywood.
Fonda, 78, also recalled the first time she met Tomlin, 76, after watching her one-woman show Appearing Nightly.
"Honestly I was just overwhelmed by her, and I was in the process of developing 9 to 5 the movie at that time, and after seeing Lily, I said to myself, I don't want to make a movie about secretaries without her being in it," Fonda said. "And then I turned on the radio and Dolly was singing and I thought, 'oh, Dolly, Lily and Jane!'"
Still, it took Fonda about a year to convince Tomlin to sign onto the 1980 film.
"I'm kind of peculiar about comedy, I mean I was really at that time," she said. "There were jokes in 9 to 5 that I just didn't like. They did stay in, and they worked OK."
Which line did Tomlin not love? Listen to the full interview below to find out.
Grace & Frankie is available on Netflix. EW Morning Live airs weekdays from 8-10 am ET on SiriusXM Entertainment Weekly Radio (Ch. 105).
---
---
---