Who are the hottest 2017 Draft prospects?
Let's take a look at some of the players with the highest stock as move ever-closer to the big day in late April.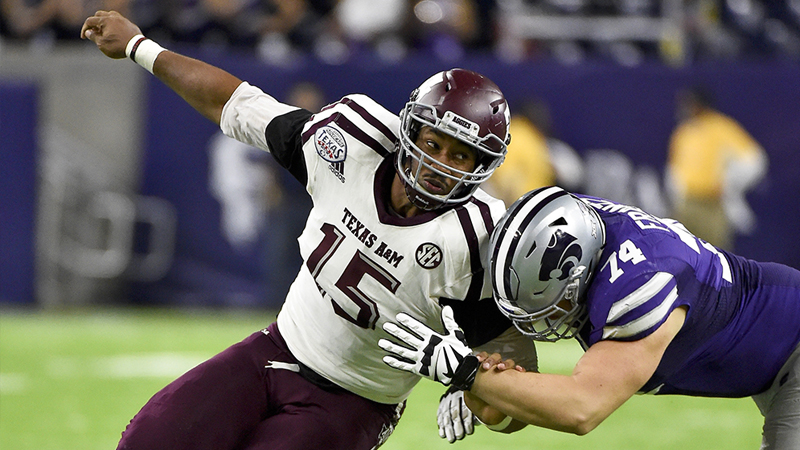 Texas A&M defensive lineman Myles Garrett (15) tries to get around Kansas State offensive lineman Scott Frantz during the second half of the Texas Bowl NCAA college football game, Wednesday, Dec. 28, 2016, in Houston. Kansas State won the game, 33-28. (AP Photo/Eric Christian Smith)
The college football season has concluded, and for many of its top talent, the transition now begins to the NFL Draft. Let's take a look at some of the players with the highest stock as move ever-closer to the big day in late April.
Deshaun Watson, QB, Clemson
No surprise here. Though Deshaun Watson had a rough start to his final college season, he couldn't have ended it better than with a game-winning touchdown with literally one second left to play. Not only is Watson an amazing talent on the field, he also managed to earn a college degree in three years. Sounds like a guy you'd want to build a franchise around, right?
Bonus: He can see into the future.
Jalen Tabor, CB, Florida State
Florida State standout Jalen Tabor is known for his aggressive play on the field, closing in on balls and creating interceptions on a regular basis. He's also known for his unwavering confidence. Back in July, he told SiriusXM Sports that he could shut down NFL star wide receiver, Odell Beckham, Jr. Looks like we'll find out soon if he can keep that promise.
Jonathan Allen, DL, Alabama
All season long we heard about the punishing defense of Alabama, and it was on full display in the College Football Playoff semis and early on in the national championship game. Jonathan Allen is a big reason for that. Allen nearly doubled his next-highest tackle output by notching 69 in his final college season. At 6-foot 3-inches and nearly 300 pounds, it's going to be an extremely tough task covering him one-on-one.
Myles Garrett, DL, Texas A&M
Of course, this player watch wouldn't be complete with the player many expect will go No. 1 overall in the NFL Draft: Myles Garrett. The junior was an absolute terror on the defensive side of the ball his entire college career, racking up 141 total tackles and 31 sacks. He's the perfect mix of speed and power, and with his improved abilities to stop the run, he's undeniably NFL ready.
Need further prepping for the Draft? Listen in on SiriusXM College Sports Nation, SiriusXM NFL Radio & more for the latest.
Photo: AP Photo/Eric Christian Smith
---
---