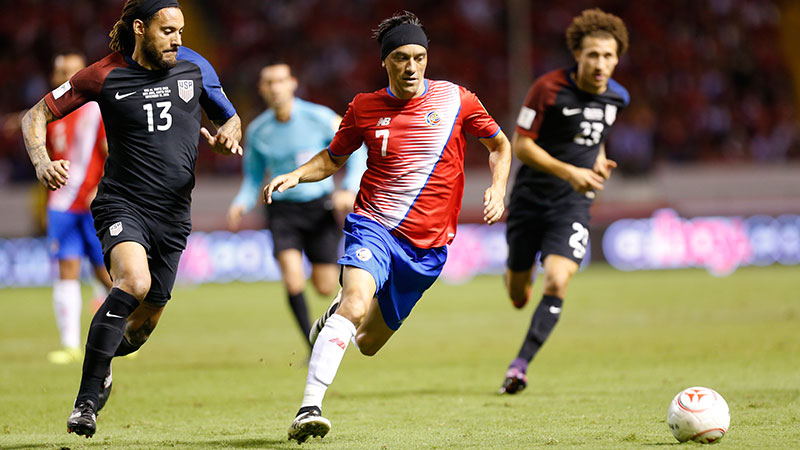 (AP Photo/Moises Castillo)
As of writing this, the US Men's National Team is lying in pieces on a field in San Jose, Costa Rica and Jurgen Klinsmann is the coach. Eventually, those pieces will be picked up off the ground. Klinsmann may not make it through the weekend in his current role.
Which is all: everyone at the US Soccer Federation has a lot to learn. They should be taking notes on Tuesday, when Montreal and Toronto meet in the MLS Eastern Conference Finals. They are two teams that have taken very different paths to success to be sure. But each of their strategies look a little like a parable for the USMNT going forward.
It seems possible that Klinsmann saw the continued success of Toronto's 3-5-2 and thought, "hey, I can do that." MLS' most expensive team lets Michael Bradley helm the midfield and runs an attack off of Jozy Altidore. Why wouldn't that work for America?
There is one very obvious reason why not: Sebastian Giovinco. The reigning MVP takes free kicks and is simply much, much better than his USMNT analogue of Bobby Wood. Giovinco is small and quick – he doesn't have Wood's strength – and where the Hawaiian stretches defenses, Giovinco simply snaps them. It is not a fair comparison.
Toronto was fairly mediocre, however, with their first 40 or so games with the Italian. What's changed since this summer, and what's sustained them when Giovinco was out with an injury, is that new-look 3-5-2. A lot has been written about how Toronto has made good use of the formation, getting more out of their fullbacks and the most out of Michael Bradley.
As far as the USMNT is concerned, it seemed like Klinsmann thought of the formation as a bit of an ace up his sleeve. It was used when the US was outmatched on paper in a friendly against Chile and again in Columbus last week. The first time, it failed when Jermaine Jones was expected to be a centerback. The second time, it failed because the Mexico attack had a very good idea of how to destroy it — send balls behind the wingbacks and create confusion due to the US' lack of reps.
Which is sort of the crux of the issue: every formation has gaps. It is up to training and repetitions for teams to understand how to close those gaps. The 3-5-2's advantage is that it overloads the midfield and creates gaps in weird spaces. It is, after all, really difficult to get balls into the corners of the field and onto an attacker's feet. The disadvantage is, the gaps are odd for defenders as well. They have to know each others' weaknesses.
Toronto's defense isn't that spectacular, to a man. Drew Moor had a great year, but both Eriq Zavaleta and Nick Hagglund are very workaday types. Justin Morrow and Steve Beitashour are defense-first wingbacks who lack pace and know it. They all have weaknesses, but they have played together for long enough to know how to counteract them. Also, the best forward in the league is the guy on their own team.
For the USA to go 3-5-2? Well, who is their top defensive personnel? Geoff Cameron's leadership was missed, as everyone said over the past week. Tim Howard's as well. They will both be back (even if Klinsmann won't), but it is hard seeing them leading the formation revolution. John Anthony Brooks saw his stock drop after his gangly 23-year-old self got caught out of sorts. There is no core group to lean on each other, and less time than a club team to grow one.
So what if the US plays a more traditional four-at-the-back? Then they might play an awful lot like L'Impact de Montreal, who are a surprise finalist in the Eastern Conference. Much like Toronto, they have an unparalleled forward in Didier Drogba. But unlike Toronto, the Quebecois team is succeeding with that forward out of the 18.
The Montreal player pool is noticeably lacking American citizens, but is an awful lot more like the USMNT: capable backs, a tenacious midfield, and some field-stretching attackers. There is nobody quite like the remarkably technical Ignacio Piatti, but that is the sort of guy you could see Christian Pulisic evolving into without stretching the imagination too much. Dominic Oduro and Matteo Mancosu are very good, but not really international quality.
What do they do with success? Defend as a unit and attack with sheer gusto. There is something very Italian about Italian-Canadian coach Mauro Biello's gameplan. It isn't very pretty over 90 minutes, but it can lead to moments of giddiness when Piatti has the ball in space and the opposing defenders are on their heels.
Can the US ride this style to success? Not as a given — there is a reason Montreal has been the underdogs for several weeks now. But it is an identity with which the US is more traditionally comfortable: attacking fullbacks, a defensive midfielder, and moments of greatness from forwards. It may mean more 2-1 wins versus the Guatemalas, if fewer 0-4 losses against the Costas Rica.
There is, admittedly, a weird tension here. One would think that putting Bradley into his club position, in his club formation, would make a whole lot of sense. Klinsmann clearly does. But if putting Bradley at his most comfortable means putting the entire defensive line at their least, the arithmetic does not quite work out.
Tuesday's first leg is at Montreal, and it could be a way to see two alternate universes of the USMNT play out. It may be less formational change then general familiarity which will give the US team greater success. Jurgen Klinsmann has for years pushed the former, not the latter. Which is why he may now be on his way out.
---
---