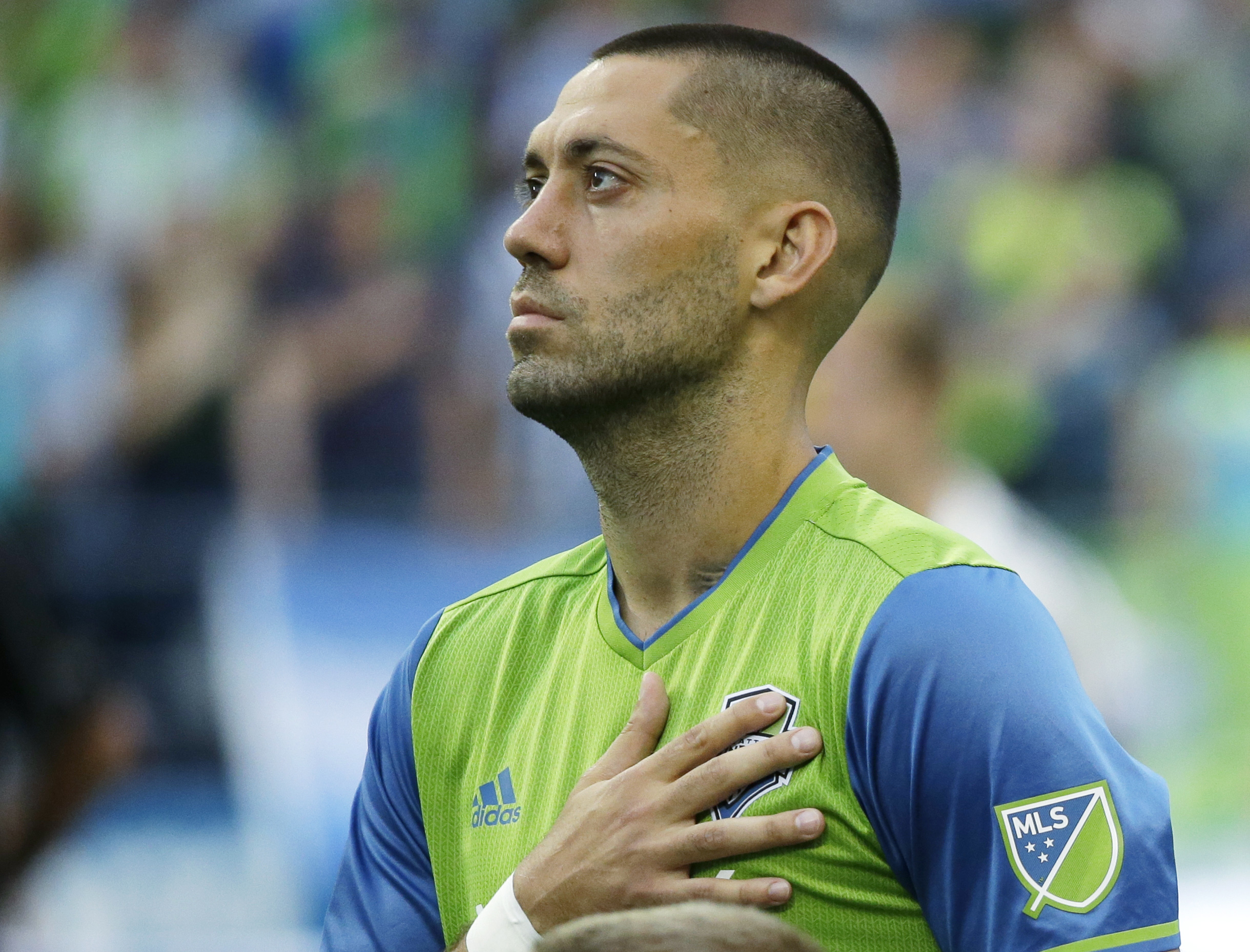 FILE – In this Aug. 21, 2016, file photo, Seattle Sounders forward Clint Dempsey holds his hand over his heart during the national anthem before an MLS soccer match against the Portland Timbers in Seattle. The Sounders announced Tuesday, Sept. 27, 2016 that Dempsey would miss the rest of the 2016 season due to health concerns related to an irregular heartbeat. (AP Photo/Ted S. Warren, file)
Clint Dempsey is done for 2016, but the Seattle Sounders are not. The 33-year-old is done for the year as he continues to visit doctors and figure out if he can get his heart condition figured out. Meanwhile, his Sounders keeps on winning and the squad has gotten over the red line and into the playoffs before they go to Vancouver to face their rival Whitecaps on Sunday.
First, the Deuce. Dempsey will turn 34 before next season and has been getting by more on guts than motor for the past year or two. That effort was not quite enough to make up for a lost Obafemi Martins – remember how bad Seattle was in the early part of the season? – and it might not hold up over 34 matches.Still, if Demps' health affords it, he may well be the league's least fun 60th-minute substitution to play against, taking the title from current belt-holder Blas Perez. He could still score game-winners and steal points for Seattle, or whoever takes him next. More on that in a bit.
Clint could do the same thing for the national team. He'd essentially be taking Chris Wondolowski's role for the USMNT. I don't think anyone would be too upset with that particular swap, including Wondo himself.
The thing is, the US has accumulated startling depth at forward after spending the post-Donovan years looking for anyone who could run with Dempsey. Jozy Altidore has come off of his hamstring injury to be the man-eating center forward that people have wanted him to be for, like, a decade. As it stands now, Jozy can act as a fulcrum for Bobby Wood and Jordan Morris to run off of. Other fun youngsters like Rubio Rubin and Julian Green may be just coming into their own — or this whole "fast and technical guys in the box" plan could fall apart no matter what Jozy does, or what depth dudes like Aron Johannsson might provide. It's not foolproof, but it no longer relies on Clint Dempsey doing something crazy, either.
Upcoming matches against Cuba and New Zealand will, ah, not be too telling. But the November games will be. Hosting Mexico and a visiting Costa Rica will be the first true test of post-Dempsey America. We're not there yet. Let's talk in six weeks. But we're not hyperventilating at the thought. Or at least, not at the thought of who will score goals.
Back to Seattle. They aren't panicking either! Something fairly amazing happened in their match against Los Angeles last Sunday; Jordan Morris scored with his left foot. The rookie has grown tremendously since he's been given a more defined role, and Nicolas Lodeiro is terrorizing the league. Nobody knows what to do with the 5'7" Uruguayan who, at 27, still has a great future in front of him.
The Sounders look organized with Roman Torres standing out as an absolute stalwart in the back. Cristian Roldan's sophomore campaign has looked great. Even if Nelson Valdez never scores again he is at least keeping defenders honest.
For a sixth-place team that has lost an astonishing five games on home turf, I don't think there's a squad in North America that would like to play Seattle right now. Including Tigres or CF Pachuca or even the Xolos up in Tijuana if you believe in their hot start. Seattle is playing very well sans one Clint Dempsey.
If both the USMNT and the Sounders are looking fine without him…where does that leave Clint Dempsey? It is a bit worrying to think of the dude with the most fire in US soccer trying to come back from a heart condition. He is at the age when Landon Donovan retired but still younger than when strikers like Brian Ching or Brian McBride hung up their cleats.
Dempsey's different from all of them, of course. He was a bit more nonstop and a lot more Allen Iverson than any of his contemporaries. It may be awfully, awfully hard for Deuce to try and pace himself or to be content as a game-changing substitute.
It is just about as hard to think of counting Dempsey out. He has a habit of doing exactly what he says, and if that means coming back in 2017 then if the world hasn't melted due to sheer Internet outrage and #HotTakes, Dempsey will be in cleats for the National Team.
But will he be doing it for the Sounders? It might be difficult to see Dempsey wearing other colors than Seattle's stately (and regrettably dubbed) "Rave Green," but he'd mean a whole lot more to several other teams. That includes the incoming expansion franchises in Atlanta and Los Angeles.
The future is awfully murky. It always is. Clint probably isn't done with soccer, and even if Seattle – and the USMNT – are doing fine without him who knows how long will last? Who knows when the Northwest or maybe even the whole of America will need the surly, ornery Texan once again?
This post was composed by freelance writer and swell guy, Asher Kohn. Reach out to him and discuss all the soccer happenings from around the world on Twitter at:@AJKhn. Catch up with all of the latest soccer happenings on SiriusXM FC.
---
---
---