The West Wing reunion: The origins of The Jackal, Donna & Josh and why Aaron Sorkin hasn't seen the ending
What's next? That question concluded the first episode of Aaron Sorkin's The West Wing, a critically acclaimed political drama that imagined an idealistic Washington in which those who governed believed in America more than anything — and walked and talked their … Continued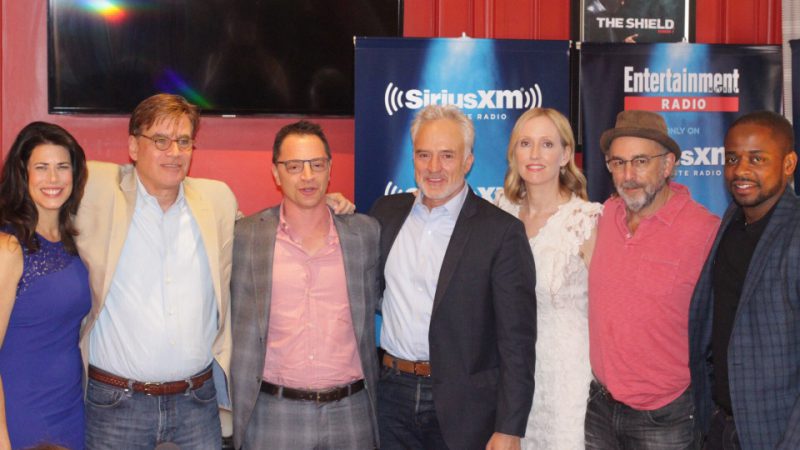 What's next?
That question concluded the first episode of Aaron Sorkin's The West Wing, a critically acclaimed political drama that imagined an idealistic Washington in which those who governed believed in America more than anything — and walked and talked their way through winding, single-shot sequences.
About 10 years after The West Wing finale, the cast and brains behind the scenes reunited at the ATX TV Festival in Austin, Texas, on Saturday, and creator Aaron Sorkin revealed that NBC sat on the pilot for over a year. But considering the salacious White House affair making headlines at the time, it worked out for the best.
"I typed 'fade out' on the pilot [script], and a few minutes later — I mean it, a few minutes later — Monica Lewinsky happened," Sorkin said of the woman involved in President Bill Clinton's sex scandal. "So there was a general sense … we simply can't do this right now. We've got to wait a little bit."
Read more highlights from the panel below:
Allison Janney herself inspired press secretary C.J. Cregg's famous Jackal press room performance. "Allison in her trailer would sing The Jackal. We were wise enough to say, Aaron, listen to Allison Janney sing the Jackal. And the next read on the table read, The Jackal was in it," director Thomas Schlamme said.
Donna and Josh were meant to be — even if the writers didn't know it yet. Deputy chief of staff Josh Lyman's original love interest was a ex-girlfriend played by Moira Kelly, who left after one season once the chemistry between Bradley Whitford and Janel Moloney — Josh's secretary Donna, a part originally intended as a small guest role — became clear. (They kept things professional for seven seasons before finally hooking up.) "A lot of people said, 'Oh, there's this thing going on between you and your boss.' I was so focused on being asked back the next week that I was really trying to make every moment as rich and free and great as I possibly could. But the whole basis of my character, before I even started day one, was Donna was drop-dead, head-over-heels, 100 percent would die for him, would die for Josh. And every file I signed, every policy I asked about, the subtext was, 'I just love you so much, I would do anything for you," Moloney said. "That was my choice. This was before I met Brad." "Oh, that's great," Whitford joked.
Aaron Sorkin hasn't seen any episodes after he decided to leave following season 4. Well, he watched 20 seconds of the season 5 premiere but had to pop out the video tape. "I have no idea whether it was great or less than great. I really felt that — I'm sure that it was great, given this cast, given the people that were behind it, John Wells — but it just felt like I was watching somebody make out with my wife. It felt horrible. … I don't know how the story that I started finished or anything else happened on the show." Cracked Joshua Malina, who starred in seasons 4-7, "You don't know about the whole super power story? It's so good."
Welcome to the White House: The #WestWing reunion is on! #ATXTVs5 @ATXFestival pic.twitter.com/PTTjykfl6A

— EW Radio (@EWlive) June 11, 2016
Sorkin felt inspired to give President Josiah Barlet (Martin Sheen) multiple sclerosis because Stockard Channing asked to appear in more episodes as first lady over lunch. "I don't remember what else she said at that point, because I just started thinking, 'Okay, wouldn't it be nice if the first lady was a professional at something? How about a doctor?'" he explained, adding that he decided to "have the president do what the rest of us have to do on any number of occasions. The president's too sick to go to work, and he's got to stay in bed and watch daytime television for the very first time in his life. But whatever he's got, it looks like a cold or it looks like the flu, should also exhibit signs of something else that Abby is worried about and comes rushing back from some trip that she's on, because not even the president's own physician knows that it could possibly be this."
For even more from the cast of The West Wing, hear to Entertainment Weekly's Jessica Shaw and Danielle Nussbaum's exclusive interview with Aaron Sorkin, Dulé Hill, Joshua Molin, Bradley Whitford and Janel Moloney.
Hear full ATX coverage from SiriusXM Entertainment Weekly Radio (Ch. 105) on demand on the SiriusXM app.
For a free 30-day trial, check out http://www.siriusxm.com/freeTrial.
---
---
---