Watergate break-in, 45 years later
The break-in would lead to the resignation of Pres. Richard Nixon.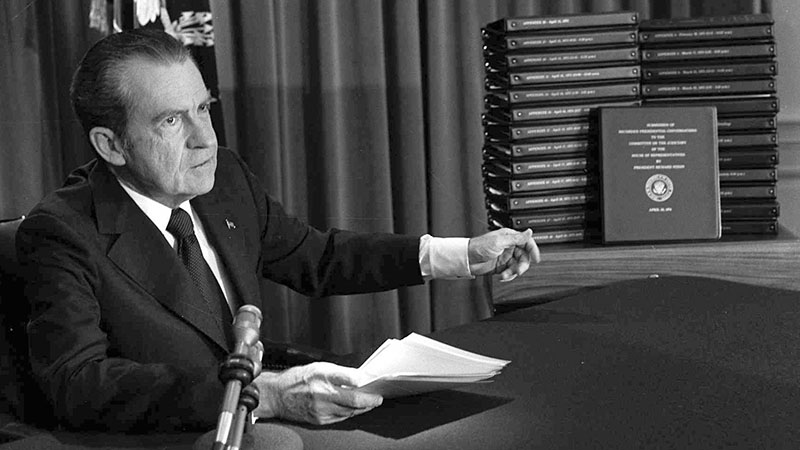 FILE – In this April 29, 1974, file photo, President Richard M. Nixon points to the transcripts of the White House tapes after he announced during a nationally-televised speech that he would turn over the transcripts to House impeachment investigators, in Washington. The last 340 hours of tapes from Nixon's White House were released Wednesday, Aug. 21, 2013, along with more than 140,000 pages of text materials. (AP Photo/File)
Forty-five years ago, Watergate went from being an office building to synonymous with the biggest scandal in U.S. political history.
"Police arrest five burglars inside Democratic National Headquarters in Washington, D.C.'s Watergate complex," Tim Farley recalled during an edition of POTUS History Capsule.
Much of the revelations surrounding the Watergate scandal came to light because of reporting by The Washington Post's Bob Woodward and Carl Bernstein with the help of their source, Deep Throat.
The break-in, which took place on June 17, 1972, would lead to the resignation of Pres. Richard Nixon on Aug. 9, 1974.
The Morning Briefing with Tim Farley airs weekdays at 6 am ET on SiriusXM P.O.T.U.S. (Ch. 124)
For continued coverage of presidential politics, both past and present, tune to SiriusXM's political channels, P.O.T.U.S. (Ch. 124), Patriot (Ch. 125) and Progress (Ch. 127).
AP Photo/File
---
---
---