Watch unforgettable music performances from inside Howard Stern's studio
Don't miss exclusive video episodes of the most intimate, innovative and inspiring music performances recorded both recently and over the decades on the 'Howard Stern Show.'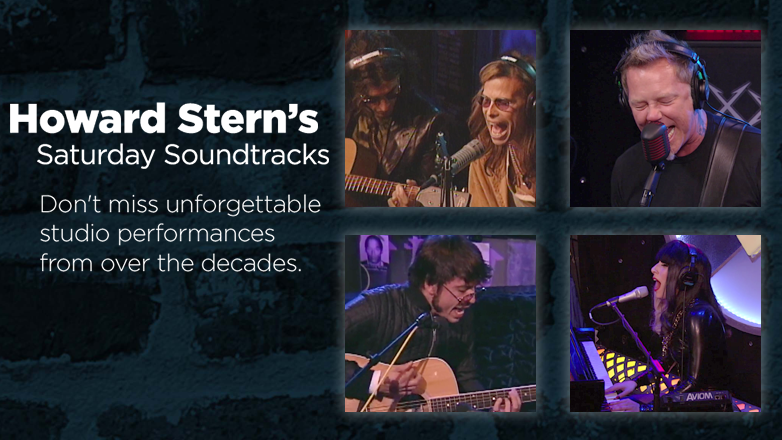 Every Saturday, we release a new exclusive video episode of Howard Stern's Saturday Soundtracks, an exploration of the most intimate, innovative and inspiring music performances recorded both recently and over the decades on the Howard Stern Show.
Howard Stern's extensive archive includes in-studio performances by scores of legendary artists, including AC/DC, Adam Levine, Aerosmith, Alice Cooper, Bee Gees, Billy Corgan, Billy Joel, Blondie, Bon Jovi, Chris Cornell, Chris Martin, Chris Stapleton, Counting Crows, Cyndi Lauper, Daryl Hall, Def Leppard, Don Henley, Duran Duran, Ed Sheeran, Elvis Costello, Foo Fighters, Graham Nash, Green Day, James Taylor, Jethro Tull, Jewel, Joe Walsh, John Fogerty, John Legend, Katy Perry, KISS, Lady Gaga, Metallica, Miley Cyrus, Peter Frampton, Phil Collins, Roger Daltrey, Sheryl Crow, Sia, Sting, Stone Temple Pilots, Weezer, ZZ Top and more.
Don't miss a single episode of Howard Stern's Saturday Soundtracks as the team digs out a new performance each week from this amazing library.
Watch some of the iconic performances from the Howard Stern Show below.
Metallica deliver supercharged performance of 'Enter Sandman' in 2013
Lady Gaga makes 'Stern Show' debut with powerhouse performance in 2011
Watch Aerosmith's acoustic performance featuring a beatboxer in 1997
Watch Cheap Trick rock out 'I Want You to Want Me' in 2006
Dave Grohl performs powerful acoustic version of 'My Hero' in 1999
---
---
---