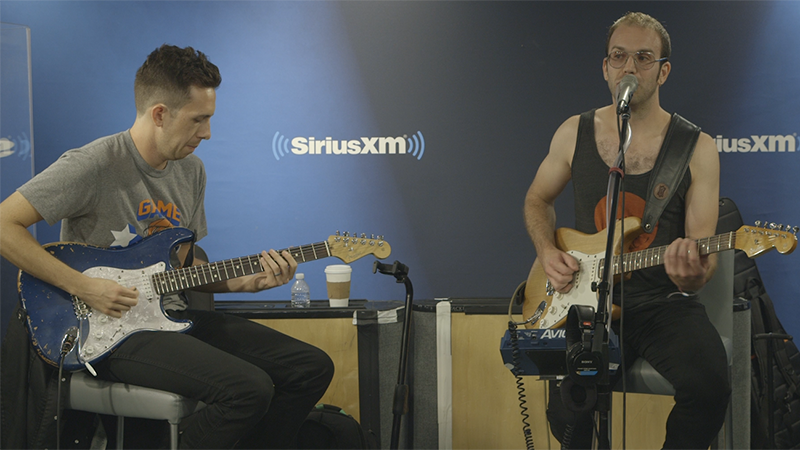 In anticipation of their upcoming album release, Vulfpeck stopped by the SiriusXM studios for a special performance on Jam_ON (Ch. 29) that will air on the weekly sessions show The Jam Files on Mon. Oct. 10.
Vulpeck's second studio album The Beautiful Game is set to release on Oct. 17. The up-and-coming funk band performed the single 1612 off their 2014 EP, Fugue State, and a cover Stevie Wonder's Boogie On Reggae Woman
Talking about the significance of 1612, the Vulfpeck founder and drummer Jack Stratton said:
"I was subletting an Airbnb with a security code of '1612' and it just kept coming up," Stratton said. "People texting me, 'What's the code?' Guys calling me, 'Do you remember the code?' It just occurred to me that 1612 was really happening in my life at that point, and I wanted to lend some significance to it with that song."
In an honest moment, he also admitted he had other motivations for writing the song.
"I'm a big fan of number-based songs, lending significance to combinations of numbers," he said. "So I wanted to get into that world, too, get into that Wikipedia list of songs about numbers. Just a lot of goals coming together in that song."
Beyond his lofty Wikipedia aspirations, the song came together beautifully thanks in large part to the vocal contributions of Antwaun Stanley, who will also be featured on The Beautiful Game.
"The beauty of Antwaun Stanley is you give him these somewhat absurd lyrics, but they sound like they were etched in stone with the virtuosity and commitment he has to the lyrics," Stratton said.
Vulfpeck's performance on The Jam Files will premiere at 12 p.m. ET on Oct. 10 and will replay throughout the week.
For a free 30-day trial, check out http://www.siriusxm.com/freetrial/blog.
---
---
---