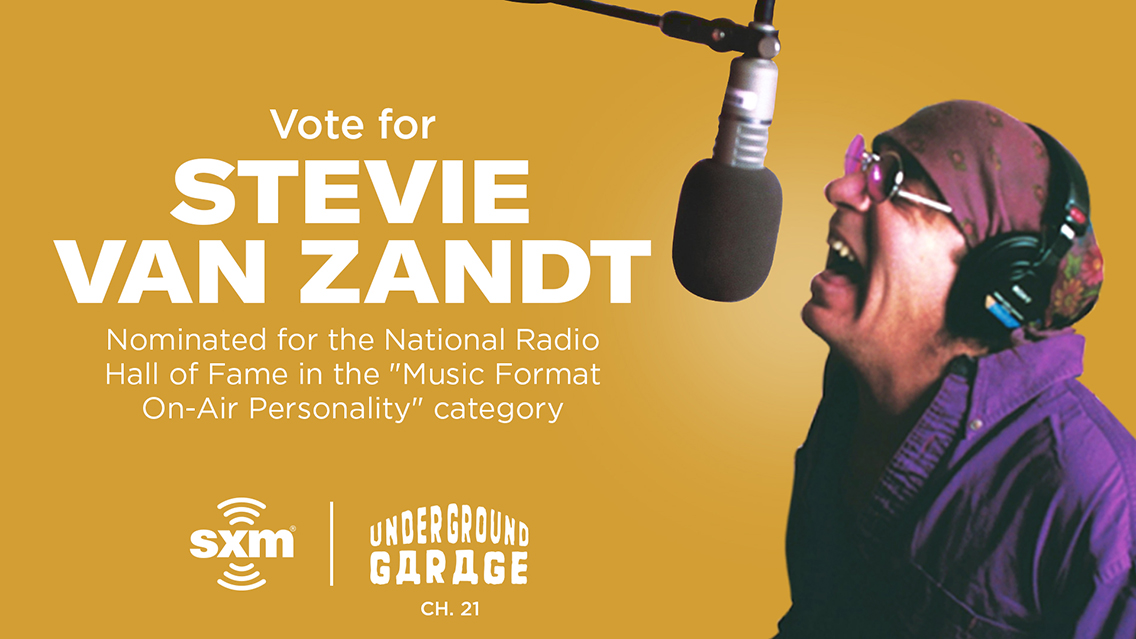 Stevie Van Zandt has been nominated for the Music Format On-Air Personality category of the National Radio Hall of Fame — and you could help get him in! To vote for Van Zandt, visit radiovote.com starting on July 26. All inductees will be announced on August 16.

As the founder, architect, and executive producer of Underground Garage (Ch. 21) on SiriusXM, Stevie Van Zandt plays the coolest rock 'n' roll records ever made. His channel is dedicated to highlighting the best garage rock songs, whether they're 50 years old or 50 minutes old. During his show, The Little Steven Sessions, he takes the microphone to focus on the music, history, philosophy, and lifestyle that is the Underground Garage. He also invites you to be part of the experience with interactive ideas and cool contests. Underground Garage is inspired by Van Zandt's syndicated music show, Little Steven's Underground Garage, which has been rocking since 2002. Hear the latest episodes of The Little Steven Sessions anytime on the SXM App here. For more information about Underground Garage, click here.
Van Zandt was inducted into the Rock & Roll Hall of Fame in 2014 as a member of the legendary E Street Band. Over the years, he's also released numerous albums as a frontman for Little Steven & The Disciples of Soul and as a solo artist, and acted in acclaimed TV shows and movies, including the series The Sopranos and Lilyhammer. Additionally, Van Zandt executive produces SiriusXM's Outlaw Country (Ch. 60), an exclusive channel dedicated to country music's freaks, misfits, outcasts, rebels and renegades.
See the full list of this year's Radio Hall of Fame nominees here. SiriusXM host Christopher "Mad Dog Russo" is also up for induction this year and is nominated in the Active Network/Syndication category. Inductees will be honored in person at the 2021 Radio Hall of Fame induction ceremony on October 28 at Chicago's Wintrust Grand Banking Hall. Tickets will go on sale August 16.
---
---
---