Usher on mentoring Justin Bieber: 'He's like a child to me'
Howard Stern asked Usher his thoughts on Justin Bieber's nude photos.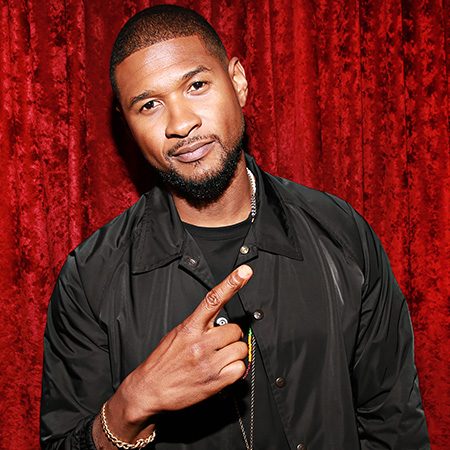 If you've got Bieber fever, it's too late for Usher to say Sorry.
The R&B star helped turn Justin Bieber into the hit maker he is today by mentoring him along with manager Scooter Braun, who famously discovered pop's bad boy on YouTube.
Usher appeared on The Howard Stern Show on Monday and remembered meeting the Biebs for the first time when the preteen asked if he could sing for him in a parking lot outside producer Jermaine Dupri's studio.
"I'd heard about Justin through the grapevine, because people were talking about him, and I said to him, 'Why don't you set up a meeting between me and your manager, I'd love to meet with you and do this in a formal setting, I'm late for an appointment with Jermaine Dupri and I don't want to keep him waiting, so let's do this the right way.'"
Inside, Usher watched one of Bieber's videos with a group including music exec L.A. Reid's wife, who instantly saw star potential.
"Perri says, 'Are you crazy? You better get down there right now and meet this kid. He's amazing,'" Usher said.
Stern brought up Bieber's "d*** pics," jokingly asking if the photos are a PR stunt organized by the No Limit singer.
"He has a mind of his own. What he chose to do with his penis is his prerogative," Usher said, laughing. "He's managing that aspect of his life. I have nothing to do with Justin Bieber's private parts, man. Come on."
As for Bieber's teenage transgressions (egging a neighbor's house, getting a DUI, etc.)?
"As a mentor, he's accepted my opinion, I can give him my perspective. He's like a child to me, so I don't necessarily feel like it's business, you know what I'm saying? I feel like I'm talking to someone who has had hardships," Usher explained. "If your child ever has difficulties, every person who's listen to this s*** right now understands that nobody's perfect. You're gonna have moments. And if he does, I can only show him the reality of what has happened … of course we've had stern talks."
"Have you ever spanked him?" Stern asked.
"Nah, nah … I think I've wanted to at times," Usher said.
"You should," Stern said. "What a great photo opp."
Usher knows firsthand the temptations of making it big in the business at a young age: When he was about 14 years old, Reid sent him to live with Sean Combs, aka P. Piddy, at his New York mansion for "Puffy Flavor Camp."
"It was curious. I got the chance to see some things," Usher demurred about his mentor's luxurious lifestyle.
He also discussed causing controversy with his first, self-titled album due to its mature themes.
"Most young artists like New Kids on the Block, New Edition, the Jackson 5, they all reaped the benefit of being kids when they came out. I didn't. I came out with more serious s***. You know, I was singing about sex. I had never even really had sex!" he said.
Now that Usher is a dad to two sons, though, would he send them to Puff Daddy's camp?
"Hell no!" he said.
For more coverage of The Howard Stern Show, follow @sternshow on Twitter. Hear more Howard on SiriusXM Ch. 100 and 101.
For a free 30-day trial, check out http://www.siriusxm.com/freetrial/blog. 
---
---
---