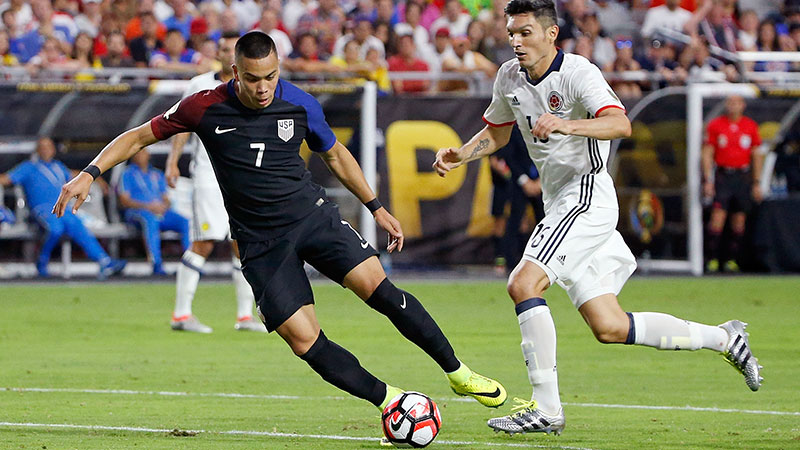 (AP Photo/Ross D. Franklin)
The United States is in an interesting place. Also like, in general what with everything going on. But also, the men's national soccer team.
Friday's match against Mexico (SiriusXM FC Ch. 85) is their first substantial challenge since the Copa America Centenario. It comes at home, in Columbus, in a day that will probably be in the 40s. This being a November night in central Ohio, it should probably follow the dos a cero rubric that the USMNT follows in such games against said opponent. Plenty are expecting an easy victory.
Plenty others are more skeptical. This is a US team without Clint Dempsey and without much stability on the backline. This is a new US side and sure they did well against Cuba and Trinidad & Tobago but that does not really mean anything against a very good and rather disciplined Mexico team. Or the Costa Rica match that's coming next.
Who is the United States Men's National Team, and what can we expect out of them within the next week?
The forward line has been figured out, to a certain extent, thanks to Jozy Altidore's resurgence. Or maybe just, "surgence." He is only 27 but a whole lot broader and more clever than he was in the past two World Cup cycles. In many ways, his role on the national team is similar to what he does for Toronto FC: a fulcrum for attacks, a menace to defenders and still by the way faster than any center-back out there.
This may mean that Bobby Wood is in the "Sebastian Giovinco" role, but that is hardly fair. Wood has been alright for Hamburg, the worst team in the Bundesliga. He can not really be expected to be a skittering terror. What he can do is run, stretching the field and putting miles on Rafa Marquez's 38-year-old legs.
So instead think of Bobby Wood as doing the sorts of things that Charlie Davies did in a USA jersey before his car crash. Wood can open up space for everyone behind him and force defenders to choose between him and giving Altidore an extra foot to make a turn. This is especially nice because the United States, it seems, have found a playmaker.
There really hasn't been an American like Sacha Kljestan in the player pool for a long time. Even when Kljestan was first getting call-ups he was a different player: more deferential and less incisive. Playing all the way out in Belgium, it was difficult to figure out what Bob Bradley saw in him.
Now that he is on TV every week – well, not the next few weeks – for the New York Red Bulls, the 31-year-old Kljestan is smart and aggressive and simply fun. He has taken all of the things he learned in Europe and is much more comfortable being The Man since being thrust into that rule for his club.
There is a huge difference in quality between MLS back lines and what he will face against Mexico. But on the other hand, Mexico doesn't play with the sort of snarling, pass-breaking defensive midfielder that is all over the MLS. There is no Carlos Gruezo or Diego Chara here to transform Kljestan's ankles into delicious bowls of ramen. That may be enough to turn this game in the Yanks' favor.
Speaking of snarling defensive mids, the US will have that d-mid on their team. It took about 100 matches but Michael Bradley is in the #6 that he played to perfection in Italy and more recently for Toronto. He is a great Bad Cop who can both disrupt Mexico's extraordinarily talented midfield and get the ball to the feet of Kljestan and whomever else is in the midfield (most likely Christian Pulisic and Jermaine Jones, who are seeing their first and zillionth matches against Mexico, respectively). It always seemed amazing that the Italians nicknamed Bradley "The General" before Americans came around to it. But Bradley is set up to have a great game here, another against Costa Rica, and finish the MLS playoffs strong. For what it is worth, he is certainly speaking well about politics and his role as a figure here. If he goes back to Italy as a 30-year-old worth millions of dollars, he could finally get that moniker back home.
If this all sounds very positive and optimistic so far, it is because the US defense has not really been discussed. Geoff Cameron is out, so the US will find someone to put next to John Anthony Brooks and between Fabian Johnson and DeAndre Yedlin to fill out the line. It will probably be Omar Gonzalez.
Now, Brooks has been a rock for Hertha Berlin – a very good player on a very good team. But he can be put on ice skates by the Chicharito/Carlos Vela/Oribe Peralta trio that has been playing together for years. Anyone who links up with Brooks will be relatively new and, by the way, not share the same native language.
If familiarity and trust are key to a backline (and they probably are), then the US is at a severe disadvantage. It is one that they will try to make up for with athleticism. Athleticism is what the Americans do on the international stage. That and hope Tim Howard will make lots of saves.
The United States team out on Friday will look a whole awful lot like the USMNT of the past decade. Counter-attack up the wings, lean on athleticism and a great keeper….that sort of thing. The difference is that this time there is a lot more clarity about roles: Altidore will exert a gravitational force, Bobby Wood will pester defenders and Sacha Kljestan will try and drop missiles onto whomever's feet he can. Jermaine Jones and Christian Pulisic are creative enough to keep the Mexican fullbacks from joining the attack, which means that Michael Bradley won't have to be stretched touchline to touchline in some sort of live-action game of Galaga.
Is that enough for a win? Well, it is more than has been enough for a win since 2002. This is one of the better Mexico teams of the past few years; a nice mix of veteran defenders, brilliant forwards and Andres Guardado. The US may need a perfect game to get the 2-0 scoreline they want. But they have put themselves in place to do exactly that.
 (AP Photo/Ross D. Franklin)
---
---