Ugly Betty reunion: America Ferrera petitions Hulu for a reboot at ATX TV Festival
Just as relentlessly as a brace-faced Betty Suarez fought her way to a job at the prestigious Mode magazine, America Ferrera is on a mission: to reboot Ugly Betty. "Hulu's gonna pick us up for a two-hour special," she said … Continued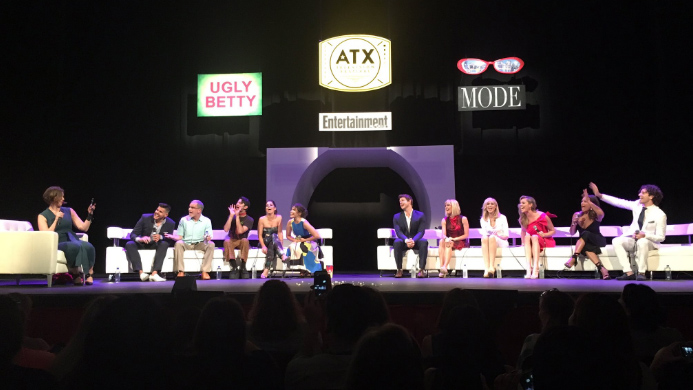 Just as relentlessly as a brace-faced Betty Suarez fought her way to a job at the prestigious Mode magazine, America Ferrera is on a mission: to reboot Ugly Betty.
"Hulu's gonna pick us up for a two-hour special," she said at Saturday's cast reunion at the ATX Television Festival in Austin, Texas.
The crowd gasped, but she quickly clarified, "That's not true."
Still, she urged fans to get the hashtag #HuluBringBackUglyBetty trending, so pressure's on for the platform, which is now streaming all four seasons of the boundary-pushing dramedy adapted from a telenovela.
As moderator Jessica Shaw of Entertainment Weekly Radio pointed out, one year ago the stars of Gilmore Girls came together for a panel — and they've since headed back to Stars Hollow for four Netflix mini movies. (Our very own host may just be the ATX lucky charm.)
By the way, the actors and creator Silvio Horta are all in:
Consider this the #UglyBetty cast's verbal agreement to a do a reboot #HuluBringBackUglyBetty #ATXTVs5 @ATXFestival pic.twitter.com/pQz4BrN7Tz

— EW Radio (@EWlive) June 12, 2016
So where would our plucky poncho fashionista be now?
"I've really thought about this. Okay, so we fade in …" Ferrera said as the audience laughed. "I think that it's been six years, maybe seven — depends on how long Hulu, when Hulu want to remake it? I think that Betty has been in London for six years and now she's coming home."
We can't wait. Hear more highlights from the Ugly Betty reunion on SiriusXM Entertainment Weekly Radio (Ch. 105).
---
---
---