'Triumph & Turmoil' during the Trump Administration, hosted by Joe Madison
"[Trump] is the moon and not the dog that barks at the moon," April Ryan said.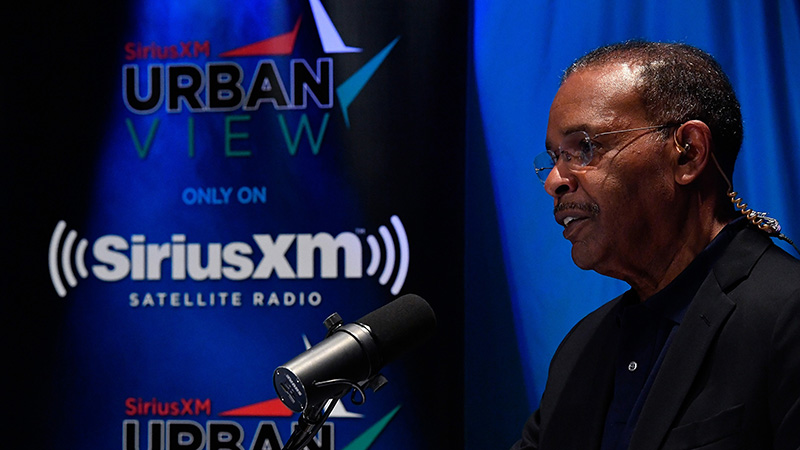 WASHINGTON, DC – MAY 03: Host Joe Madison appears on SiriusXM's Joe Madison show on Urban View, A Roundtable Of Veteran Journalists, Politicians & Political Commentators, to discuss President Trump's First 100 Days, at SiriusXM DC Performance Space on May 3, 2017 in Washington, DC. (Photo by Larry French/Getty Images for SiriusXM)
Following the 100-day mark of the Trump administration, Joe Madison brought together a panel of journalists, members of Congress and other political leaders to discuss the 'Triumph & Turmoil.'
"We've seen a lot," White House Correspondent for AURN April Ryan told Madison. "It's told us this is a man who still has issues about the election. We see that he's a man who does not understand that he's the moon and not the dog that barks at the moon by going on Twitter and always fussing or talking back to people."
The conversation also shifted to the subject of race and poverty.
"I think … some of it is displacement, some of it is not dealing with the racial issues that this country refuses to deal with," SiriusXM P.O.T.U.S. host and former RNC Chair Michael Steele explained. "We walk around, you know, we elected Barack Obama, we think 'Hallelujah, we're all done.' No baby, we just beginning."
Joe Madison – The Black Eagle airs Monday – Friday at 6 am ET on SiriusXM Urban View (Ch. 126)
For a free 30-day trial, check out http://www.siriusxm.com/freetrial/blog
Photo by Larry French/Getty Images for SiriusXM
---
---
---