Train on covering Led Zeppelin II: 'I'm honoring what I think is the greatest rock and roll band of all time'
Pat Monahan and Train stopped by The Howard Stern Show on Wednesday to promote their upcoming album Train Does Led Zeppelin II. The band performed a few songs live in the studio, and Monahan gave some background as to how … Continued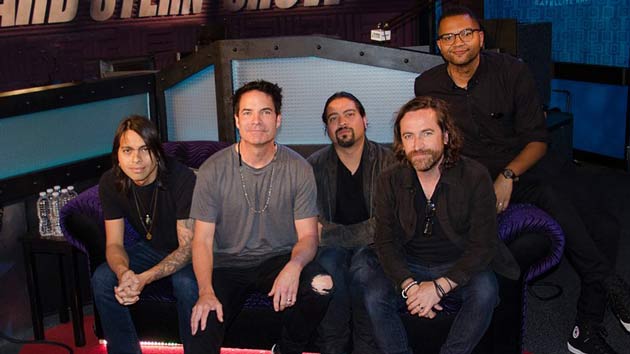 Pat Monahan and Train stopped by The Howard Stern Show on Wednesday to promote their upcoming album Train Does Led Zeppelin II. The band performed a few songs live in the studio, and Monahan gave some background as to how the tribute album came about.
When covering other artists' songs, bands sometimes like to add their own flavor to the original. Monahan said Train decided to stick to the script as much as possible because he believes that's the best way to honor the original.
"I've been covering songs for all these years, and that's the way I do it," Monahan explained. "When I see someone going for the original, I really have a lot of respect for that. I went to the Rock and Roll Hall Of Fame one year and sang Long Cool Woman In A Black Dress with The Hollies and they were like, 'Man, thank you, thank you for learning it the way we wrote it.' So that's why."
Monahan said he's aware of the possibility of receiving a negative reaction, in fact, he expects it. Still that didn't deter the band from honoring the rock and roll legends.
"For some people, it's a no-win. No matter how I sing it, people are gonna bag it," Monahan said. "So for me, I'm not doing it for them, I'm honoring what I think is the greatest rock and roll band of all time."
Monahan said Train won't see any of the profits from the album.
"Led Zeppelin would get anything that gets made," he said. "The fact is, we made this record and my manager was like, 'This is really good, maybe we shouldn't just put it on the Internet and give it to our fans, maybe we should figure out a way to get it into a lot of people's hands.' And then my other manager was like, 'There's gonna be so little that will come our way, let's give it to the right people instead of you guys.'"
Monahan said he didn't ask Led Zeppelin for permission to cover their songs but did receive their blessing.
"I wrote them a letter asking for their blessing," he said. "I wrote it to the band and I'm told that Jimmy (Page) looked at it and said, 'I'm cool with whatever.' What I wanted was, if they're OK with us doing this, then we're great, but if in two weeks they're like, 'That's a piece of shit,' then that's bad for me because it misses the point. So I was like, 'Hey man, I just want you to know this isn't to challenge you in any regard, I want to honor you.'"
Train will be performing Led Zeppelin II in its entirety on a four-city tour, starting Wednesday in New York. The Irving Plaza performance will air on Friday June 3 at 11 pm ET on Howard 101.
For more coverage of The Howard Stern Show, follow @sternshow on Twitter.
For a free 30-day trial, check out http://www.siriusxm.com/freeTrial.
---
---
---