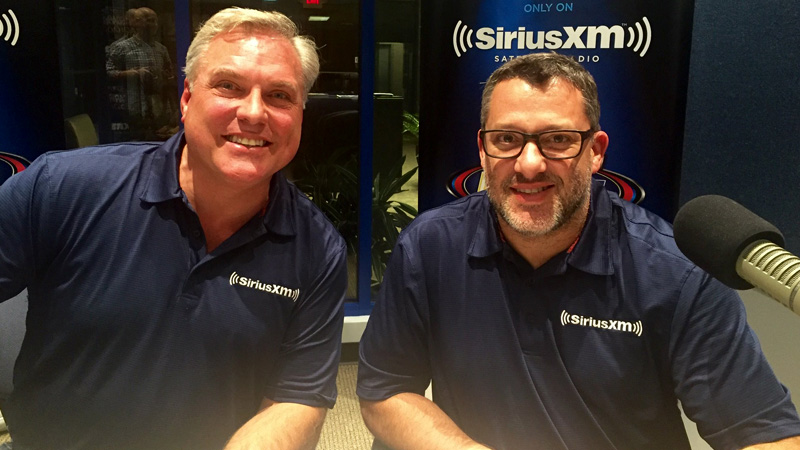 NASCAR legend Tony Stewart's career has come to an end following more than 20 years of racing and countless achievements. In celebration of Smoke, some of NASCAR's finest dropped by a special edition of "Tony Stewart Live" to recount their fondest memories of Stewart on and off the race track.
For Dale Earnhardt Jr., that means going way back to his early days. After some physical racing at Pikes Peak, Dale Jr. went at it with Stewart's crew chief as Tony stood by and watched. In their next encounter, Stewart made it a point to explain the two eventual legends would be racing for years to come, and he didn't want their relationship to be strained from the start.
"The way he managed that and handled that whole situation really was a lesson for me," Earnhardt said.
Sure, that's not the only side of Stewart: As Dale Jr. said, he's a fiery guy who isn't "afraid to throw a few punches if necessary." But, as Dale Jr. also mentioned, that kind of attitude is absolutely essential to NASCAR's personality.
"We have to have those guys," Earnhardt said. "It's going to be a tough void for someone else to come in and fill."
Jimmie Johnson, a seven-time Sprint Cup Series champion, joined SiriusXM in giving his best wishes to Tony, including marveling at Stewart's ability to switch between so many disciplines of racing, from open-wheel to stock car.
"I just can't get over his skills as a race car driver," Johnson said. "I'm just happy he went out with a smile on his face."
If you missed the initial airing, don't fret: You have several more chances to catch it on SiriusXM NASCAR Radio, Ch. 90.
Catch encore airings of #TSL (times ET): 12/1 at 10p…12/2 at 5a & 6p…12/3 at 12p…12/4 at 3a…and "On Demand" https://t.co/ir5b1cmZUe pic.twitter.com/W527QYtsjA

— SiriusXM NASCAR (@SiriusXMNASCAR) November 30, 2016
---
---
---