SiriusXM recognizes the 50th anniversary of Title IX with exclusive specials
History-making athletes and coaches share what the passing of Title IX meant to them and their sport.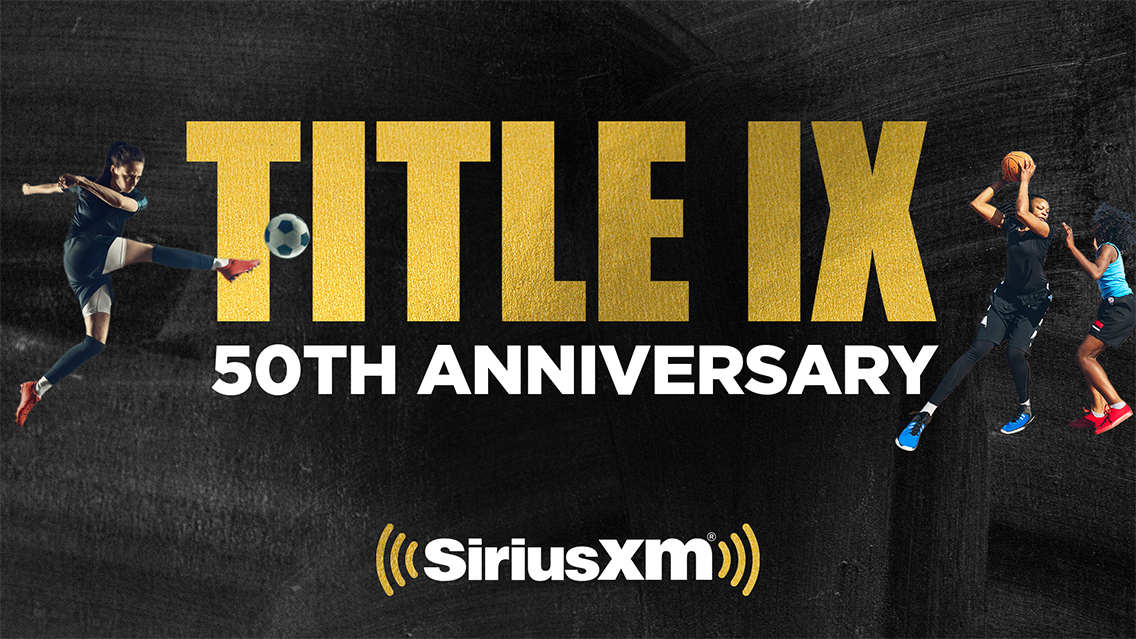 SiriusXM is honoring the 50th anniversary of Title IX, the federal civil-rights law that prohibits sex-based discrimination in any education program or activity receiving federal financial assistance, including giving women athletes the right to equal opportunity in sports schools that receive federal funds. Listen as history-making athletes and coaches — including Danica Patrick, Rebecca Lobo, Mo'ne Davis, Thunder Rosa and the late Pat Summitt —  reflect on what the passing of Title IX meant to them and their sport below.

Plus, watch or hear exclusive Title IX 50th Anniversary specials featuring pioneering women in Soccer, Pro Wrestling, the NFL, MLB, the Negro Leagues and more in our exclusive collection on the SXM App now. Listen as SiriusXM's Linda Cohn hosts Title IX at 50, examining the impact of Title IX on the world of sports, highlighting significant moments that followed the passage of the law and tell the stories of several groundbreaking women who have excelled in various sports.
---
Related: Meet the history-making women taking over the SiriusXM airwaves
---
Suzy Whaley
In 2003, Suzy Whaley became the first woman in 58 years to qualify for a PGA Tour event. Fifteen years later, she was named the first woman President of the PGA of America. The only girl on her high school golf team, Whaley says, "Title IX ensured that I had a right to try, a right to succeed or to fail, to learn from my setbacks, and to carry on stronger and smarter for the experience."
Danica Patrick
"I was brought up to be the fastest driver — not the fastest girl," Danica Patrick explains. "I feel like that was instilled in me from very young." Patrick's racing career started with go-karts at age 10 before leaving home at age 16 to compete in European road racing. She began breaking records in 2005, becoming the first woman to lead laps and score a top-five finish in the Indianapolis 500, then transitioning to NASCAR in 2013 with a record-setting performance in the 55th Daytona 500. "We have a lot more history to make, and we are excited to do it," she adds.
Rachel Balkovec
Rachel Balkovec became the first woman to manage a team affiliated with Major League Baseball when she was named manager of the Tampa Tarpons, a Class A minor league team, in 2022. "This is not just for me," Balkovec points out. "This is for a community of women. This is for a generation of women coming behind me that may not have this opportunity if I don't continue down this path."
Mo'ne Davis
In 2014, Mo'ne Davis was only the fourth American girl to play in the Little League World Series — and the first in history to pitch a winning game. "With the power of social media, us as athletes can really change what's going on," Davis says. "We've made it a long way, but we have tons of ways to go." She now pitches for the Hampton University softball team.
Rebecca Lobo & Sheryl Swoopes
The WNBA officially launched on June 21, 1997, changing the landscape of women's basketball forever. Olympic gold medalist and Women's Basketball Hall of Famer Rebecca Lobo, who participated at that very first WNBA game, remembers being "blown away" at the idea of the NBA starting a women's league. Fellow Hall of Famer Sheryl Swoopes says, "We had no idea what we should be fighting for, what we should be asking for, so to see the new CBA (collective bargaining agreement) that the women just got and where the game is today, it absolutely does my heart a lot of good."
Thunder Rosa
Melissa Cervantes, better known as Thunder Rosa, started her professional career as a social worker before becoming a successful female wrestler. She even started her own all-women independent promotion called Mission Pro Wrestling. "I love the fact that I will be one of the beacons of change," she says. "It is very important that we have that representation." Earlier this year, Thunder Rosa fulfilled her lifelong dream when she was named AEW Women's World Champion.
Pat Summitt
Serving as head coach of the University of Tennessee Lady Vols basketball team from 1974 through her retirement 2012, the late Pat Summitt took the team to eight National Championships and 18 Final Fours. She became the all-time winningest college basketball coach in 2005, retiring with 1,098 career wins. "I love working with these young women and helping them strive to be the best that they can be," Summitt explains.
Jen Welter
Jen Welter became the first female coaching intern in the NFL in 2015 with the Arizona Cardinals. She served under head coach Bruce Aryans, who, Welter says, "bet his entire coaching legacy" on her success.
Angela Ruggiero
A championship ice hockey defensive player and four-time Olympian, Angela Ruggiero says Title IX "has given girls the opportunity to play, to train, to get scholarships, and changed really I think the cultural narrative of sports in America." When she served on the International Olympic Committee for eight years, Title IX proved to be "the single greatest thing that we have in terms of training our Olympic female athletes." She explains, "It's why we win the medal count, hands down, in the US, especially on the summer side of the Olympics."
---
---
---