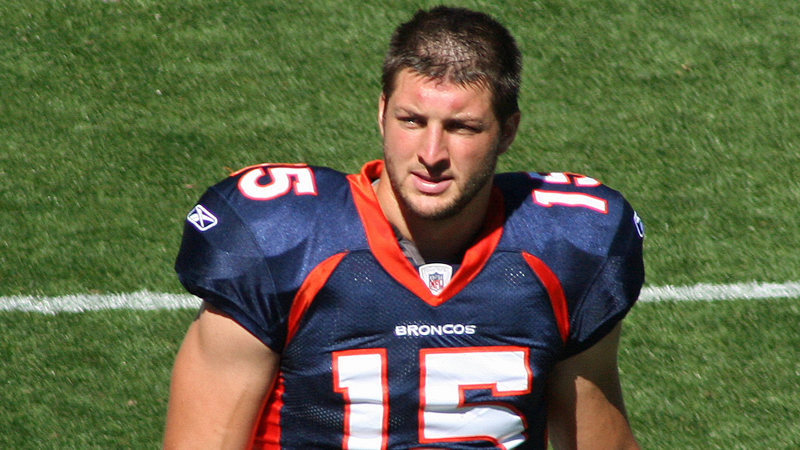 Photo: Jeffrey Beall/Flickr Creative Commons
Tim Tebow, having not played a regular season NFL game in more than three years despite attempting a comeback, will reportedly now pursue a career in the MLB.
ESPN's Adam Schefter is credited with breaking the news on Tuesday, tweeting that the former Heisman Trophy winner would be meeting with teams "later this month."
Tim Tebow is actively pursuing a career in professional baseball and plans to hold workout for Major League Baseball teams later this month.

— Adam Schefter (@AdamSchefter) August 9, 2016
Greg McElroy, who spent the 2015 college football season working alongside Tebow on the set of "SEC Nation," told SiriusXM College Sports Nation that he was completely unaware of the former quarterback's desire to play pro baseball. At 29 years old, McElroy said Tebow's chances of making it to the pro's is slim.
"I don't know a lot of guys that just up and decide 'Hey look, I think I'm going to go play baseball for the first time in 11 years' and it works out," McElroy said. "I'm not really sure what the end game is in this regard, but if he's passionate about it, more power to him."
Steve Phillips & Todd Hollandsworth discussed whether or not they would check out Tebow's showcase if they were representing a team in the MLB. They answer wasn't too optimistic for the former quarterback.
"I would ask him for an autograph," Phillips said. "I don't know, it just seems a little weird to me."
Tebow had been trying to make his way back into the NFL since he played for the New York Jets in 2012. He had a 47 percent completion rate during his three years in the league. According to Bleacher Report, Tebow has not played competitive baseball since he was a junior in high school.
Stay tuned to College Sports Nation (Ch. 84), MLB Network Radio (Ch. 209) and more for the latest on this developing story. Photo: Jeffrey Beall/ Flickr Creative Commons
---
---
---