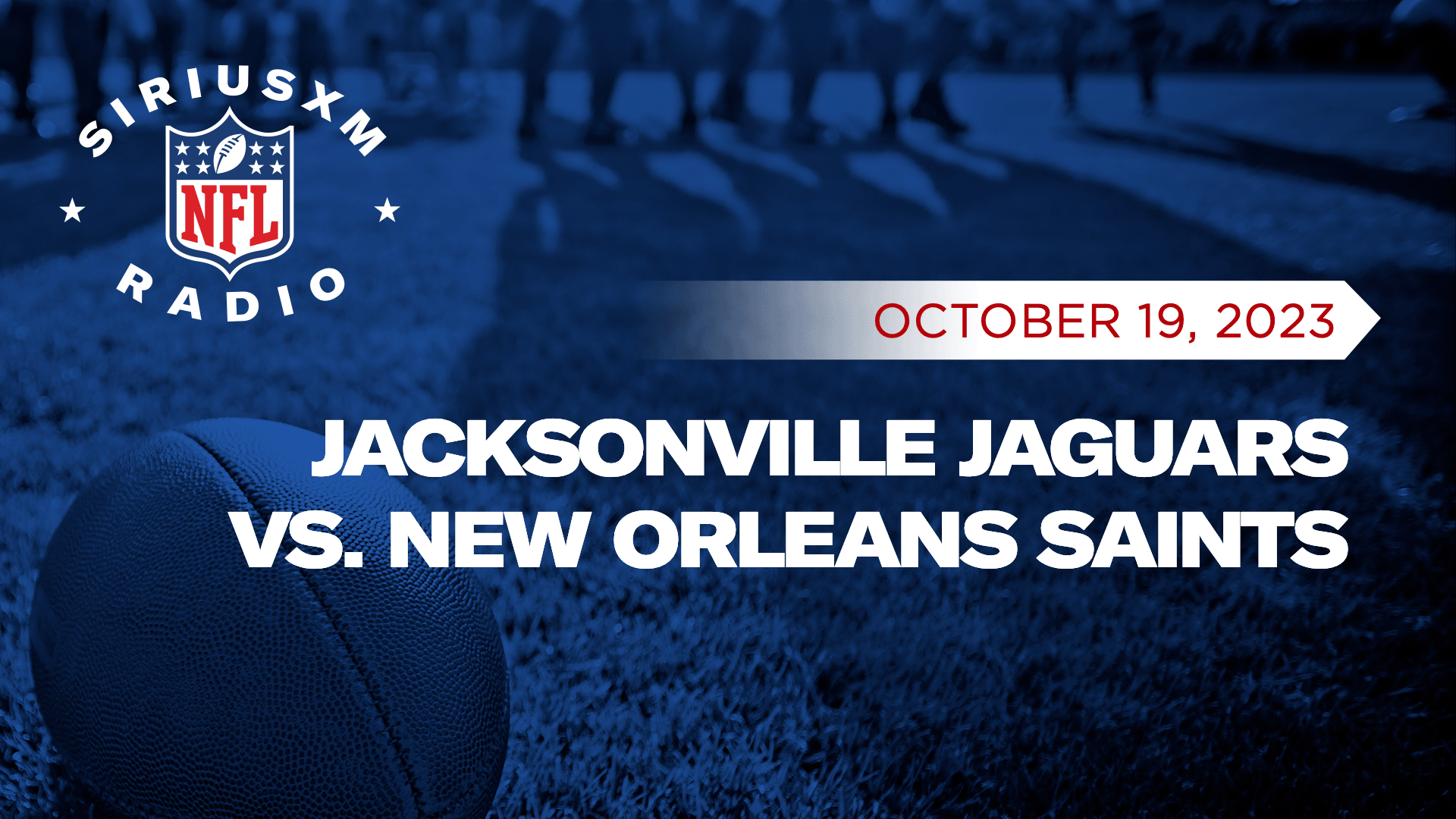 In what promises to be a NFL Thursday Night Football battle, the Jacksonville Jaguars will face off against the New Orleans Saints in Week 7. The Jaguars aim to maintain their winning streak, while the Saints are eager to secure a victory this week.
Listen live to your choice of the home, away, or national feed on the SiriusXM App. Kickoff is October 19 at 8:15pm ET.
---
Stream the New Orleans Saints broadcast (Ch. 822)
Stream the Jacksonville Jaguars broadcast (Ch. 814)
Stream the National broadcast (Ch. 88)
---
Home: New Orleans Saints
The Saints' quarterback Derek Carr passed for a season-high 353 yards last week. He has an impressive 95+ passer rating in 5 of his last 6 Thursday Night Football starts.
Running back Alvin Kamara is a dual threat, having notched his 46th game with 5+ catches last week. He aims for his 8th straight game with 80+ scrimmage yards.
Wide receiver Chris Olave has been consistent with 6+ catches and 80+ receiving yards in 4 games this season, while defensive end Cameron Jordan is a force for TNF, boasting 16.5 sacks in 13 career Thursday Night Football games.
Linebacker Demario Davis and defensive end Carl Granderson are key defensive players to watch, while safety Tyrann Mathieu is looking to make big plays with 4 PD, 3 TFL, and 2 INTs in his past 4 matchups against the Jaguars.
---
New Orleans Saints Home Feed
SiriusXM channel 225 in your vehicle
Channel 822 on the SiriusXM App
Jacksonville Jaguars Away Feed
SiriusXM channel 226 in your vehicle
Channel 814 on the SiriusXM App
National Feed
SiriusXM channel 88 in your vehicle
Channel 88 via on SiriusXM App
---
Away: Jacksonville Jaguars
The Jaguars' quarterback Trevor Lawrence completed 66.7% of his passes for 181 yards and 2 TDs last week. He aims for his fourth consecutive game with a 90+ passer rating. However, he might miss this week due to injury. Keep an eye on him!
Running back Travis Etienne is on fire, leading the team with 83 scrimmage yards and scoring 2 rush TDs last week. He's gunning to become the first player in franchise history with 2 rush TDs in 3 consecutive games.
Wide receiver Calvin Ridley can be a consistent target this week, averaging 92.7 receiving yards per game in his six career games against the Saints. Don't forget about Christian Kirk, who added a touchdown catch to his name last week, and tight end Evan Engram, who's been solid with 36 catches this season.
On the defensive front, linebacker Josh Allen is tied for third in the league with 7 sacks in 2023, and linebacker Foyesade Oluokun is a tackling machine, with 10+ tackles in 4 of 6 games this season.
Cornerback Darious Williams is chasing history, looking to become the first player in franchise history with an interception in four straight games.
---
For more on SiriusXM's NFL programming, visit SiriusXM.com/NFL.
---
---
---