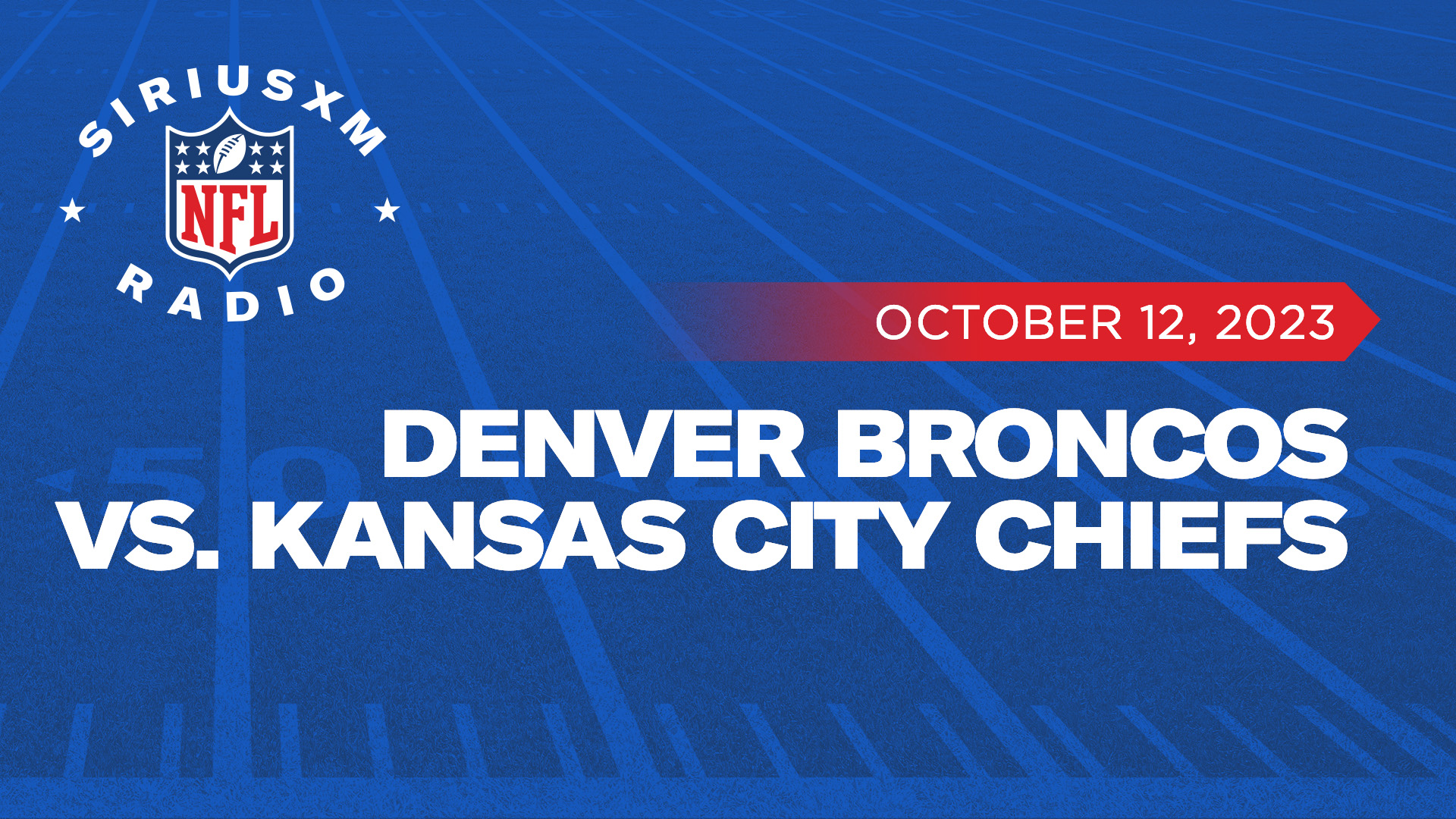 In what promises to be a thrilling NFL Thursday Night Football clash, the Denver Broncos will face off against the Kansas City Chiefs in Week 6. The Broncos will be heading into a red hot Arrowhead Stadium, where the Chiefs look to extend their winning streak to five in a row.
Listen live to your choice of the home, away, or national feed on the SiriusXM App. Kickoff is October 12 at 8:15pm ET.
---
Stream the Denver Broncos broadcast (Ch. 809)
Stream the Kansas City Chiefs broadcast (Ch. 815)
Stream the National broadcast (Ch. 88)
---
Home: Kansas City Chiefs
The Chiefs are led by none other than Patrick Mahomes, who is coming off a fantastic performance in Week 5. Mahomes completed a season-high 31 of 41 attempts for 281 yards and 2 TDs with a 109.9 rating. Mahomes has also excelled in divisional matchups, with 3+ TD passes in 4 of his last 5 games against divisional rivals. In 6 career starts on Thursday Night Football, he boasts 13 TDs and just 2 interceptions, accompanied by a 105.6 rating.
Running back Isiah Pacheco is on fire with four consecutive games of 55+ rush yards and three consecutive games with a rushing TD. He aims to continue his success in primetime with 100+ scrimmage yards in 2 of his last 3 such games.
Tight end Travis Kelce led the team with a season-high 10 catches for 67 yards and a TD in Week 5, adding to his impressive career tally of 10+ catch games. Kelce aims for his fourth consecutive game with 60+ receiving yards and has found the end zone in 3 of his 4 games this season.
The Chiefs' defense is no slouch either, with defensive tackle Chris Jones recording a sack in each of his 4 games this season. He's aiming for his eighth consecutive game with a sack in the regular season. Additionally, cornerback Trent McDuffie has been making an impact with a career-best 3 passes defended in Week 5 and is aiming for his fourth consecutive game with 5+ tackles.
---
Kansas City Chiefs Home Feed
SiriusXM channel 225 in your vehicle
Channel 815 on the SiriusXM App
Denver Broncos Away Feed
SiriusXM channel 226 in your vehicle
Channel 809 on the SiriusXM App
National Feed
SiriusXM channel 88 in your vehicle
Channel 88 via on SiriusXM App
---
Away: Denver Broncos
The Broncos are entering this game with quarterback Russell Wilson at the helm. In Week 5, Wilson completed 20 of 31 attempts for 245 yards, with an 103.7 rating. He's the only quarterback in the NFL with 2+ TD passes and a rating above 100 in four games this season.
Running back Javonte Williams has been a consistent force with 55+ scrimmage yards in three out of four games this season. He recorded a career-high 178 scrimmage yards (102 rushing, 76 receiving) and a receiving TD in his only career game at Kansas City.
Another running back to watch is Jaleel McLaughlin, a rookie, who aims for his third consecutive game with 85+ scrimmage yards and a receiving TD. McLaughlin is one of three rookie running backs this season with 2 receiving TDs.
Wide receiver Jerry Jeudy, coming off a season-high 6 catches for 50 yards in Week 5, is on a mission to achieve 4 consecutive games with 50+ receiving yards. He had 7+ catches in both games against Kansas City last season.
Meanwhile, Courtland Sutton has recorded a receiving TD in 2 of his past 3 games and aims for his fourth consecutive performance on Thursday Night Football with 5+ catches and 65+ receiving yards.
On the defensive side, Kareem Jackson had a season-high 10 tackles last week and is targeting his fourth consecutive game with 8+ tackles. Patrick Surtain II recorded his first interception of the season in Week 5 and is eyeing his third consecutive game with a pass defended.
---
For more on SiriusXM's NFL programming, visit SiriusXM.com/NFL.
---
---
---