Theismann on Cousins: 'Wasn't a better QB in football in last 10 games last season'
If the Pittsburgh Steelers' defense intends to be aggressive in applying pressure to Washington Redskins quarterback Kirk Cousins Monday night, Joe Theismann has a warning for them: Be very careful. With his vast collection of dangerous pass-catchers, Cousins is more … Continued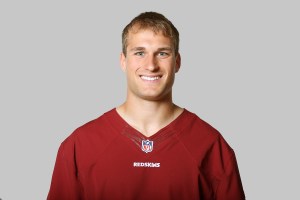 If the Pittsburgh Steelers' defense intends to be aggressive in applying pressure to Washington Redskins quarterback Kirk Cousins Monday night, Joe Theismann has a warning for them: Be very careful.
With his vast collection of dangerous pass-catchers, Cousins is more than capable of taking advantage of one-on-one coverage all over the field. In Theismann's opinion, Cousins reached elite status for most of the 2015 season and should continue to perform at that level.
"The last 10 games of the season last year, there wasn't a better quarterback in football," Theismann told Pat Kirwan and Jeff Rickard on Movin' The Chains. "You can name anybody you want. And his statistics measured up, favorably …"
'You can name anybody you want'
Theismann thought the Redskins played it safe with Cousins through the first six games of the season. But the former Redskins QB saw Cousins steadily gain the faith of offensive coordinator Sean McVay.
"The first six games of last year, they sort of kept the training wheels on him," he said. "And it wasn't until the Tampa Bay game, when the Redskins were down, 24-0, I think that Sean said, 'OK, the wheels are coming off, you have to go win a football game for us.' And they did. And I think that was really where Kirk earned his stripes and Sean McVay learned what his quarterback could do.
'Coordinator in place for third year vital to consistency'
"But the coordinator being in place (for a third season) is so vital to the consistency of what you want to do on the offensive side of the ball."
Sapp: Buccaneers' trio defended middle of the field 'like nobody's business'
The Dallas Cowboys had the Triplets. The Denver Broncos had the Three Amigos.
And the Tampa Bay Buccaneers had a defensive trio that was as formidable as any in the NFL: tackle Warren Sapp, linebacker Derrick Brooks, and safety John Lynch.
During an appearance on Hall of Fame Radio, Sapp told co-hosts Howard Balzer, Joe Horrigan and Mike Haynes that he and Brooks and Lynch fiercely defended the middle of the field. As far as Sapp is concerned, they defended it in ways that aren't seen in today's NFL.
'New football has Autobahn in the middle of the field'
"Because what I see now in the new football game is the Autobahn in the middle of the field, with a bunch of exits and entrances and all kinds of ways to get on the field," Sapp said. "We defended the middle of the field like nobody's business. The middle of the field was ours, and you couldn't get any of that real estate under no circumstance.
'If you got a chance to see Lynch, you'd better duck'
"We wanted it, especially in the run game. That was mine. Then Brooks was going to fill it. And then, if you got a chance to see Lynch, you'd better duck."
---
---