The Top Tracks from this week's YouTube EDM 15: Penguin Prison, Steve Aoki + more (3/18/16)
The Chainsmokers are mixing it up week after week bringing you the top EDM tracks on YouTube. Tune to BPM(Ch.51) Fridays at 8 pm ET to hear the hottest hits. This week on the EDM 15 the Chainsmokers are bustin' out … Continued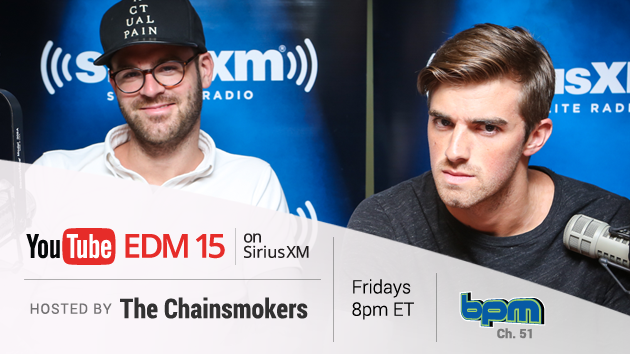 The Chainsmokers are mixing it up week after week bringing you the top EDM tracks on YouTube. Tune to BPM(Ch.51) Fridays at 8 pm ET to hear the hottest hits.
This week on the EDM 15 the Chainsmokers are bustin' out some fresh tracks like Penguin Prison's Show Me The Way, Steve Aoki's Hysteria, Thomas Hayes' Golden, and plenty more!
Make sure to check out the rest of 2015's Best of EDM 15 listed below:
Kygo – Stay ft. Maty Noyes ESTABLISHED
Curbi – 51 ESTABLISHED
Nora En Pure & Redondo – I Got To Do EMERGING
Yves V & Swanky Tunes – Out Of Gravity ESTABLISHED
MOTi – Turn Me Up Feat. Nabiha (VIP Mix) ESTABLISHED
FTampa & Sexroom – Need You ESTABLISHED
Sons Of Maria – Chimera EMERGING
tyDi & Jack Novak – Oceans (ft. Greyson Chance) EMERGING
Penguin Prison – Show Me The Way (The Knocks Remix) EMERGING
Steve Aoki- Hysteria ESTABLISHED
Thomas Hayes – Golden (ft. Kyler England) (Champion Remix) EMERGING
JOYRYDE – Fuel Tank EMERGING
Armin van Buuren feat. Kensington – Heading Up High ESTABLISHED
Major Lazer feat. Wild Belle – Be Together (Gioni Remix) EMERGING
Alan Walker – Faded (Kuba Te Remix) EMERGING
For a free 30-day trial, check out http://www.siriusxm.com/fbtrial.
---
---
---