The Top Tracks from this week's YouTube EDM 15: Different Heaven, Crystal Lake, DubVision + more (1/15/16)
The Chainsmokers are mixing it up week after week bringing you the top EDM tracks on YouTube. Tune to BPM(Ch.51) Fridays at 8 pm ET to hear the hottest hits. This week on the EDM 15 the Chainsmokers are bustin' out … Continued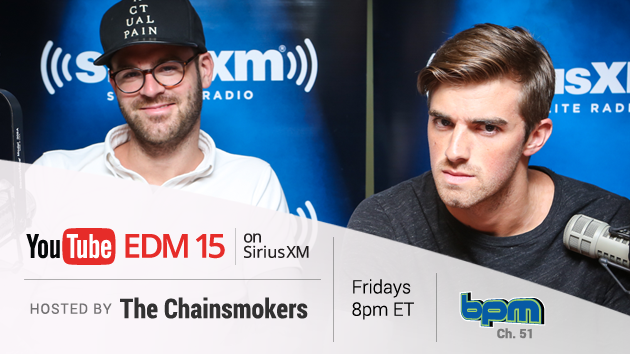 The Chainsmokers are mixing it up week after week bringing you the top EDM tracks on YouTube. Tune to BPM(Ch.51) Fridays at 8 pm ET to hear the hottest hits.
This week on the EDM 15 the Chainsmokers are bustin' out some fresh tracks like Different Heaven's Far Way, JOYRYDE's Give Me Love, Crystal Lake's Into the Sunset, DubVision's Sweet Harmony, and plenty more!
Make sure to check out the rest of 2015's Best of EDM 15 listed below:
DubVision – Sweet Harmony ESTABLISHED
Different Heaven – Far Away EMERGING
Torro Torro – Make A Move (Skrillex Remix) ESTABLISHED
Ryn Weaver – Octahate (Cignature Remix) EMERGING
JOYRYDE – GIVE MY LOVE EMERGING
Joachim Pastor – Fever (feat. Mischa) EMERGING
Crystal Lake ft. Kifi – Into The Sunset (Headhunterz Edit) ESTABLISHED
Axwell /\ Ingrosso – Dream Bigger (Instrumental) ESTABLISHED
Martin Garrix – Bouncybob (ft. Justin Mylo & Mesto) ESTABLISHED
Jay Cosmic & Delora – Have It All EMERGING
Hardwell feat. Jake Reese – Mad World (Quintino Remix) ESTABLISHED
Sandro Silva & (S)haan – HooYa ESTABLISHED
Lily & Madeleine – Come To Me (Ofenbach Remix) EMERGING
Armin van Buuren presents Rising Star – Clear Blue Moon (Will Rees Remix) EMERGING
Puppet & Cormak – Enough Is Enough (feat. Richard Caddock) EMERGING
For a free 30-day trial, check out http://www.siriusxm.com/fbtrial.
---
---
---