The Top Tracks from this week's YouTube EDM 15: Desembra, Alex Metric, MORTEN + more (1/29/16)
The Chainsmokers are mixing it up week after week bringing you the top EDM tracks on YouTube. Tune to BPM(Ch.51) Fridays at 8 pm ET to hear the hottest hits. This week on the EDM 15 the Chainsmokers are bustin' out … Continued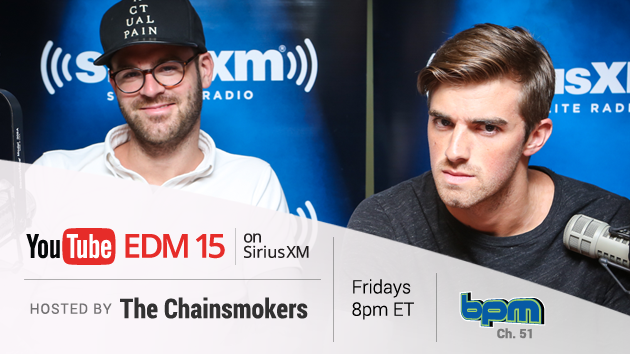 The Chainsmokers are mixing it up week after week bringing you the top EDM tracks on YouTube. Tune to BPM(Ch.51) Fridays at 8 pm ET to hear the hottest hits.
This week on the EDM 15 the Chainsmokers are bustin' out some fresh tracks like Desembra's Hit 'Em, MORTEN's Beautiful Heartbeat, Alex Metric's Drum Machine, The Chainsmokers' New York City, and plenty more!
Make sure to check out the rest of 2015's Best of EDM 15 listed below:
Ummet Ozcan – Wake Up The Sun EMERGING
Desembra – Hit 'Em EMERGING
Tiësto, Oliver Heldens – The Right Song ft. Natalie La Rose ESTABLISHED
Shift K3Y – Gone Missing ft. BB Diamond EMERGING
MORTEN – Beautiful Heartbeat (Deorro Remix) ESTABLISHED
Max Vangeli feat. Francis Marvel & Kacie Marie – Shine EMERGING
Alex Metric – Drum Machine (feat. The New Sins) ESTABLISHED
Steve Angello, Saturday, Monday – The Ocean ft. Julia Spada ESTABLISHED
Tobtok ft. River – Fast Car EMERGING
Seven Lions – Falling Away ft. Lights (Halogen Remix) EMERGING
Netsky – Work It Out feat. Digital Farm Animals ESTABLISHED
AlunaGeorge – I'm In Control ESTABLISHED
Dario Rodriguez & Mr V – Beat Back (USB Players Remix) EMERGING
The Chainsmokers – New York City (Dash Berlin Remix) ESTABLISHED
For a free 30-day trial, check out http://www.siriusxm.com/fbtrial.
---
---
---