The Rubber Room Pop Quiz
'The Rubber Room' comedy podcast stars Alison Pill, Natasha Leggero, David Cross, Andy Daly, Bobby Lee, Patton Oswalt and more.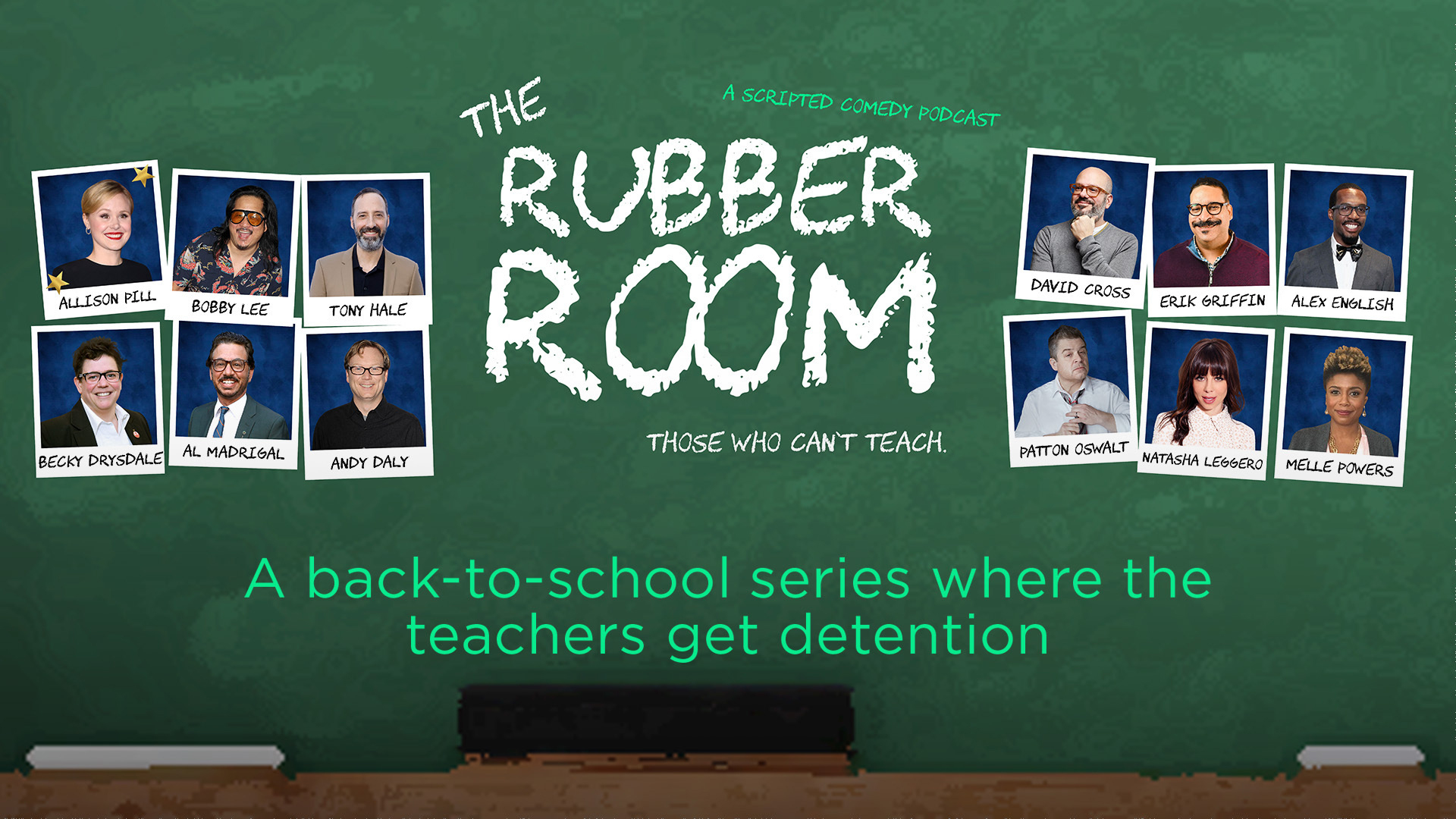 The Rubber Room scripted comedy podcast stars Alison Pill, Natasha Leggero, David Cross, Andy Daly, Bobby Lee, Patton Oswalt, Erik Griffin, Tony Hale, Al Madrigal, Becky Drysdale, Melle Powers, and Alex English. The series tells the story of Lindsey Whittle, a curve-busting, do-gooder NYC public school teacher framed for drug possession by her colleagues. Reassigned to the "Rubber Room," a quasi-jail for disgraced teachers run by the Department of Education, Lindsey must clear her name while trying to survive among New York's roughest teachers.
Circle the correct answer:
1. How did co-creators Jon Katz and Stephen Ruddy come up with the idea for The Rubber iiiiiRoom?
aaiiiiA.aIt's a remake of the 1968 Elvis Presley film Rubber Roomin'.
aaiiiiB.aWhile serving time in a Russian prison.

aaiiiiD.aRandomly generated by AI.
2. How in the hell did they land this amazing, all-star cast?
aaiiiiA.aThey were told it was for a fundraiser.
aaiiiiC.aThe cast thought they were doing voice work for Toy Story V.
aaiiiiD.aThey were each paid $11 million per episode.
3. Is the rubber room a real thing?
aaiiiiA.aNo, rubber is an inappropriate material for building construction.

aaiiiiC.aNo, Ms. Levenson was a wonderful 1st grade teacher, and I can't imagine her aaiiiiaaiicommitting any crimes.
aaiiiiD.aNo, school is a serious topic and this sounds too whimsical.
4. Where/When Can I hear The Rubber Room?

aaiiiiB.aNever. It will always remain just out of reach.
aaiiiiC.aTuesdays at 4 a.m., but only in Oceania!
aaiiiiD.aYou've always been able to hear it! Just close your eyes and think of chalkboards.
5. Is it funny?
aaiiiiA.aNo, I couldn't get the picture to come in no matter how much I fiddled with the dials.
aaiiiiB.aNo, each episode was only 20 minutes or so. I prefer opera-length comedy.
aaiiiiC.aNo, I enjoy the comedy of Garrison Keillor and nothing else.

---
---
---