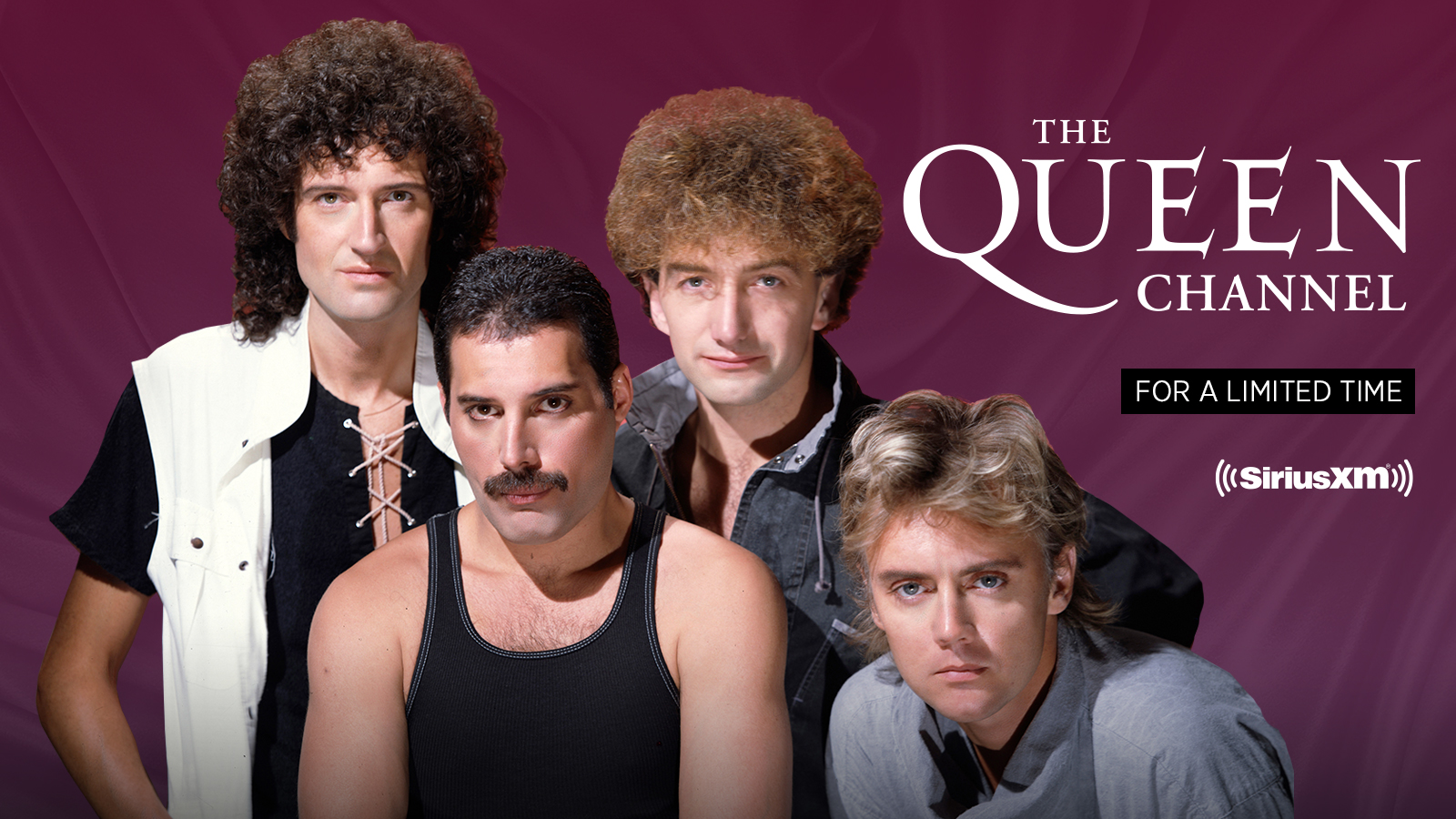 Dive into the entire musical world of Queen with the return of SiriusXM's The Queen Channel, available exclusively on the SiriusXM App from October 12 through November 10. The channel will also air on SiriusXM channel 104 from October 16 through October 22!
---
Stream The Queen Channel on the SiriusXM App & web player
---
As Queen + Adam Lambert continue The Rhapsody Tour, rediscover all that is Queen with intriguing insight from Brian May, Roger Taylor, Adam Lambert, and the late Freddie Mercury. Dive deep into the vast archives of experimental, bold, and undeniably-Queen music.
Fifty years after the band's self-titled debut album, hear iconic anthems and the stories behind them, plus rare outtakes and electric live performances. Starting October 12 at 1pm ET, listen to Guest DJ sessions from Queen fans Ann Wilson of Heart, Joe Elliott of Def Leppard, actress Catherine Zeta-Jones and more. Plus, SiriusXM listeners voted on their favorite Queen songs, revealed in Quintessential Queen: Top 50 Countdown, premiering Monday, October 16 at 12pm ET.
Queen + Adam Lambert's Rhapsody Tour
Queen — with original band members Brian May and Roger Taylor plus longtime front-man Adam Lambert on lead vocals — recently kicked off their highly-anticipated, 23-date North American Rhapsody Tour. Get tickets here.
Queen + Adam Lambert's 150-minute career-spanning set list celebrates the band's extraordinary back catalog, lining up wall-to-wall immortal anthems like "We Will Rock You/We Are the Champions," "Don't Stop Me Now," "Radio Ga Ga," and "Somebody To Love," alongside classic deep cuts and vintage fan favorites. Featuring a dazzling state-of-the-art stage design, incredible special effects, and set pieces, this sense-swamping extravaganza has been blowing critics and fans away the world over since its very first unveiling in North America in 2019.
The 2023 North American tour sees Queen + Adam Lambert supported on stage by their regular band members: long-serving Queen keyboard player Spike Edney, bass guitarist Neil Fairclough, and percussionist Tyler Warren.
Having extensively toured since it first debuted in North America in 2019, the Rhapsody show is forever evolving. But it remains at heart a tribute to Freddie Mercury's majestic legacy, a confirmation of Brian and Roger's undimmed musical prowess, plus a magnificent showcase for Adam's vocal skills and electrifying stage charisma, all adding up to a glorious full-blooded celebration of one of the greatest songbooks in rock history.
QUEEN + ADAM LAMBERT NORTH AMERICA THE RHAPSODY TOUR 2023 DATES:
Mon Oct 16 – Boston, MA – TD Garden
Wed Oct 18 — Philadelphia, PA – Wells Fargo Center
Sat Oct 21— Austin, TX– Circuit of The Americas
Mon Oct 23 — Atlanta, GA – State Farm Arena
Wed Oct 25 – Nashville, TN – Bridgestone Arena
Fri Oct 27 – St. Paul, MN – Xcel Energy Center
Sat Oct 28 – St. Paul, MN – Xcel Energy Center
Mon Oct 30 — Chicago, IL – United Center
Tue Oct 31 — Chicago, IL – United Center
Thu Nov 02 – Dallas, TX – American Airlines Center
Fri Nov 03 – Dallas, TX – American Airlines Center
Sun Nov 05 — Denver, CO – Ball Arena
Wed Nov 08 – San Francisco, CA – Chase Center
Thu Nov 09 – San Francisco, CA – Chase Center
Sat Nov 11 – Los Angeles, CA – BMO Stadium
Sun Nov 12 – Los Angeles, CA – BMO Stadium
---
---
---