The Magnificent Seven: Chris Pratt, Denzel Washington + Ethan Hawke talk shooting the wild western
EW Radio's Julia Cunningham interviewed the cast and director of The Magnificent Seven.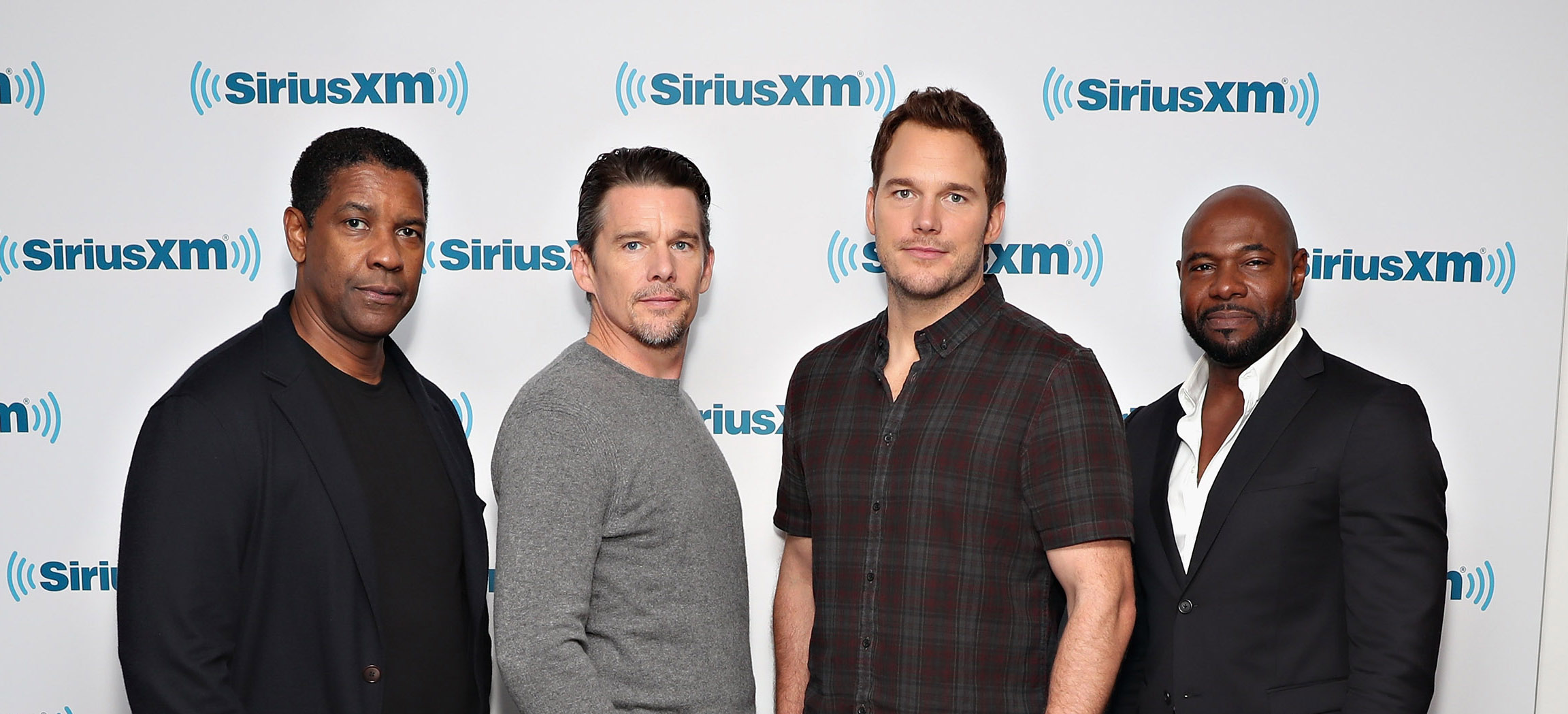 NEW YORK, NY – SEPTEMBER 19: SiriusXM's 'Town Hall' with the cast of 'The Magnificent Seven' hosted by SiriusXM host Julia Cunningham on September 19, 2016 in New York City. (Photo by Cindy Ord/Getty Images for SiriusXM)
As with the 1960s western film The Magnificent Seven, director Antoine Fuqua's remake finds a motley crew of outlaws fighting to defend a dusty town. But this time, they've got Denzel Washington.
Fuqua had previously directed Washington along with TM7 co-star Ethan Hawke in 2001's Training Day. The new movie brings in the seriously funny Chris Pratt to create a group of western gunslingers determined to protect their territory.
The four joined Entertainment Weekly's Julia Cunningham for a SiriusXM Town Hall on Monday. Their discussion covered diversity in Hollywood, honoring the western genre via this remake and the subtleties of becoming horse whisperers. Because what's a cowboy without his trusty steed?
"It was fun. It was probably my favorite thing about the shoot, was getting to know the animals, getting to feel comfortable doing this," Hawke said.
Pratt said he "learned a valuable lesson" acting as a cowboy.
"My whole life I've periodically rode horses, but I always got thrown off or bucked off or thrown into a fence. I always got embarrassed and hurt, because my confidence outgrows my skill in everything," he said as the crowd laughed. "I ride a horse for 10 minutes, I'm like, 'Oh, I got this.' And so on this, I really took it slow. I didn't want to get hurt. I knew I'd have to be on the horse the whole time, so I really gave the horse the respect that it deserved and understood that it's a living being. It's not like a jet-ski or something you can just jump on and hit the gas and go. You have to be kind to this animal and coerce it into moving, and they have good days and bad days."
"Each morning, I would never just come in and get on the horse. I'd come in, rub him down, get him carrots, talk to him and just rub him down. He's like okay, so he knows that's how the day starts," Washington added. "It's gonna be a good day. I'm like, 'I'm taking care of you, now take care of me.'"
Watch the clips below for stories of the guys fishing on-set in Louisiana and a Pratt's musical gift to Fuqua when he learned he landed the part.
The Magnificent Seven hits theaters on Friday and you can hear the full Town Hall the same day at 2 p.m. ET on SiriusXM Entertainment Weekly Radio (Ch. 105).
For a free 30-day trial, check out http://www.siriusxm.com/freetrial/blog. 
---
---
---