Dakota Johnson & Maggie Gyllenhaal unpack the nuances of 'The Lost Daughter' & more
"Is she gonna kill her? Are they gonna have sex?" Hear 'The Lost Daughter' director and star share their thoughts on the poignant and critically acclaimed film.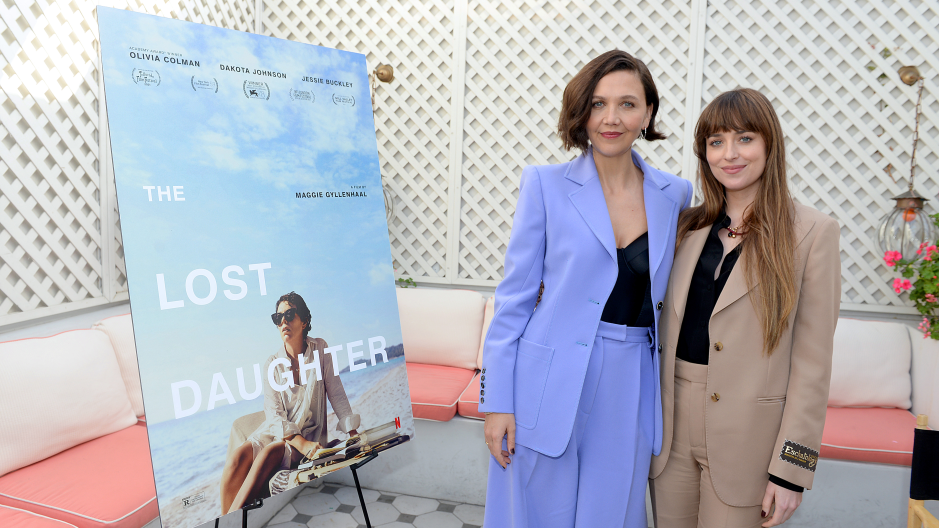 If you've spent any time on film Twitter, you've likely heard the buzz around Maggie Gyllenhaal's directorial debut, The Lost Daughter. First premiering at the Venice International Film Festival last September, public interest around the movie has been building since its limited theatrical release and subsequent Netflix release in December. But the low-key rollout hasn't stopped the accolades from rolling in, including (but not limited to) four Gotham Independent Film Awards, the Golden Osella for Best Screenplay at the Venice International Film Festival, two Critics Choice nominations, and — crucially — a certified-fresh 95% critic rating on Rotten Tomatoes.
Twitter has also been buzzing with praise for the movie's stars, Oscar winner Olivia Colman and Fifty Shade of Grey actress Dakota Johnson (yes, the same Dakota Johnson who did, indeed, invite Ellen DeGeneres to her birthday party), who play Leda and Nina, two women grappling with motherhood at different walks of life who have a chance encounter on the beach in Greece.
---
Related: Jake Gyllenhaal dishes on his aunt, Jamie Lee Curtis, & more in exclusive interview
---
Both Gyllenhaal and Johnson joined Jess Cagle and Julia Cunningham on The Jess Cagle Show to discuss the film's themes and the nuances of creating it, including the sometimes-mysterious tension and vulnerability between Johnson and Colman. During their chat, Gyllenhaal praised Johnson as much more than 'a woman in a bathing suit,' and commented on how she played with objectification and the different ways that Johnson was the perfect person for the role.

For Johnson, she ruminated on the concept of being a muse and how entire conversations can be said without a word, which deeply impacted the dynamic between Leda and Nina.
"Usually in a script, if you see the stage direction and it's like, 'Leda looks at Nina,' I glance over and I'm like 'Ok, whatever,' but in this it's a real moment that stays with you; these tiny little moments and they could mean anything. At a certain point, you're like 'Is she gonna kill her? Are they gonna have sex?'" Johnson said. "It's just the way that you never really know what can occur between two people."
---
Related: Hear from the biggest names in Hollywood on Jess Cagle's SXM podcast
---
---
---
---