The latest SiriusXM Big Ten Radio college basketball power rankings
As the season continues, see how your favorite college team fared in SiriusXM Big Ten Radio's weekly 'Power Rankings.'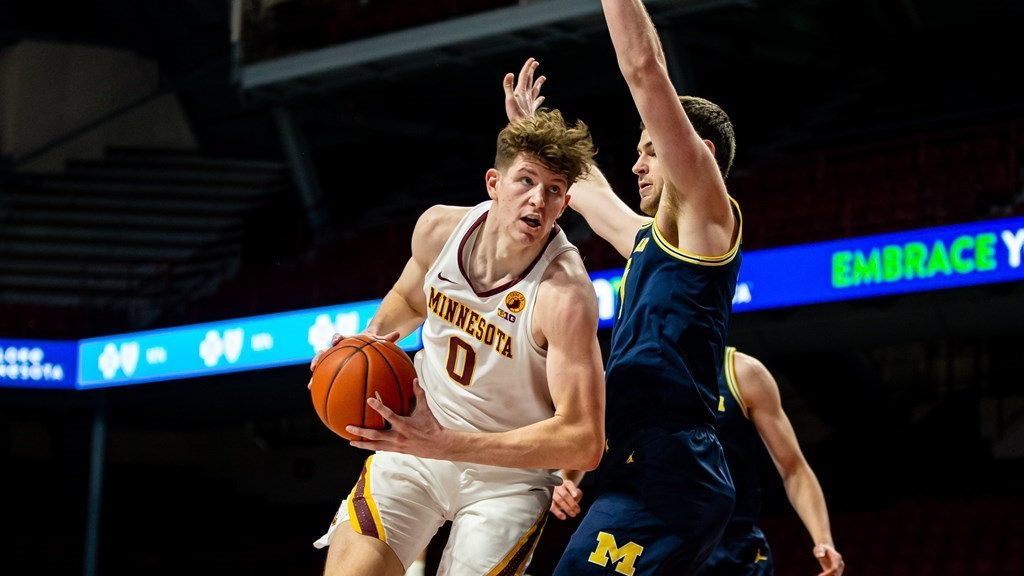 Minnesota pulled off a big upset win over Michigan. (Photo: Big Ten)
Pete Pistone and the rest of the SiriusXM Big Ten Radio team are unveiling Power Rankings each week of the college basketball season. Check out this week's edition of basketball Power Rankings below, and start listening to SiriusXM Big Ten Radio (Ch. 372) on the SiriusXM app now.

Michigan finally lost a game. Illinois is starting to skid. Ohio State is coming on. Minnesota continues to surprise.
Those were just a few of the stories that developed over the last several days as the Big Ten basketball season crossed into the second half of January.
Here's how the SiriusXM Big Ten Radio team voted to put together this week's edition of our college basketball rankings:
1.  IOWA @IowaHoops (12-2, 6-1)
The Hawkeyes missed a game against Michigan State because of Covid, but a 96-73 victory over Northwestern was more than enough of a show of strength.
WEEK AHEAD: Indiana (January 21)
2.  MICHIGAN  @umichbball (11-1, 6-1)
The Wolverines' first loss of the season came at the hands of Minnesota in one of the week's biggest surprises; we'll see if that was just a blip on the radar for Jawaan Howards's team.
WEEK AHEAD: @Purdue (January 22)
3. WISCONSIN  @BadgerMBB (11-3, 5-2)
 Michigan ran the Badgers out of the building last week, but Wisconsin rebounded by beating Rutgers in a strong showing of how resilient this veteran team is this season.
WEEK AHEAD: Northwestern (January 20), Ohio State (January 23)
4. OHIO STATE @OhioStateHoops (11-3, 5-3)
The Buckeyes are red hot with three straight wins last week, including a double digit victory over Northwestern as payback from an earlier season loss to the Wildcats.
WEEK AHEAD: @Wisconsin (January 23)
5. PURDUE  @BoilerBall  (10-5, 5-3)
The Boilermakers are catching fire with wins over Indiana and Penn State. Purdue does not look like the same team that struggled to start the season.
WEEK AHEAD: Michigan (January 22)
6. ILLINOIS @IlliniMBB  (9-5, 5-3)
The Fighting Illini have had a penchant for digging themselves a hole and fighting to climb out; they were not able to do so in an 87-81 loss to Ohio State.
WEEK AHEAD: TBA
7. MINNESOTA  @GopherMBB (11-4, 4-4)
The Golden Gophers' win over Michigan may have been the biggest victory in the conference so far this year. It also helped Minnesota get things back in the right direction after two consecutive double digit losses.
WEEK AHEAD: Maryland (January 23)
8.  RUTGERS @RutgersMBB (7-5, 3-5)
Four straight losses and just one win in its last six games has Rutgers in a tailspin. The lack of three-point shooting, one of this team's strengths a year ago, has been sorely lacking.
WEEK AHEAD: @Penn State (January 21), @Indiana (January 24)
9. MICHIGAN STATE  @MSU_Basketball (8-4, 2-4)
 The Spartans have been and will be idle for a while due to Covid.
WEEK AHEAD: No Games Scheduled
10. MARYLAND  @TerrapinHoops  (8-6, 2-5)
No conference games because of the virus for Maryland last week, but a 40-point win over Wingate sums up the Terrapins' last few days.
WEEK AHEAD: @Minnesota (January 23)
11.  INDIANA @IndianaMBB  (8-6, 3-4)
The Hoosiers' loss to Purdue felt like a seminal moment for Archie Miller's team, which has been wildly inconsistent. Which way Indiana's season goes from here is very questionable.
WEEK AHEAD: @Iowa (January 21), Rutgers (January 24)
12.  NORTHWESTERN  @NUMensBBall (6-6, 3-5)
The 3-0 start to conference play continues to be a distant memory for Northwestern. Since being Ohio State in late December, the Wildcats have lost five in a row.
WEEK AHEAD: @Wisconsin (January 20), @Penn State (January 23)
13. PENN STATE  @PennStateMBB (3-5, 0-4)
 The Nittany Lions got back on the court after being sidelined by the virus but the results were disappointing as the losses continue to mount.
WEEK AHEAD: Rutgers (January 21), Northwestern (January 23)
14. NEBRASKA @HuskerHoops (4-8, 0-5)
Unfortunately not much to report on Nebraska as the virus has the Cornhuskers idle until at least January 30.
WEEK AHEAD: No Games Scheduled
---
---
---