The Howard Stern Show: How Dax Shepherd helped Jason Ellis get sober
Jason Ellis told Howard Stern he's been clean for 164 days.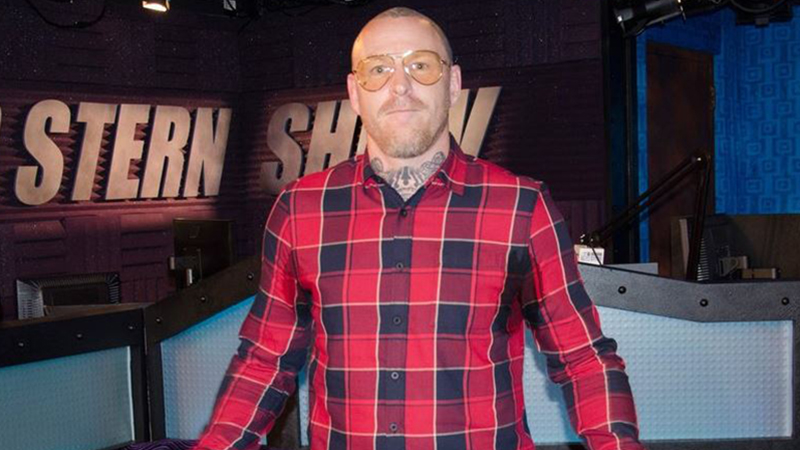 Dax Shepard came forward as a survivor of childhood molestation last spring on The Jason Ellis Show, explaining how the trauma affected his life as an addict.
The story was all too familiar for Ellis, who had opened up about being sexually abused by his father on The Howard Stern Show. In Stern's studio on Monday, the pro skateboarder and MMA fighter revealed right after their interview, Shepard inspired him to get clean and go to therapy, too.
"Dax is the person that helped me discover that I need to be in meetings," Ellis told Stern.
The stars met through a mutual friend, a stuntman on the upcoming CHiPs movie who suggested Ellis sub in for a scene in which Shepard punches him in the face.
On set, "he said to me he heard me on The Stern Show, said it was the ballsiest thing he's ever heard anyone do," Ellis recalled.
"He gave me a lot of encouragement and we became sort of buddies, and then he was like, 'You know, I really would like to come on your show,'" Ellis added. "And then he came on my show and talked about how he was molested, and then he was like 'I can't believe you're not a user.' And I was like, 'I am.' And he's like, 'So you're a sober guy now?' And I'm like, 'Uh uh.' And he's like, 'You're not?' I'm like, 'No!'"
At that point, Ellis told Stern, he was smoking marijuana "all day, non-stop."
Shepard urged him to attend an AA meeting, and "I just finally committed to it, I just went for it," said Ellis, who's been sober for 164 days now.
"Is it torture for you?" Stern asked.
"No, not any more," he said. "The first month was really bad, but every month gets a little bit easier. Plus, the way things are going these days, it's not even six months yet and I can already tell that this is the only way for me to live."
For more coverage of The Howard Stern Show, follow @sternshow on Twitter. Hear more Howard on SiriusXM Ch. 100 and 101.
The Jason Ellis Show airs weekdays from 10 a.m. to 1 p.m. ET on SiriusXM Faction (Ch. 41).
For a free 30-day trial, check out http://www.siriusxm.com/freetrial/blog.
---
---
---