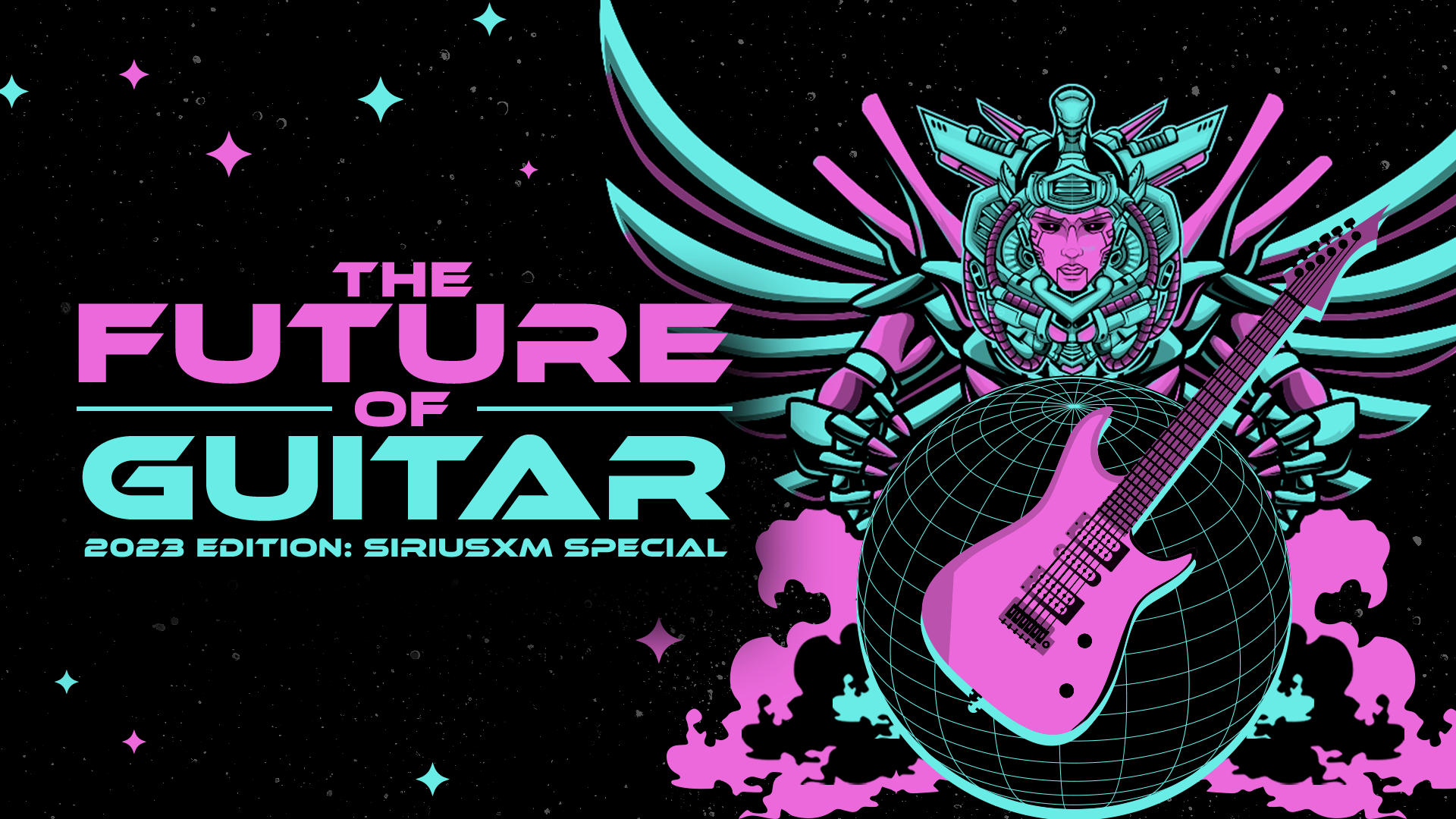 For The Future of Guitar: 2023, SiriusXM & Jose "Metal Ambassador" Mangin selected 15 musicians moving the needle in technique, tone, and uniqueness. Both embodying the past and creating a sound all their own, these rising legends are making their mark on guitar history. Listen to the full special on Liquid Metal (Ch. 40) at the times below, and scroll down to learn more about the artists included.
---
The Future of Guitar: 2023 Airtimes on Liquid Metal (Ch. 40)
Friday, April 21 at 4pm
Saturday, April 22 at 8pm
Sunday, April 23 at 12pm
Tuesday, April 25 at 10pm
Thursday, April 27 at 11am

---

Jesse Cash
ERRA / Ghost Atlas
When metalcore felt like it was nearing its life cycle, Jesse Cash pushed the genre into a new progressive era, founding ERRA in 2009.
ERRA's debut album Impulse (2011) gave fresh breath to the heavily criticized genre, with Cash fronting guitar and clean vocals. Cash showed how to incorporate beautiful reverb, complex rhythms, and poetic lyrics in a metalcore soundscape. With their follow-up LP Augment (2013), Cash doubled down on non-linear songwriting and added inventive choruses the genre had never seen before. 
While Cash also leads clean vocals, he doesn't let that take away from his monumental guitar duties. Cash has beautifully perfected this balance of matching impossible patterns while still singing live and then letting loose the second his full attention is free. Along his musical journey, Cash consistently revisited his solo project Ghost Atlas, exploring more emotional elements of alternative songwriting and stripped-down recordings. 
With newcomer JT Cavey leading unclean vocals on technical guitar masterpiece Drift (2016), Cash stacked more guitar parts, and explored new keys. Citing Northlane and Meshuggah as favorites, Cash explored more mainstream choruses with the same ERRA chaos fans love on Neon (2018). Then, with the colossal self-titled ERRA (Deluxe, 2022), the band encased all previous records: introducing heavy synthesizers, darker melodies, and the perfect sweet-spot blending clean and unclean vocals. And near-impossible double bass drumming from Alex Ballew match Cash's continued expanding songwriting. 
---

Alyssa Day
Solo / Mindscar
Alyssa Day has taken a social-first approach to her music, sharing new ungodly riffs almost daily with her 100k Instagram followers. These original pieces can be snippets of upcoming tracks or ideas just improvised.
Day has carried guitar duties for death metal band Mindscar since 2016, a spot previously held by Trivium's Matt Heafy. From this project, songs like "Chasing The Grave" show Day's speed, precision, and savage nature. And with a Jackson guitar endorsement and 15+ years of playing, her technical knowledge shines past half-hearted players.
Day's debut EP Ruinous (2022) shared her true intentions for this solo namesake project. Bringing the smoothest sweep-picking, fastest shredding, and snappy bends, Day showed pure emotion to push you to tears on her instrumental debut. Tracks like "A Fever of Matter" shared post-metal rhythms pushed with progressive solos, leaving listeners on the edge of their seat wanting more.
And if you want to learn how to shred, you can even take private lessons from Alyssa Day here.
---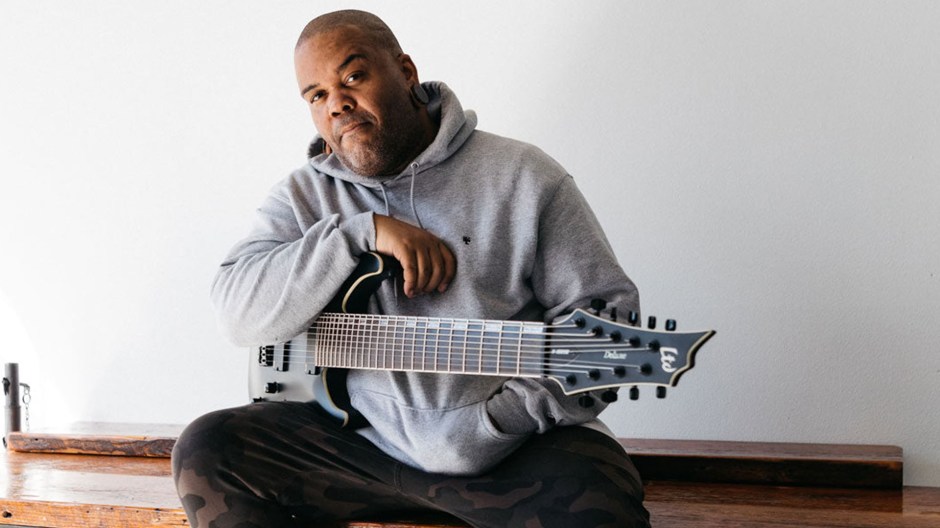 Joshua Travis
Solo / Emmure / Glass Cloud / Tony Danza Tapdance Extravaganza
Joshua Travis is relentless in his playing. Breaks that don't give up. A tone that feverishly bites through the mix. Chord progressions and melodies that feel familiar yet new. And chunky breakdowns right where you want them.
Travis first erupted with experimental grindcore band Tony Danza Tapdance Extravaganza in 2010, leading guitar for albums Danza III (2010) and Danza IIII (2012). Progressive breaks, long tracks, and extravagantly technical playing quickly brought Travis to the forefront of eight-string guitar players. Later, Travis formed progressive metalcore band Glass Cloud, with The Royal Thousand (2012) still ringing notes ahead of its time. Layered stacked guitar progressions with post-hardcore vocals by Jerry Roush cemented the timelessness of the record. 
After those chapters closed, Travis joined Emmure in 2016, exploring nu-inspired riffs and songwriting for a deathcore audience. Travis dialed into pushing his guitar tone deeper throughout Emmure's releases of Look At Yourself (2017) and Hindsight (2020), adding a compressed bite and building to his mosh-pit energy. 
In 2020, Joshua Travis started a new solo project, featuring artists like Berried Alive, Stephen Taranto, Ryo Kinoshita, Andy Cizek, and more. With Travis' lifelong dedication to breaking through the mold, the future of guitar is evolving just from each of his new releases.
---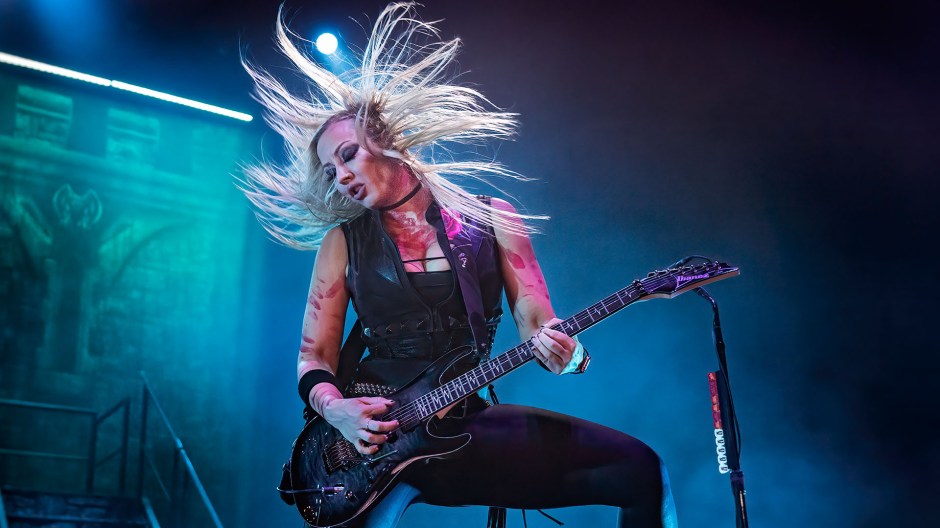 Nita Strauss
Solo / Alice Cooper / Demi Lovato
Nita Strauss first picked up a guitar from watching Steve Vai play in the film Crossroad (1986). Rising to fame in Iron Maiden tribute band The Iron Maidens in 2011, Strauss turned guitar hero on her first tour with Alice Cooper in 2014.
Strauss has been pumping fresh energy into Alice Cooper's shows for over a decade, providing gut-wrenching solos as touring guitarist since 2014. Taking the limelight with guitar monologues in between songs, adding new styling over bridges and new harmonies to choruses, Strauss effortlessly innovates on classic Cooper songs.
Her relentless pursuit of talent and blockbuster performances led to her own signature Ibanez model. Megastar Demi Lovato tapped Strauss to bring the rock vision of Holy Fvck to life on tour, showing a new audience how to rock.
Strauss translated all her knowledge into a hard rock experience classic listeners will rejoice with her revisited solo project. Featuring artists like David Draiman (Disturbed), Alissa White-Gluz (Arch Enemy), and Alice Cooper, Nita Strauss has quickly built a solid guest list and solo fanbase ahead of her second LP, expected in 2023. Tracks like "Dead Inside" show Strauss' ability to cater to nostalgia, while trying something new during the breakdowns.
Twisting bends, heavy-hitting rock riffs with extended solos, Strauss embraces the future of guitar, making generations of rockers turn their heads.
---

Berried Alive
Kaylie & Charles Caswell
Berried Alive blends up 20 genres into a smoothie filled with puns, juicy 808s, and cosmic guitar shredding. They arrived on the scene from their viral YouTube videos, consisting of married duo Kaylie and Charles Caswell. With Charles handling guitar and vocals and Kaylie handling bass and drum programming, Berried Alive have consistently put out 10-20 tracks a year for over half a decade.
Berried Alive are producers at their core and think of the guitar and bass as just another input. They aren't afraid to chop up transitions, add a stack of effects, or lean on MIDI pedals — which makes guitar purists shiver. And with this "forbidden" approach, Berried Alive reinvent the guitar's role and how it can sound. And they still back up their irrefutable chops with live playthroughs.
Berried Alive debuted their progressive metal album Soul Sucker (2016) with deathcore, metalcore, and electronic elements. Notably crafting their signature distorted low-end sound with atmospheric textures, each year the duo added a new tool to their repertoire: exploring progressives riffs with Fools Gold (2017), dark synthesizers and breakdowns on Bearies Alive (2018), and adding dubstep and unrepeatable technical playing Feugo (2020).
The Mixgrape (2021) brought a new guitar tone for every song, and Our Own Light (2022) blended distortion with everything from pop to hip hop. Partnering with dozens of independent artists from rapper Mobbs Radical to Lucas Mann (Rings of Saturn), Berried Alive have unmatched range and refuse to sit in one bubble. And they will juice you in their songs if you disagree.
---

WILLOW
With a huge mainstream following and instantly recognizable voice, WILLOW is not afraid to dive into any genre that fits the story, akin to Prince. Performing breathtaking heavy songs at SNL and holding Billboard Hot 100 songs for over 50 weeks, WILLOW is bringing guitar to an audience that had abandoned the six-string.
Talking to Rolling Stone, WILLOW shared her transition from pop star to rock god:
"After I picked up the guitar, everything changed because I didn't need producers. I didn't need anyone to write music. I could just do it all by myself. That was a game changer."
WILLOW broke charts with her lyrical guitar chords backing her layered vocals in "Time Machine." While using guitar as a backing piece for experimental pop songs in WILLOW (2019), she transitioned to heavier guitar production in lately I feel EVERYTHING (2021). Tapping Travis Barker and features from Tierra Whack and Avril Lavigne, WILLOW explored a darker, guitar-driven, alt rock record with hints of emo and punk.
With <COPINGMECHANISM> (2022), WILLOW shared how she dove into darker songwriting, practiced complex solos, and was influenced by Primus & System of a Down. Willow also teased starting a new metal-focused album for her next record, as seen on notes of "ur a <stranger>."
Leading alongside Gen Z guitarists like Beabadoobee and Steve Lacy, WILLOW is cementing the future of guitar for the next generation of listeners.
---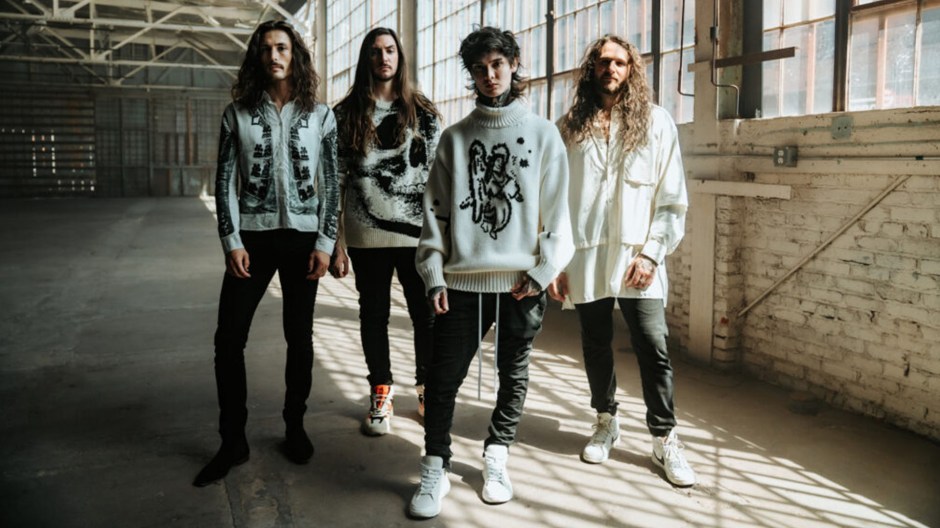 Polyphia
Tim Henson, Scott LePage, Clay Gober
Polyphia immediately drew a fanbase with their debut album instrumental album Muse (2014), receiving near-perfect reviews and leaning on support from their first EP's viral YouTube moment. Guitarists Tim Henson and Scott LePage slide through harmony leads so catchy fans can't help but sing along. And with Clay Gober driving on bass, the trio carries the voice of a choir. 
Renaissance (2016) explored Polyphia's melodic sounds and leaned on the "slap and pop" style created by legendary bassist Larry Graham and modernized by Victor Wooten. Henson and LePage explored much softer tones and open-playing versus their grinding first record, now giving Gober more space to work with intimate grooves.
With The Most Hated EP (2017), Polyphia sent their record to over a dozen producers to re-sample, giving us staples like "Goose." Henson said in an interview with AAPI Magazine:
"I feel like in 2017 The Most Hated was way f****** ahead of its time… which was essentially intricate guitar with beats which followed the guitars; now in 2021, four years later, that's what all the kids are doing now."
Embracing their hate — and after a brief Christian rock metal run — Polyphia tapped the guitar innovators Yvette Young, Ichika, and Jason Richardson to build the nasty, saucy, rich New Levels New Devils (2018). Filled with sharp turns, Clay Gober spotlighted this album with bass breakdowns backed by a hip hop production that made your subwoofers jump.
With their last evolution, Remember That You Will Die (2022) took the tenacity of their first record and years of production experience and added a new element: vocals. The only Polyphia album to feature over 50 percent of songs with lyrics, the band leaned on collars with heavy hitters $not, Chino Moreno, Steve Vai, and more. 
If you want the tone of Polyphia's signature songs, Tim Henson's guitar plug-in is available from Neural DSP.
---

Marc Okubo
Veil of Maya
Founded by guitarist Marc Okubo in Chicago, Veil of Maya pushed deathcore forward with an early addition to Summerian's roster. Veil of Maya delivered their first two albums, The Common Man's Collapse (2008) and [id] (2010), with heart-pumping fan-favorites, staying aligned with the scene but adding more rhythmic melodies.
With Eclipse (2012), Okubo honed in on tone and advanced composition next to producer Misha Mansoor of Periphery. With key changes and scale progressions that never end, Okubo solidified signature Veil of Maya sounds, such as the sporadic triplets heard in "Vicious Circles."
Matriarch (2015) marked a paramount shift to the metalcore scene, adding Lukas Magyar to both unclean and clean vocals, a first for the band. Okubo increased his digital programming, production quality increased, and Sam Applebaum's drum mix now unleashed the full potential of Okubo's low-end. The new ability to write for clean vocals gave Okubo more space to explore catchy riffs and even darker breakdowns.
Never repeating a phrase on False Idol (2017), Okubo brought Magyar's vision for a concept album to life, with each song embodying a dystopian novel chapter. Added multilayered programming by Okubo gave his guitar breakdowns texture, and Magyar and Okubo's second record together elevated their synchronization.
After six years, Veil of Maya looks towards their next LP Mother (2023), expected May 12. First listens to singles "Red Fur" and "Synthwave Vegan" create a futuristic, dystopian society with an emphasis on scrambled synth sequences, putting us further into the future of guitar.
---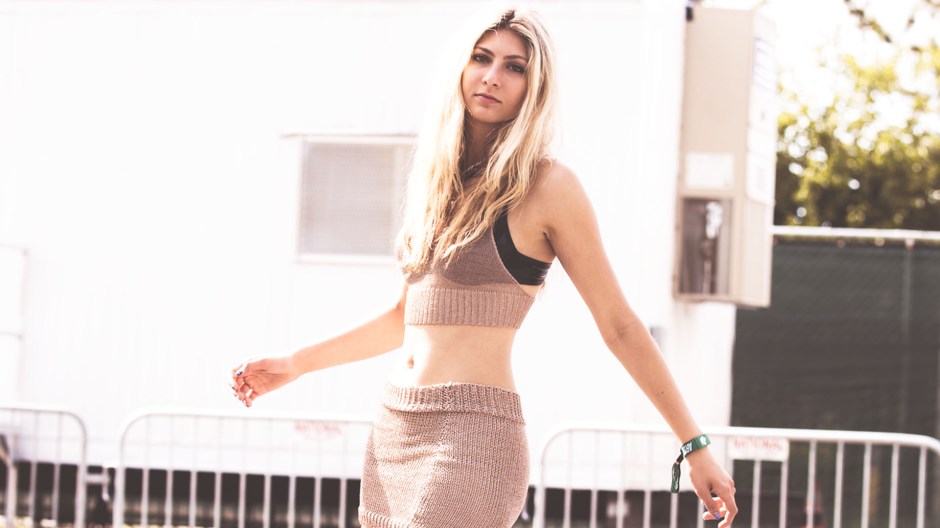 Blu DeTiger
Grooves that slap as much as they bounce, Blu DeTiger is phenom bassist and vocalist bringing back the low-end in alternative scene. Beginning her bass journey at age seven, DeTiger would haul a Gretsch bass a foot taller than her throughout Manhattan. At 17, she began DJing while attending NYU and continued to play alongside drummer brother Rex DeTiger. 
Blu DeTiger told NME:
"My sound definitely has some grit and edge to it… and I think that comes from being in New York, growing up there DJing and doing the whole nightlife thing"
With over a million TikTok followers fueling her rise to stardom, Blu adds new bass-lines over hit songs in her covers. Also fueling her original music, TikTok gave single "Cotton Candy Lemonade" and "Figure It Out" the push needed to break out of New York.
With versatility ranging from nu-funk with Chromeo on "enough 4 u" and "Blutooth," to stuck-in-your-head alt pop riffs on "Crash Course," Blu shows versatility in utilizing timeless melodies with modern production.
If you're eagerly awaiting Blu DeTiger's debut full album release, you can her perform "Vintage" live on SiriusXM VOLUME.
---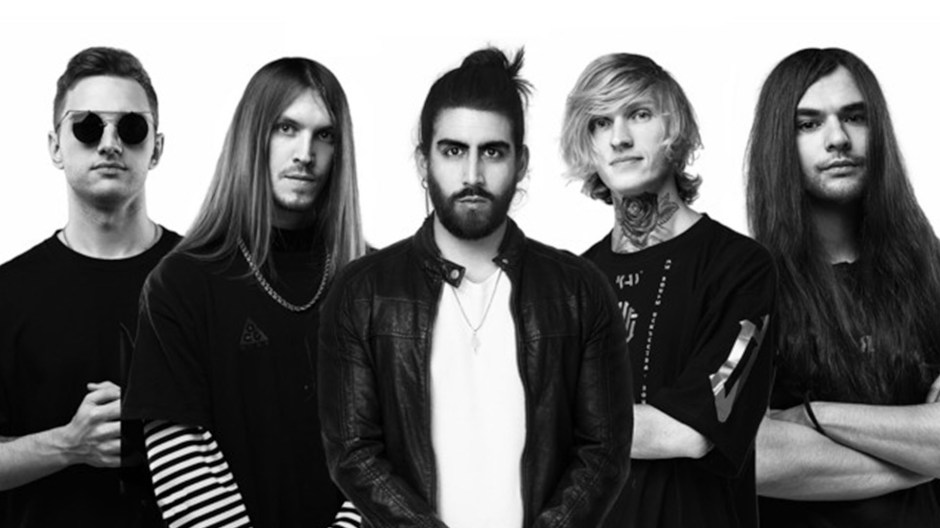 Shrezzers
ChocoSlayc & Vitalii Molokanov
Shrezzers' angelic guitarists Vyacheslav "ChocoSlayc" Kavlenas and Vitalii Molokanov hail from St. Petersburg, Russia, mixing progressive metalcore with influences rooting everywhere from Spain to Japan. Formed in 2016, they released behemoth singles "Mystery" and "Spotlight," blending metalcore with saxophone breakdowns, prog solos, and low growls.
ChocoSlayc and Molokanov never hold back on their complexity, with multilingual vocalist Diego Silva Málaga in perfect sync. With fluttery verses that punch and insane scale progressions, Shrezzers merge intense technical knowledge with danceable melodies. When the songs get heavy, drummer Mark Mironov doubles as the unclean vocalist.
With over eight guest features, Shrezzers' first LP Relationships (2019) assembled the best in metal, from Ronnie Canizaro (Born of Osiris) and Aaron Marshall (Intervals) to viral YouTube star Jared Dines. Every song boasted a distinctly different groove, and expert composition from Molokanov and ChocoSlayc drove every song, with Artem Subichev's perfectly-timed saxophone amplifying their tasty licks.
SEX & SAX (2023) put Shrezzers even further on their own genre island, featuring Latin-inspired guitar, more saxophone (now sexier), and dark futuristic samples. Technical metal riffs in "Tabidachi" and "UVB-76" trap you in a VR nightmare, with "Jealousy" and "Temperatura" going full Latin pop.
With an album cadence like no other, features from Adam Bentley (Arch Echo), Michael Barr (VOLUMES), Lukas Magyar (Veil of Maya), and continued evolved songwriting, ChocoSlayc and Molokanov have quickly made their mark on the future of guitar.
---

Sophie Lloyd
Solo / Machine Gun Kelly
Sophie Lloyd built a following with her "Shredding Versions" of classic rock and metal tracks, from Iron Maiden to Guns 'N Roses. A lifelong musician, Lloyd was initially inspired by Led Zeppelin but channels decades of guitar history in her playing.
Her debut EP Delusions (2018) explored math-tapping on top of nostalgia-feeling riffs. After amassing three million followers across socials, Lloyd toured with Machine Gun Kelly for the 2022 Mainstream Sellout Tour, bringing her technical skills to a massive audience.
Lloyd talked to Blabbermouth ahead of the release of her debut LP Imposter Syndrome (expected late 2023):
"This is a very special release for me as it includes vocals, and some of the people we've worked with are people I used to have as posters on my wall as a kid."
The new record features vocals by Matt Heafy, Lauren Babic, Nathan James.
---
See last year's artists named Future of Guitar: 2022, and listen to the Liquid Metal (Ch. 40) special on the SiriusXM App.

---
---
---