The Bachelorette's Chad Johnson on why he posted a photo kissing Robby Hayes' ex: 'Half these guys are cheating on their girlfriends'
Chad Johnson earned TV infamy as The Bachelorette's resident meathead this season. And we mean literally: He stuffed cold cuts in his mouth during a rose ceremony. He's since wrapped a stint on Bachelor in Paradise, which premieres in August, … Continued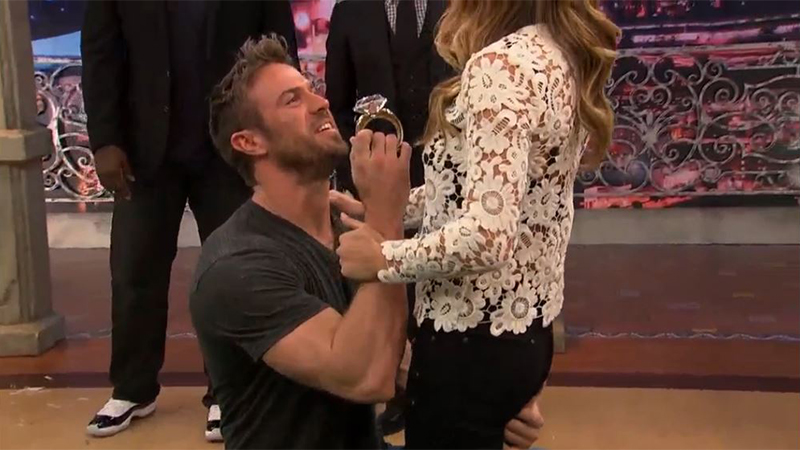 Chad Johnson earned TV infamy as The Bachelorette's resident meathead this season.
And we mean literally: He stuffed cold cuts in his mouth during a rose ceremony.
He's since wrapped a stint on Bachelor in Paradise, which premieres in August, and caused controversy online by posting an Instagram of himself kissing Hope Higginbotham, the ex of another of JoJo Fletcher's suitors, Robby Hayes. (Though previews of episodes to come suggest Hayes wasn't completely single when he joined the show.)
Johnson, 28, said he and Higginbotham are "not anything serious" but "still talking" after their "fun weekend" while calling into Andy Cohen Live on Monday.
But did he post the picture to get under Hayes' skin?
"I think my main goal with that was to show that you've got all these guys going on the show, they're acting so nice and like they're such good guys. At the end of the day, it's like half these guys are cheating on their girlfriends. Half of them broke up with girlfriends to go on the show. Now how can they be such good guys?" he said. "I wouldn't do that. I'm the only one with an actual real reason for coming on the show: to meet somebody."
Johnson also laughed off speculation that he used steroids to bulk up his body. (The other men accused him of "roid rage" during his time in the house.)
"No, not at all," he told Cohen. "Before I went on the show I counted every calorie, I did every single thing you could possibly do. I went into it the same way a body-builder would go into a body-building competition. Every single thing was measured and weighed, and I figured what can you do coming into a show to help your chances to meet a girl? You can buy nice clothes and you can be in shape."
As for the biggest misconception about him, Johnson said, "People think I'm just this violent, crazy person who hurts women or something like that, and the thing is, it's a competition. If you put me in the middle of a competition with a bunch of guys all going for one thing, I'm gonna do what I have to do. I treat my women very well. That's my thing. Yeah, I'm willing to do what I got to do to get what I want when it comes to competitions, but I am very nice to my girls. People are just thinking that I'm abusive and angry."
Andy Cohen Live airs every Monday at 10 am ET on SiriusXM Radio Andy (Ch. 102).
For a free 30-day trial, check out http://www.siriusxm.com/freetrial/blog.
---
---
---