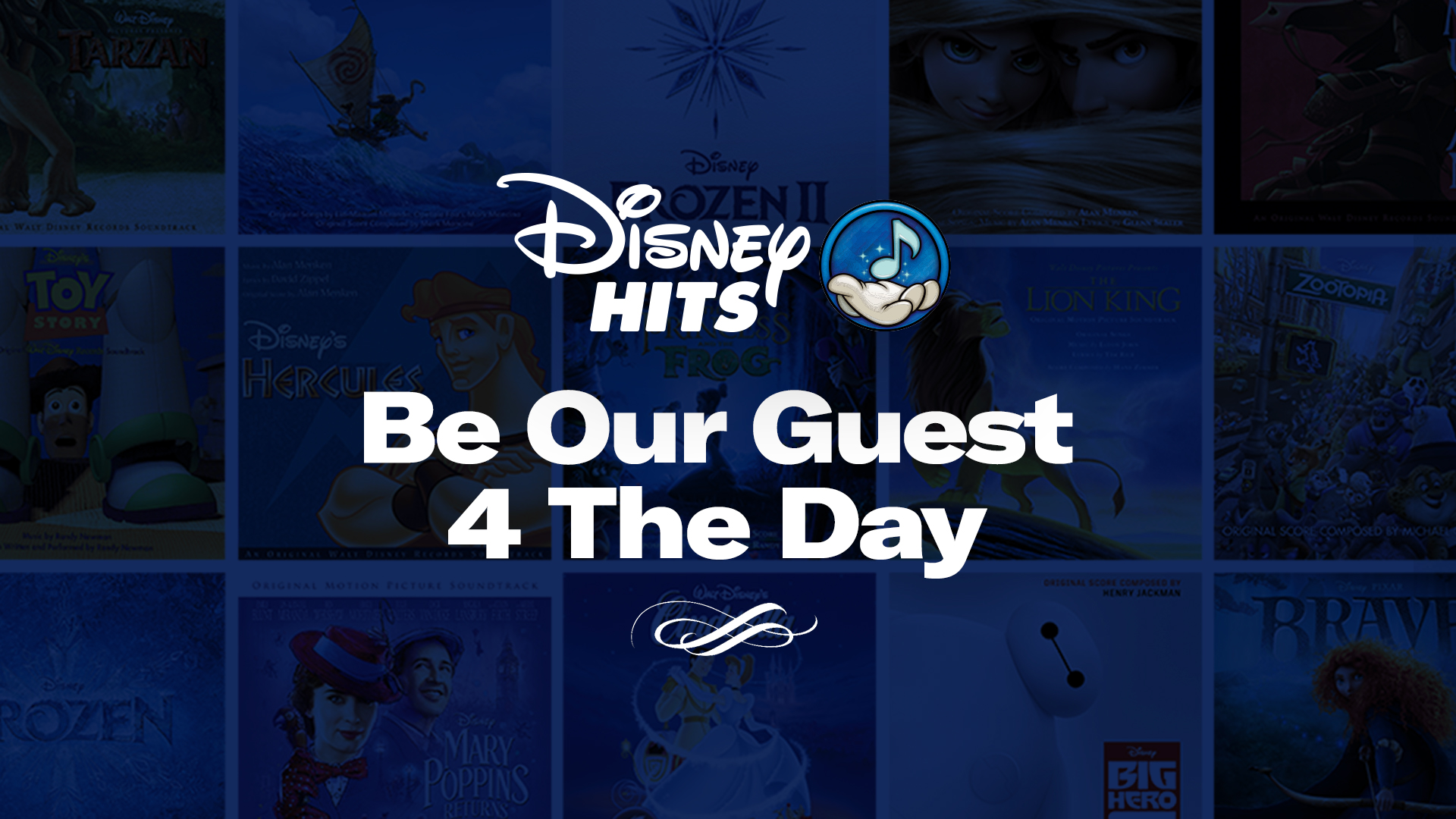 Disney Hits want you to "Be Our Guest"! Tell us the four Disney songs you love most for a chance to be heard on the channel!
Be Our Guest 4 The Day is a show hosted by Disney Hits listeners. Each week two different voices will take over the channel to share their own magic and wonder with Disney and play their four favorite tracks.
Want to participate? Fill out the form below for your chance to be on the air!
Must be at least 18 years of age or older to complete the form, but parents/legal guardians are welcome to include the whole family in our Be Our Guest 4 the Day experience.
Agreement and Release

By submitting Disney Listener Guest DJ song selections, you agree as follows.

1. You, on behalf of yourself and your family members and others, including all persons under the age of 18 (collectively, "you" or "your"), hereby grant to Sirius XM Radio Inc., its subsidiaries, affiliates and the successors and assigns (collectively, "SiriusXM") the right to use your name, image, voice, and likeness, and any personal statement made by you in connection with your submission to the Sirius XM "Disney Listener Guest DJ" promotion ("Submission"), in any and all media, including without limitation, satellite radio, cable and satellite television, mobile telephones, internet (streaming and/or archiving for download), Sirius XM's physical and electronic newsletters, other subscriber emails and physical mailings, and as "B-roll" material in connection with media and news coverage involving SiriusXM, without any compensation to you.

2. You represent and warrant to Sirius XM that (a) you have all the power and authority to enter into this Agreement and Release, to grant all of the rights described in Section 1 above, and (b) the execution and delivery of this Agreement and Release, the grant of the rights described in Section 1 above will not violate any agreement to which you are a party or any right of any third party. The executor of this Agreement and Release represents that he or she is at least 18 years of age and is duly authorized and has the authority to execute this Agreement and Release on his/her own behalf and all persons participating in the Submission.

3. You hereby release and indemnify Sirius XM from and against any and all damages, claims, liability and demands arising out of or in connection with any use in accordance with Sections 1 and 2 above, including without limitation, any and all claims relating to rights of publicity, invasion of privacy, defamation, libel, slander and other personal and property rights. You agree not to bring or participate in any such claim or proceeding against Sirius XM.

4. You understand and agree that SiriusXM is under no obligation to make any use of your Submission.

5. Any information provided as part of your Submission will be used in accordance with the Sirius XM Privacy Policy available at siriusxm.com/privacy

 .
---
---
---