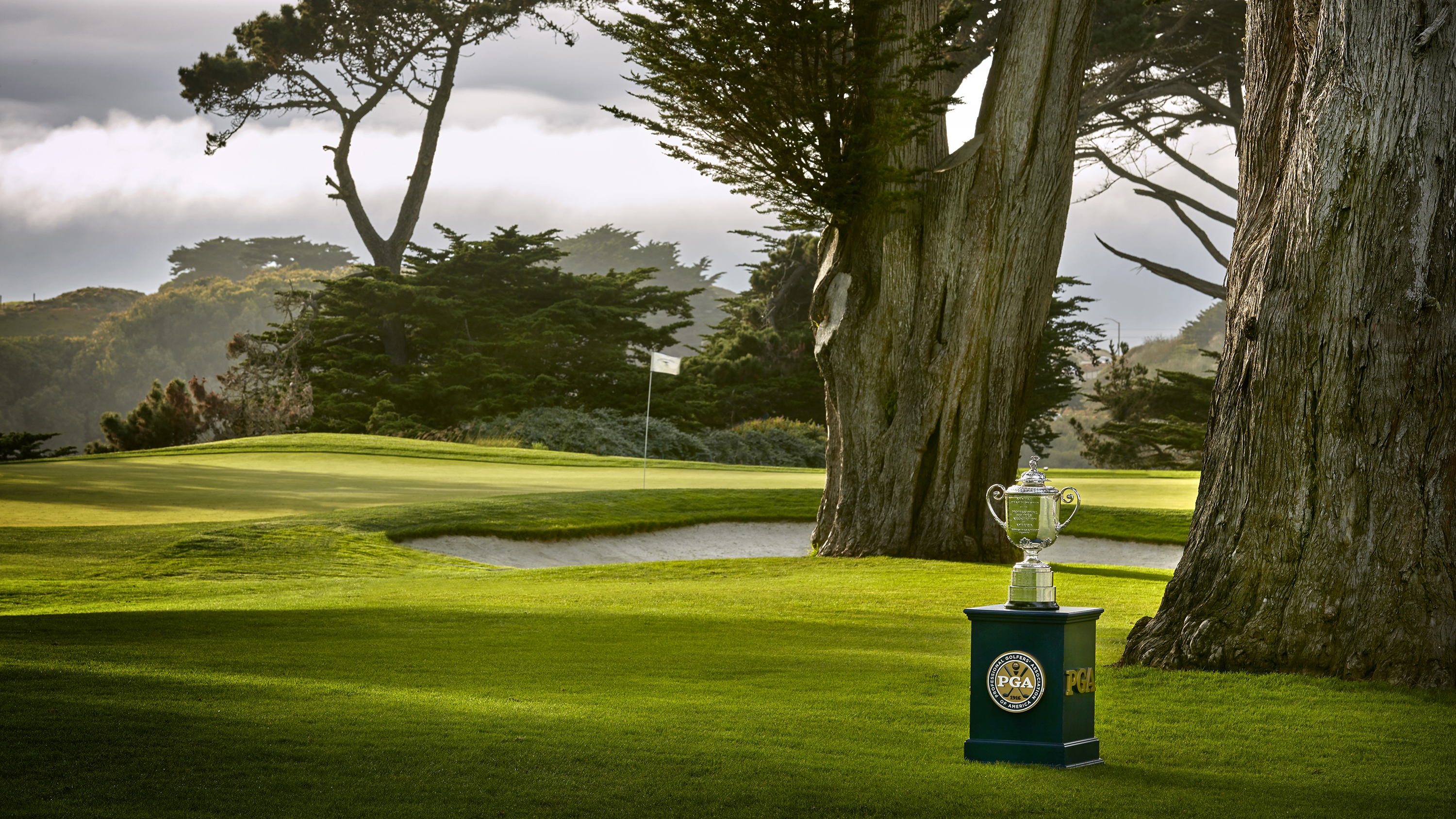 A view of the Wanamaker Trophy hole at TPC Harding Park on October 2, 2018 in San Fransisco, California. (Photo by Gary Kellner/PGA of America via Getty Images)
SiriusXM PGA Tour Radio (Ch. 208 or 92) will deliver listeners nationwide comprehensive play-by-play and talk coverage of the 2020 PGA Championship, taking place Thursday, August 6 through Sunday, August 9 at TPC Harding Park in San Francisco, California. It will be golf's first major championship played in 2020 due to schedule adjustments made necessary by the COVID-19 pandemic.
Live hole-by-hole coverage, which SiriusXM will co-produce with Westwood One, will air starting at 4pm ET/1pm PT on Thursday, Friday, and Saturday. On Sunday, live coverage will begin at 3pm ET/noon PT. PGA Championship programming will air nationwide on SiriusXM PGA Tour Radio, on the SiriusXM app, and at home with Amazon Alexa, the Google Assistant, or however subscribers stream in the house.

For this year's event, with the safety of the production team a top priority, SiriusXM will be employing a unique broadcasting set-up that will limit the number of personnel on site at the event while maintaining a high level of coverage that fans will enjoy. SiriusXM golf play-by-play voice Brian Katrek will broadcast with analysts Mark Carnevale and Carl Paulson from remote studios in Orlando, Florida, using a bank of video feeds that will enable them to call action happening around the course. SiriusXM's Dennis Paulson and Westwood One's Kevin Kugler will be on the course at TPC Harding Park as roving reporters, following key playing groups during the Championship. SiriusXM's Fred Albers and John Maginnes, broadcasting from their home studios in Texas and North Carolina, respectively, will also serve as reporters on the broadcast, using special video feeds to call shots.
SiriusXM host and leading swing coach Jim McLean, broadcasting from his home in Miami, will have a special video feed of the practice range at TPC Harding Park and will provide live updates and commentary as key players are warming up before their rounds. SiriusXM's Taylor Zarzour and Jason Sobel will remotely conduct post-round interviews with players coming off the course via video conference.
Listeners can also tune in to pre-round coverage each day leading into the live tournament broadcast to hear an in-depth preview of the day ahead and get live reports from on the course.
On Thursday and Friday, veteran broadcaster Gary McCord, who has called 33 PGA Championships over the course of his career, will join Colt Knost and Drew Stoltz to co-host special pre-round editions of Gravy and the Sleeze, airing from 1pm to 4pm ET leading into live play-by-play.
PGA Professional Bob Ford, who has competed in 10 PGA Championships and has long been one of the country's preeminent club professionals, will host the PGA Championship pregame show before the Saturday and Sunday coverage with Mark Lye, Carl Paulson, and Kraig Kann. Lye and Kann will host the channel's post-round coverage after play is completed each day.
In addition to live play-by-play, SiriusXM will provide fans with an extensive schedule of daily golf talk and PGA Championship analysis throughout Championship week. Visit SiriusXM.com/golfonsxm for a daily schedule.
SiriusXM's exclusive talk programming lineup will include shows hosted by major champions Fred Couples and Ben Crenshaw, as well as programming hosted by current and former PGA Tour pros Pat Perez, Brad Faxon, John Cook, Mark Lye, John Maginnes, Dennis Paulson, and Carl Paulson.
David Marr III will host a new episode of PGA of America Radio on Wednesday at 3pm ET. A collaboration between SiriusXM and the PGA of America, the show focuses each week on expert PGA Member instruction, PGA of America golf events, and programs designed to grow the game.
SiriusXM's lineup during Championship week also features shows hosted top PGA and LPGA instructors Michael Breed, Jim McLean, Frank Darby, Brian Crowell, plus NCAA National Champion Stanford golf coach Conrad Ray and former Cardinal golfer Kyle Gentry, hosts of Golf U, and many more of the best voices and analysts in golf.
---
---