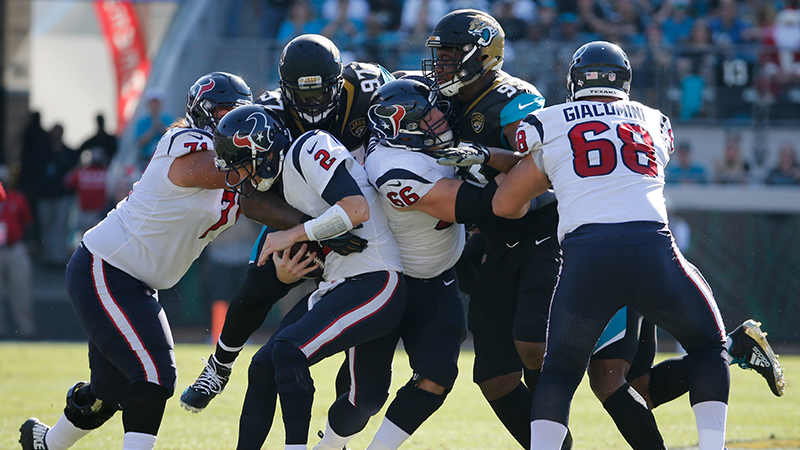 Houston Texans quarterback T.J. Yates (2) is stopped by the Jacksonville Jaguars defense including defensive lineman Malik Jackson (97) and defensive lineman Calais Campbell (93) during the first half of an NFL football game, Sunday, Dec. 17, 2017, in Jacksonville, Fla.
The Jacksonville Jaguars' pass defense has been amazing this season.
It not only has generated an NFL-leading 47 sacks, but also has forced a league-best 30 takeaways and the team ranks first in turnover differential.
'(Roethlisberger) is a Hall of Famer and we were able to make something happen'
And members of the unit are especially proud of the fact that they've done some of their best work against some of the NFL's best quarterbacks, such as Pittsburgh's Ben Roethlisberger and, most recently, Seattle's Russell Wilson. Wilson threw three interceptions in the Jaguars' 30-24 victory against the Seahawks Sunday, two resulting in 10 points.
"We always kind of say, 'Hey, we want a quarterback to test us,'" safety Tashaun Gipson told Alex Marvez and Gil Brandt on Late Hits. "We were tested against Ben Roethlisberger earlier in the year. People can say he had an off game, but he's a Hall of Famer and we were able to make something happen. And Russell Wilson, definitely an MVP candidate, and we were able to make him pay."
'We wanted to keep (Wilson) in the pocket as much as possible'
The key to the Jaguars' defensive success?
"Our biggest thing is rush and cover go together," Gipson said. "(Wilson's) mobility is what makes him very dangerous on top of being a good passer, and we wanted to contain him, keep him in the pocket as much as possible, and make him beat us with his arm. It's not that we're saying he can't, but we know if he's running and throwing the ball effectively, it's going to be a long day for you.
'We want to get our hands on the ball as often as possible'
"So I think that our game plan was simple: get after the quarterback, keep him in the pocket and we know he's going to improvise and make plays, and try and allow his receivers to make plays. If you look at all of his interceptions, all of them came from him improvising. And this is the type of secondary and type of defense that we thrive on those type of plays. We thrive on big-play opportunities. We want to get our hands on the ball as often as possible, and he kind of played into our hand and our skill set."
---
---