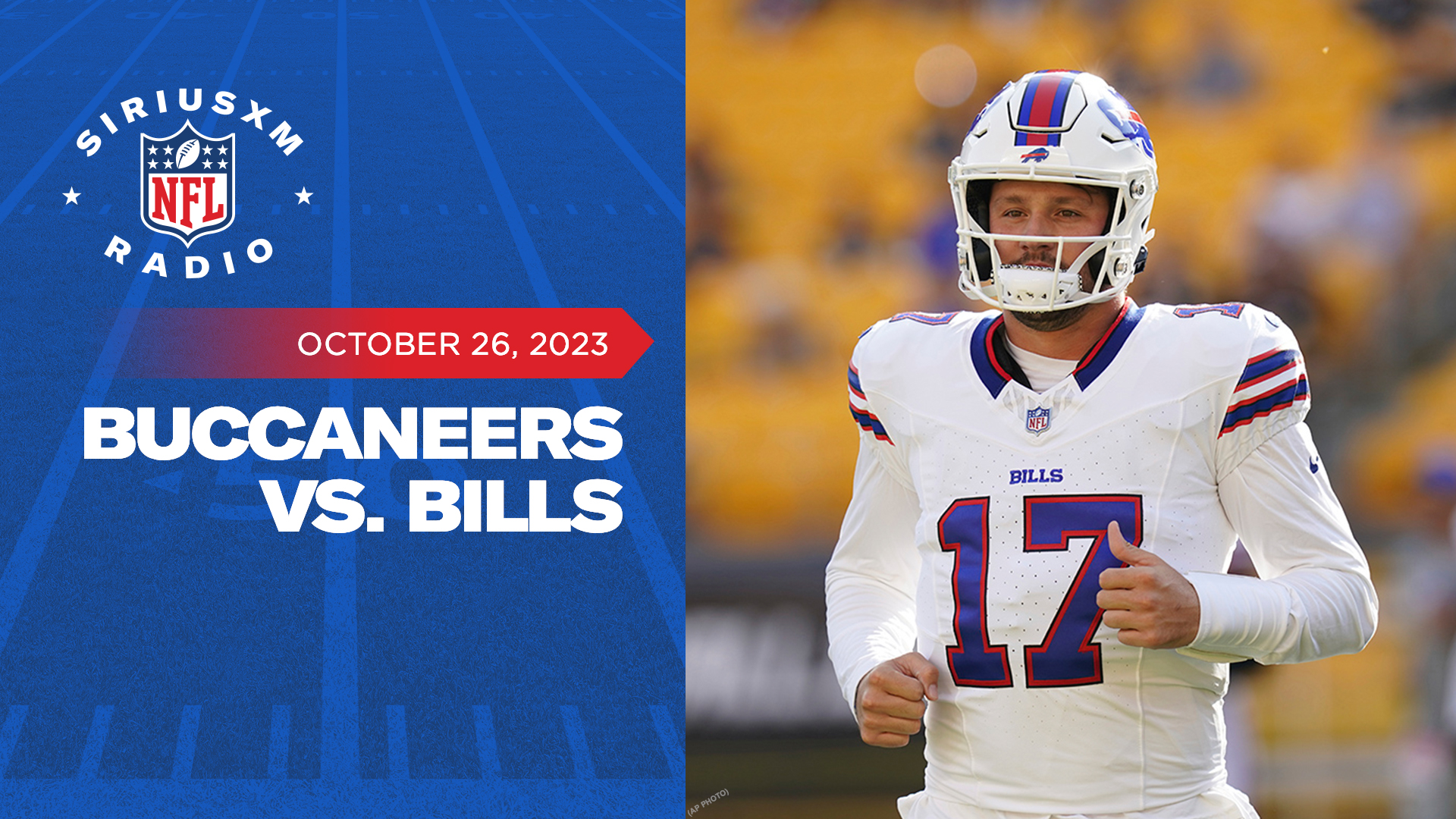 In what promises to be a NFL Thursday Night Football battle, the Tampa Bay Buccaneers will face off against the Buffalo Bills in Week 8. Both teams lost in Week 7 and will look to grab a win this week.
Listen live to your choice of the home, away, or national feed on the SiriusXM App. Kickoff is October 26 at 8:15pm ET.
---
Stream the Buffalo Bills broadcast (Ch. 803)
Stream the Tampa Bay Buccaneers broadcast (Ch. 829)
Stream the National broadcast (Ch. 88)
---
Home: Buffalo Bills
Buffalo Bills quarterback Josh Allen passed for 265 yards and had 3 total touchdowns last week. He's chasing his fifth straight game with multiple TD passes and has an impressive record in Buffalo with six consecutive wins.
Running back James Cook has been a versatile contributor, leading the team with 102 scrimmage yards last week and securing his first touchdown catch of the season.
Wide receiver Stefon Diggs has six or more catches and 55 or more receiving yards in all seven games this season. He's also had 100+ receiving yards in four of the last five games and aims for his fifth straight game with a touchdown catch on Thursday.
---
Buffalo Bills Home Feed
SiriusXM channel 225 in your vehicle
Channel 803 on the SiriusXM App
Tampa Bay Buccaneers Away Feed
SiriusXM channel 226 in your vehicle
Channel 829 on the SiriusXM App
National Feed
SiriusXM channel 88 in your vehicle
Channel 88 via on SiriusXM App
---
Away: Tampa Bay Buccaneers
In Week 7, quarterback Baker Mayfield passed for 275 yards and a touchdown. He's been on fire in road games this season, boasting a 2-0 record with five touchdowns and a 105.6 passer rating.
Running back Rachaad White shined in Week 7 with a season-high six catches and 99 scrimmage yards, including a career-best 65 receiving yards and 34 rushing yards. He has consistently contributed with over 60 scrimmage yards in four of his last five games.
Wide receiver Mike Evans is a touchdown machine, notching his fourth of the season in the previous week. Evans has a history of success against Buffalo, with 13 receptions for 179 yards and two touchdowns in just two career games. He's aiming for his third consecutive touchdown against the Bills.
---
For more on SiriusXM's NFL programming, visit SiriusXM.com/NFL.
---
---
---