Listen to Post-Super Bowl Coverage and More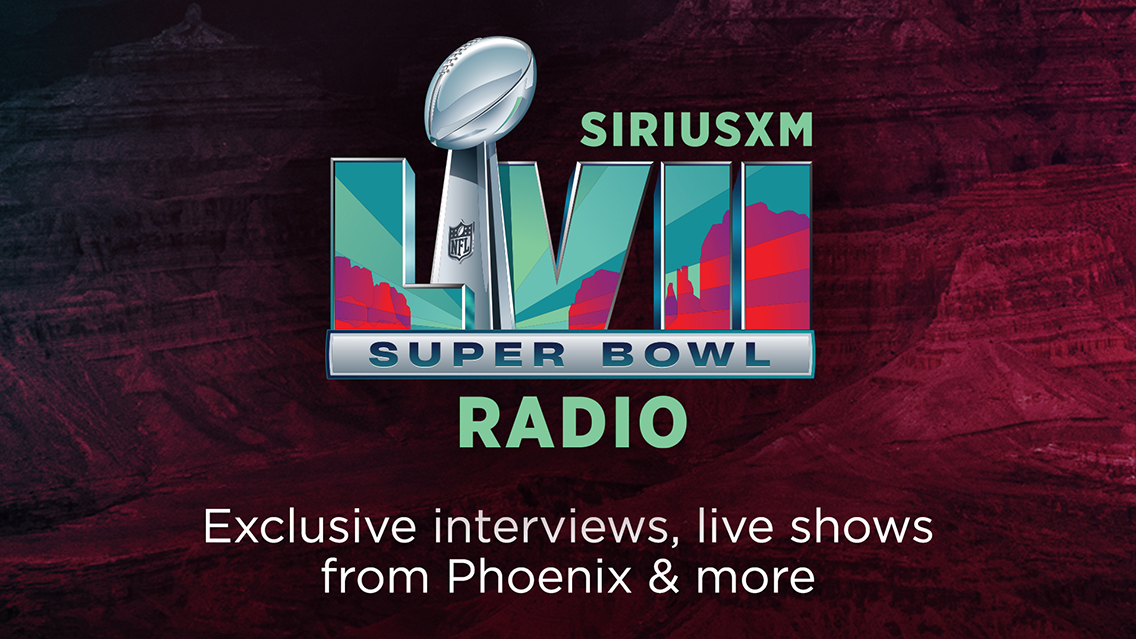 Post-Big Game Coverage
---
Following the Kansas City Chiefs thrilling victory over the Philadelphia Eagles in Super Bowl LVII, listen to exclusive interviews and post-game coverage live on SiriusXM NFL Radio (Ch. 88).

---
Super Bowl Sunday
---
The Big Game
On Super Bowl Sunday (February 12 at 6:30pm ET), SiriusXM will offer multiple live broadcasts of Super Bowl LVII from State Farm Stadium. Listeners can tune in to the Kansas City Chiefs team broadcast, the Philadelphia Eagles team broadcast, the Westwood One national radio broadcast, and a Spanish-language broadcast.

The Halftime Show
During the Apple Music Super Bowl LVII Halftime Show, SiriusXM will offer listeners the broadcast of the on-field musical performance by Rihanna. Listeners can hear it live on SiriusXM Hits 1 (Ch. 2), The Heat (Ch. 46), and Super Bowl LVII Radio (Ch. 104).
---
Super Bowl Week
---
Radio Row
SiriusXM NFL Radio
SiriusXM NFL Radio (Ch. 88) will broadcast live from Radio Row at the Phoenix Convention Center each day of Super Bowl Week starting at 9am ET/7am MT on February 6. SiriusXM NFL Radio hosts in Phoenix will include Tim Brown, Rich Gannon, Torry Holt, Pat Kirwan, Ryan Leaf, Ed McCaffrey, Jim Miller, Kirk Morrison, Torrey Smith, Max Starks, Robert Turbin, Shane Vereen, Solomon Wilcots, Howard Balzer, Alex Marvez, and Bruce Murray.
Mad Dog Sports Radio
Mad Dog Sports Radio (Ch. 82) will broadcast live from SiriusXM's Radio Row set throughout the week, featuring shows hosted by Christopher 'Mad Dog' Russo, Adam Schein, Dusty Dvoracek, Danny Kanell, and Steve Torre.
Former NFL All-Pro Brandon Marshall will host the Mad Dog Sports Radio show, I Am Athlete Tonight, alongside other I Am Athlete teammates from the SiriusXM set on Radio Row Wednesday through Friday at 7pm ET/5pm MT.
SiriusXM College Sports Radio
Dvoracek and Kanell will also host their college sports show, Dusty and Danny, heard on SiriusXM College Sports Radio (Ch. 84), from Radio Row weekdays at 5pm ET/3pm MT. Dvoracek and Kanell will be joined by fellow SiriusXM college sports hosts Colt McCoy, Rick Neuheisel, and Max Starks for multiple shows that week.
Super Bowl LVII Radio
Sports Illustrated Swimsuit Models Katie Austin and Christen Harper will host a special SiriusXM broadcast on Radio Row on Friday at 1 pm ET/11 am MT that will feature several special guests. The show will air on Super Bowl LVII Radio that night at 8pm ET.
SXM Fantasy Sports Radio
Fantasy football expert Jeff Mans will host the SXM Fantasy Sports Radio (Ch. 87) show Elite Sports live from Radio Row each weekday at 3pm ET/1pm MT.
SportsGrid Radio
On SportsGrid Radio (Ch. 159), Ferrall Coast to Coast, hosted by Scott Ferrall, will originate from Radio Row each weekday at 12pm ET/10am MT.
Huuuge Fan
LaChina Robinson will be on Radio Row on Thursday to tape a new episode of the SiriusXM original podcast, Huuuge Fan, where stars share their love of their favorite sports teams.
Faction Talk
This Is Happening with Mark Zito and Ryan Sampson, on Faction Talk (Ch. 103), will originate from Radio Row throughout the week.
Luke Combs Concert
SiriusXM announced last month that reigning CMA Entertainer of the Year Luke Combs will perform an exclusive concert on February 9 at the Arizona Financial Theatre in Phoenix. The special concert, hosted by The Highway's Storme Warren, will feature Combs performing songs from his latest album, Growin' Up, as well as fan favorites. Ahead of the concert, Warren will sit down with Combs for an exclusive interview to discuss his new music, touring, becoming a father and more.
The special performance will air live on The Highway (Ch. 56) on February 9 at 11pm ET/9pm MT and will be available to stream on the SXM App.
NFL Honors
On February 9, SiriusXM NFL Radio (Ch. 88) will have live interviews from the red carpet before the annual NFL Honors event that salutes the top players and performers of the 2022 season, including the Walter Payton NFL Man of the Year presented by Nationwide, the AP Most Valuable Player, the AP Coach of the Year, and more. Listeners will also hear live coverage of the announcement of the Pro Football Hall of Fame's Class of 2023 and interviews with the future inductees.
---
---
---