Super Bowl 50: What you'll hear on SiriusXM
Go on and celebrate with a little touchdown dance – it's Super Bowl season. The Carolina Panthers and Denver Broncos take over Levi's Stadium in Santa Clara, Calif. on Feb. 7, with the Lombardi Trophy and Super Bowl 50 at … Continued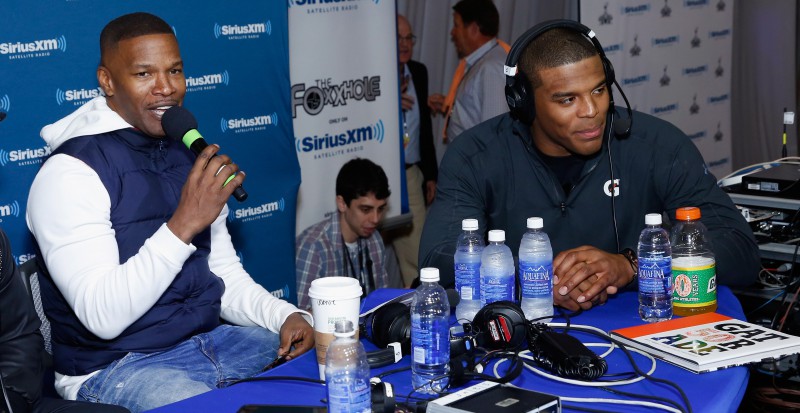 PHOENIX, AZ – JANUARY 30: Actor/recording artist Jamie Foxx and Carolina Panthers quarterback Cam Newton attend SiriusXM at Super Bowl XLIX Radio Row at the Phoenix Convention Center on January 30, 2015 in Phoenix, Arizona. (Photo by Cindy Ord/Getty Images for SiriusXM) *** Local Caption *** Jamie Foxx; Cam Newton
Go on and celebrate with a little touchdown dance – it's Super Bowl season.
The Carolina Panthers and Denver Broncos take over Levi's Stadium in Santa Clara, Calif. on Feb. 7, with the Lombardi Trophy and Super Bowl 50 at stake. As always, SiriusXM is taking the game pretty seriously, with on-location coverage from the San Francisco Bay Area kicking off Monday Feb. 1, at Radio Row and Opening Night.
The SiriusXM Sports team will broadcast live from Radio Row during Super Week, with four channels on location: SiriusXM NFL Radio, Mad Dog Sports Radio, SiriusXM Bleacher Report Radio and SiriusXM Fantasy Sports Radio. SiriusXM NFL Radio will continue its on-site coverage of Super Week Saturday at NFL Honors and then Sunday in Santa Clara at Levi's Stadium for Super Bowl 50.
In addition, Jamie Foxx, Jenny McCarthy, Joel and Victoria Osteen, Sway Calloway and other SiriusXM hosts will be on location from Phoenix. SiriusXM listeners will also get to hear the on-field musical performance by Coldplay and special guests on The Spectrum.
See below for a glimpse at what you'll hear on each SiriusXM channel during the week starting Feb. 1:
Super Bowl 50 Radio, Sirius Channel 145, XM Channel 207, Internet Channel 968
Launching Thursday, Feb. 4 at 6 am ET, Super Bowl 50 Radio will feature broadcasts of past Super Bowls, historical vignettes on all 49 Super Bowls leading up to this year's game, highlights from SiriusXM's programming on Radio Row, replays of interviews with coaches and players from both Super Bowl teams, a rebroadcast of SiriusXM's exclusive Artist Confidential with Chris Martin of halftime performer Coldplay, plus up-to-the-moment info on NFL events and Bay Area traffic and weather to keep fans informed about Super Bowl entertainment and planning options.
SiriusXM's Sports Anthems Channel, SiriusXM Channel 39
Let SiriusXM soundtrack your Super Bowl party. (Or, if you're lucky enough to go to the game, your Super Bowl tailgate!) Hear popular sports anthems from artists including Guns n' Roses, AC/DC and The White Stripes from Friday, Feb. 5 at 5 pm ET through Monday, Feb. 8 at 3 am ET.
SiriusXM NFL Radio, Channel 88
All week long, the SiriusXM NFL Radio team will broadcast live all day from Radio Row in downtown San Francisco. The channel's host lineup includes Gil Brandt, Rich Gannon, Pat Kirwan, Jim Miller, Kirk Morrison, Shannon Sharpe, Steve Smith Sr., Bob Papa, Alex Marvez, Bruce Murray and Howard Balzer.
Monday night, the team will be at the SAP Center in San Jose, Calif. for Super Bowl Opening Night. (Don't know what Opening Night is? It's the artist formerly known as Media Day, where reporters get access to every player on the teams playing in the Super Bowl. Except this year, for the first time, it's on Monday night. Getcha popcorn ready.)
On Saturday, NFL Radio will have live interviews from the red carpet ahead of the annual NFL Honors event. Listeners will also hear live coverage of the announcement of the Pro Football Hall of Fame's class of 2016.
And of course, after Sunday's game, tune to SiriusXM NFL Radio for interviews from the locker rooms of both the winning and losing teams.
Mad Dog Sports Radio, Channel 82
Starting with Schein on Sports (10 am – 1 pm ET) and continuing through Mad Dog Unleashed (3-7 pm ET), your favorite mid-day Mad Dog Sports Radio hosts will be at the Moscone Center for Radio Row. That includes The Stephen A. Smith Show, broadcasting from 1-3 pm ET each day.
SiriusXM Bleacher Report Radio, Channel 83
B/R Radio will be at the Moscone Center Wednesday, Thursday and Friday, with shows hosted by Kirk Morrison, Nicole Zaloumis and Ric Bucher, starting each day at 10 am ET.
SiriusXM Fantasy Sports Radio, XM Channel 87, Sirius Channel 210
Hear a variety of shows from Radio Row on Fantasy Sports Radio from Wednesday through Friday, featuring Maurice Jones-Drew, Mike Dempsey, Bob Harris, Pilar Lastra, Jeff Mans, Lisa Ann and Ray Flowers.
The Foxxhole, Channel 96
Jamie Foxx will be live at Radio Row, hosting a special broadcast on his exclusive comedy and entertainment channel, Friday at 3 pm ET.
SiriusXM Stars, Channel 109
Jenny McCarthy will host a special edition of her show, Dirty, Sexy, Funny with Jenny McCarthy, from Radio Row on Friday, taping at 3 pm ET and airing at 8 pm ET.
Joel Osteen Radio, Channel 128
Joel and Victoria Osteen will host a special show live from Radio Row Friday, taping at 2 pm ET and airing at 5 pm ET.
Shade 45, Channel 45
Sway Calloway will host Sway in the Morning from Radio Row, Friday at 10 am ET, and broadcast from his hometown of Oakland, Calif. on Thursday at 10 am ET.
Business Radio, Channel 111
SiriusXM's Business Radio, in collaboration with The Wharton School of the University of Pennsylvania and RISE, will broadcast a special panel discussion, Beyond the Game: Tackling Race, live on Friday from Wharton's San Francisco campus. The show will be hosted by Wharton professors and Business Radio hosts Ken Shropshire and Scott Rosner. The panels will be moderated by USA Today columnist Christine Brennan, and feature current and former NFL players Harry Carson, Willie Lanier, Doug Williams, Justin Tuck and Rashad Jennings; ESPN personality and SiriusXM host Stephen A. Smith; UC Berkeley professor Harry Edwards; Jocelyn Benson, Dean of Wayne State University Law School; and civil rights attorney Cyrus Mehri. Hear the panel discussion Friday at 6 pm ET.
Shropshire, Rosner and Chris Kelly will also host shows live from Radio Row on Thursday and Friday.
SiriusXM Rush, Channel 93
Covino & Rich, hosted by Steve Covino and Rich Davis, will broadcast from various hotspots around San Francisco on Thursday, Friday and Saturday.
Live coverage of Super Bowl 50
Listen to one of 10 different game broadcasts in eight different languages:
Denver Broncos team broadcast – SiriusXM Channel 82
Carolina Panthers team broadcast – Sirius 83 / XM 226 / Online 83
National radio broadcast – SiriusXM Channel 88
Spanish broadcast – SiriusXM Channel 157 / Online 966
Hungarian broadcast – Sirius 135 / XM 232 / Online 965
Japanese broadcast – Sirius 113 / XM 227 / Online t961
French broadcast – Sirius 81 / XM 228 / Online 960
Portuguese broadcast – Sirius 136 / XM 230 / Online 964
Cantonese broadcast – Sirius 108 / XM 229 / Online 963
German broadcast – Sirius 93 / XM 231 / Online 962
For a free 30-day trial, check out siriusxm.com/freetrial.
---
---
---