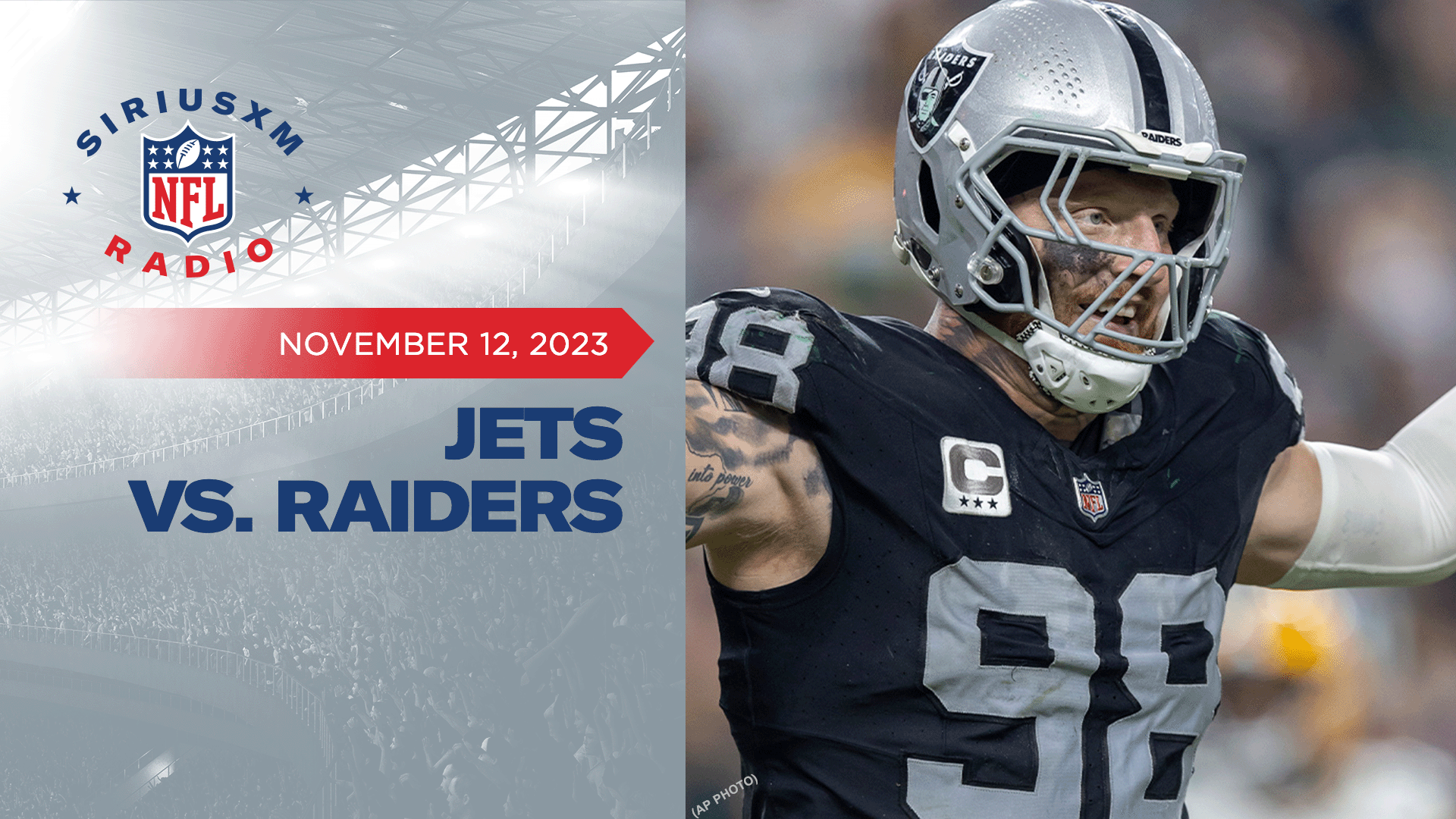 Get ready for an NFL showdown as the Las Vegas Raiders host the New York Jets this weekend for Sunday Night Football.
Listen live to your choice of the home, away, or national feed on the SiriusXM app. Kickoff is November 12 at 8:20pm ET.
---
Stream the Las Vegas Raiders broadcast (Ch. 816)
Stream the New York Jets broadcast (Ch. 824)
Stream the National broadcast (Ch. 88)
---
Home: Las Vegas Raiders
Rookie QB Aidan O'Connell, who will get the starting gig this week, earned his first-career win as a starter last week, completing 16 of 25 attempts for 209 yards. Running back Josh Jacobs rushed for a season-high 98 yards & 2 touchdowns, his 12th-career game with 2+ rush TDs.
Davante Adams leads the team with 51 catches in 2023, his 9th-straight season with 50+ catches. Rookie wide receiver Tre Tucker had 52 receiving yards in Week 9.
Defensively, Maxx Crosby had 8 tackles & a season-high 3 sacks last week, his 3rd-career game with 3+ sacks. Robert Spillane led the team with 9 tackles & had a half sack in Week 9.
---
Las Vegas Raiders Home Feed
SiriusXM channel 225 in your vehicle
Channel 816 on the SiriusXM App
New York Jets Away Feed
SiriusXM channel 226 in your vehicle
Channel 824 on the SiriusXM App
National Feed
SiriusXM channel 88 in your vehicle
Channel 88 via on the SiriusXM App
En Español
SiriusXM channel 227 in your vehicle
Channel 832 on the SiriusXM App
---
Away: New York Jets
---
For more on SiriusXM's NFL programming, visit SiriusXM.com/NFL.
---
---
---