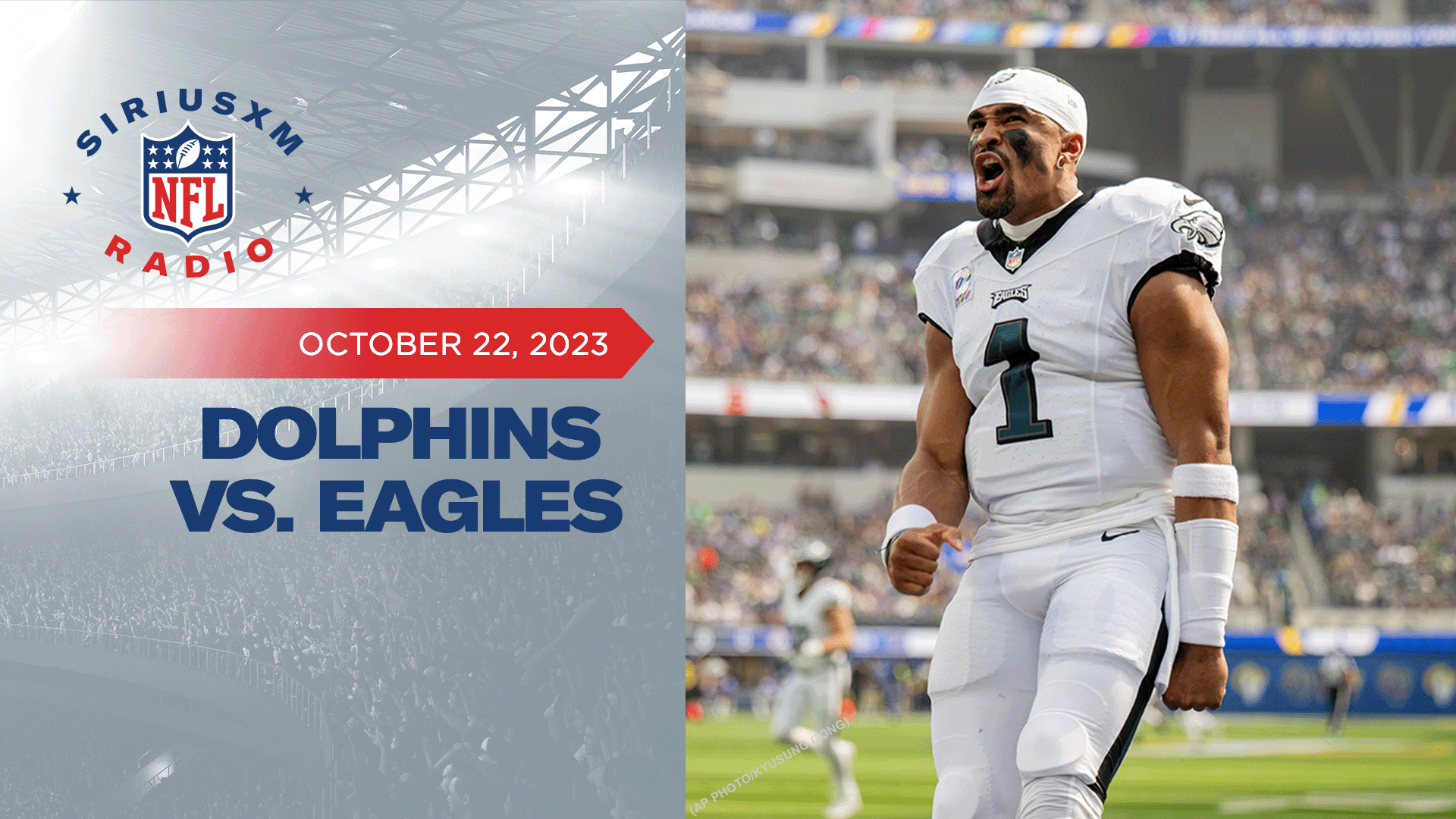 Get ready for an electrifying NFL showdown as the Philadelphia Eagles host the Miami Dolphins this weekend. Sunday Night Football promises to deliver another unforgettable showdown, tune in to SiriusXM to catch all the action, as we preview these two powerhouse squads.
Listen live to your choice of the home, away, or national feed on the SiriusXM App. Kickoff is October 22 at 8:20pm ET.
---
Stream the Philadelphia Eagles broadcast (Ch. 825)
Stream the Miami Dolphins broadcast (Ch. 819)
Stream the National broadcast (Ch. 88)
---
Home: Philadelphia Eagles
The Eagles showcase the dynamic duo of QB Jalen Hurts and RB D'Andre Swift. In Hurts' last ten home starts, Hurts has 24 touchdowns with a 104.6 rating. He's also excelled in Sunday Night Football in his career, with his last appearance resulting in a career-high 157 rush yards.
D'Andre Swift has been a powerhouse for the Eagles, currently ranking fifth in the NFL with 452 rush yards this season. Let's also not forget the formidable receiving corps of of A.J. Brown and DeVonta Smith, with Brown ranking 2nd in the NFL in receiving yards (672).
The Eagles' defense is equally fierce, with Haason Reddick and Josh Sweat applying consistent pressure on quarterbacks. Corners James Bradberry and Darius Slay form an impressive tandem, with over 100 passes defended each since 2016.
---
Philadelphia Eagles Home Feed
SiriusXM channel 225 in your vehicle
Channel 825 on the SiriusXM App
Miami Dolphins Away Feed
SiriusXM channel 226 in your vehicle
Channel 819 on the SiriusXM App
National Feed
SiriusXM channel 88 in your vehicle
Channel 88 via on the SiriusXM App
En Español
SiriusXM channel 227 in your vehicle
Channel 832 on the SiriusXM App
---
Away: Miami Dolphins
The Miami Dolphins, on the other hand, have been lighting up the NFL with their explosive offense. They lead the league with 2,992 total yards and 223 points scored in their first 6 games. Quarterback Tua Tagovailoa is in top form, with 1,876 passing yards and 14 touchdown passes this season. He's the only QB with a 90+ rating in all 6 games this year.
Running back Raheem Mostert has been a touchdown machine, leading the NFL with 11 total touchdowns this season. He's a big-play threat, especially in primetime. The Dolphins' receiving corps is anchored by the electric Tyreek Hill and the emerging star Jaylen Waddle. Hill leads the NFL with 814 receiving yards.
On the defensive side, Bradley Chubb and Christian Wilkins have been making their presence felt, consistently getting to the quarterback. Cornerback Xavien Howard adds stability to the secondary, with 5 tackles in Week 6.
---
For more on SiriusXM's NFL programming, visit SiriusXM.com/NFL.
---
---
---