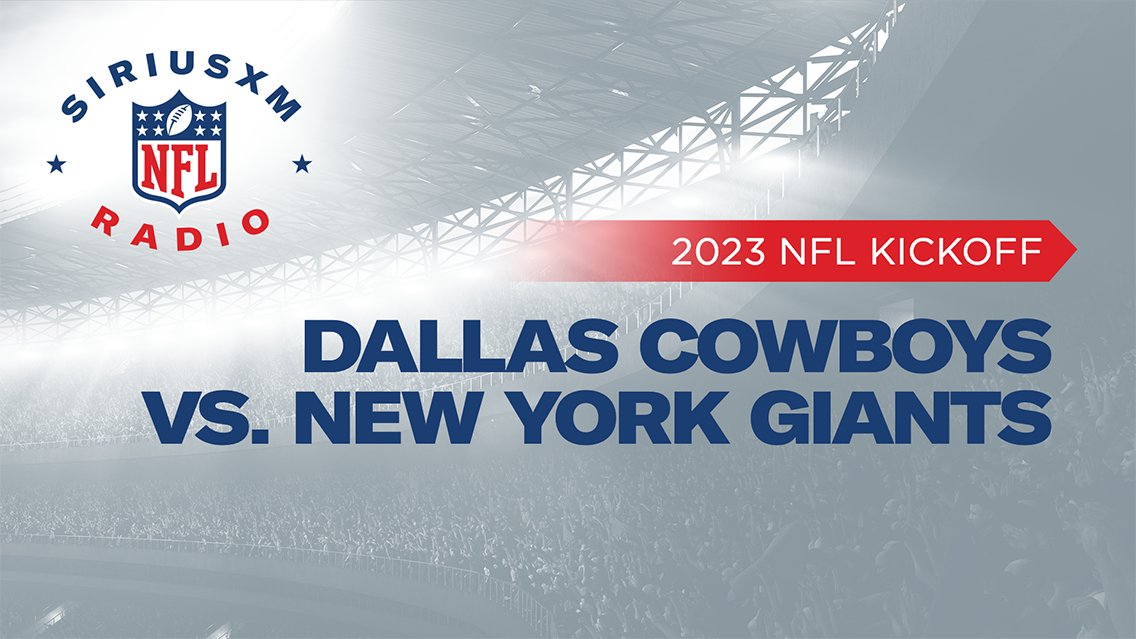 On the heels of the Detroit Lions' Thursday Night Football win over the Kansas City Chiefs, NFL Kickoff 2023 will continue with every other game on Sunday and Monday. Check out the Sunday Night Football matchup between the Dallas Cowboys and New York Giants during Sunday Night Football and listen live on the SiriusXM App.
---
Listen live to Sunday Night Football on the SiriusXM App
---
Sunday Night Football: Cowboys at Giants – 9/10 at 8:20 pm ET
An intense NFC East rivalry takes center stage as the Cowboys clash with the Giants. Both teams secured playoff berths last year and are hungry for more. The dynamic duel between quarterbacks Dak Prescott and Daniel Jones is set to ignite the field. Prescott's offensive prowess faces off against Jones, who now commands an improved Giants offense. With the spotlight on East Rutherford, this game promises a nail-biting showdown bound to go down to the wire.
Listen to the Dallas Cowboys broadcast (CH. 226).
Listen to the New York Giants Broadcast (CH. 225).
Other Key Games
Eagles at Patriots – 9/10 at 4:25 pm ET
New England's legendary defense led by Bill Belichick squares off against Jalen Hurts and the reigning NFC Champion Eagles. The matchup gains intrigue as it coincides with Tom Brady's return to New England. As Mac Jones steps into the quarterback role for the Patriots, fans and critics will be hooked to see how he starts off his third year in the NFL.
Listen to the Philadelphia Eagles broadcast (CH. 385).
Listen to the New England Patriots Broadcast (CH. 229).
Dolphins at Chargers – 9/10 at 4:25 pm ET
A battle of young quarterbacks unfolds as Tua Tagovailoa of the Dolphins faces off against Justin Herbert of the Chargers. The Dolphins' speed and confidence meet the Chargers' reliance on Herbert's arm strength. The array of offensive and defensive talent on both sides, including Tyreek Hill, Jaylen Waddle, Joey Bosa, and Derwin James, sets the stage for an electrifying showdown. The question of Tagovailoa's resilience and Herbert's performance adds a layer of excitement to this clash.
Listen to the Miami Dolphins broadcast (CH. 387).
Listen to the Los Angeles Chargers broadcast (CH. 227).
Packers at Bears – 9/10 at 4:25 pm ET
A changing of the guard takes place as Jordan Love steps in for Aaron Rodgers in Green Bay, while Justin Fields wields a revamped Bears offense. The Packers' dominance during the Rodgers era faces a new chapter with Love at the helm, while Fields aims to make his mark with improved offensive support. The historic rivalry between these teams will leave fans eager to potentially witness a new NFC North.
Listen to the Green Bay Packers broadcast (CH. 383).
---
---
---