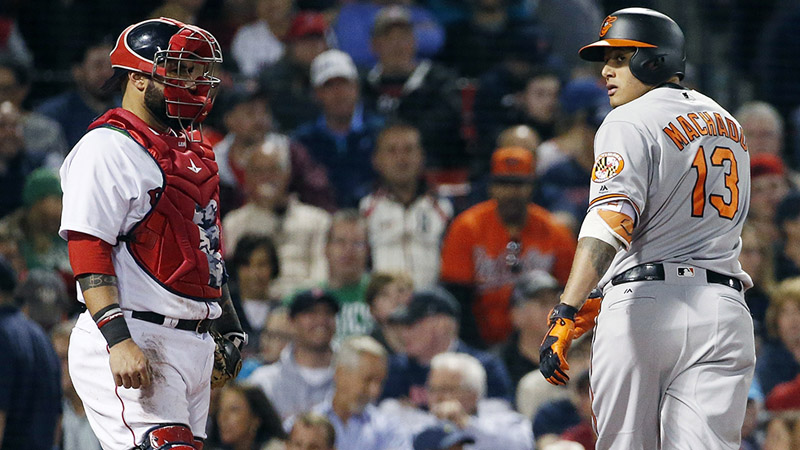 Baltimore Orioles' Manny Machado (13) turns to look at Boston Red Sox's Sandy Leon, left, after crossing home plate on his solo home run during the seventh inning of a baseball game, Tuesday, May 2, 2017, in Boston.
Baltimore Orioles slugger Manny Machado is sick and tired of having pitches thrown at him by the Boston Red Sox. So much so, he told media that he's lost his respect for the Red Sox organization.
The heated comments were made following Tuesday's game in which Sox pitcher Chris Sale threw behind Machado in his first plate appearance. The issue has been ongoing since Machado slid hard into second base, and in the process, spiking Dustin Pedroia and knocking him out of the game. Whether that initial contact was intentional or not, MLB Network Radio's Steve Phillips thinks it's time for this to end.
"Chris Sale should have been ejected from the game when he threw behind Manny Machado," Phillips said on MLB Network Radio. "And you know what? Then it's over. It's over at that point because, the Red Sox, you had your chance."
Unfortunately, Phillips believes this will now continue for who knows how long.
"Now, this thing's not over. It's not a matter of 'if,' it's a matter of 'when.' At some point the Orioles are going to hit another Red Sox batter," Phillips said. "It'll happen. It's awful."
For the latest in baseball, listen to MLB Network Radio on XM Ch. 89, Sirius Ch. 209.
---
---