Steve Martin and Edie Brickell celebrate new musical 'Bright Star' on The Coffee House
You probably know Steve Martin by his comedic roles on Saturday Night Live and beyond, but did you know he is also a lifelong banjo player? (And a Grammy-winning one at that!) In recent years, he's turned his focus away … Continued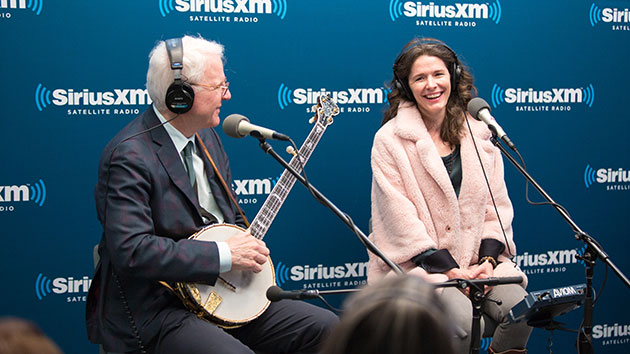 You probably know Steve Martin by his comedic roles on Saturday Night Live and beyond, but did you know he is also a lifelong banjo player? (And a Grammy-winning one at that!) In recent years, he's turned his focus away from making movies and has partnered with singer-songwriter Edie Brickell, who's enjoyed a long career as both a solo artist and as frontwoman, most notably of the New Bohemians.
Together, they've put out two albums — 2013's Love Has Come For You, which earned them a Grammy for Best American Roots Song, and 2015's So Familiar. Their collaboration has also spawned a musical, Bright Star, which premiered in 2014 and debuted on Broadway this March.
Bright Star is set in the Blue Ridge Mountains of North Carolina in 1945 and 1946 with flashbacks to 1923. It follows successful literary editor Alice Murphy, who mentors aspiring writer Billy Cane, a young soldier recently returned home from World War II.
Martin and Brickell recently visited the SiriusXM studios for a Coffee House Live performance, treating an exclusive group of fans to their songs Sarah Jane and the Iron Mountain Baby (from their first album) and The Sun Is Gonna Shine (from Act II of Bright Star).
You can hear the Coffee House Live special in full on The Coffee House (Ch. 14) Thursday, 4/28 at Noon with replays 4/28 at 3 pm ET; 4/29 at 12 am and 10 pm ET; 4/30 at 10 am and 8 pm ET; and 5/1 at 6 pm ET.
Check it out below, and get your tickets to see Bright Star on Broadway at The Cort Theatre.
For a free 30-day trial, check out http://www.siriusxm.com/freeTrial
---
---
---