Stephen K. Bannon reflects on the 75th Anniversary of Pearl Harbor
"The lesson of Pearl Harbor is one of resilience."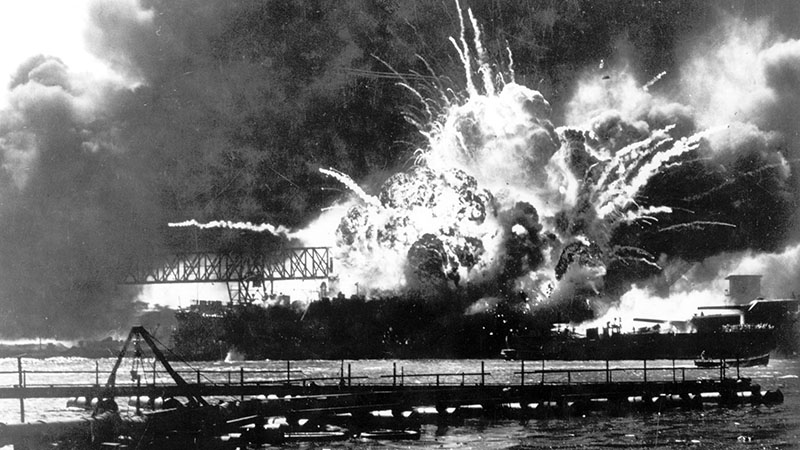 The destroyer USS Shaw explodes after being hit by bombs during the Japanese surprise attack on Pearl Harbor, Hawaii, December 7, 1941. (AP Photo)
It's the date which will forever live in infamy.
"Pearl Harbor, particularly for veterans, is a big day because it was a day that, despite a lot of warnings, we were caught by surprise," Stephen K. Bannon, Chief Strategist to President-elect Trump and Navy veteran, told Breitbart Washington Bureau Editor Matthew Boyle Wednesday.
"America saw what was happening globally but was very hesitant to get into the fight until the fight got brought to their front door on a sneak attack at Pearl Harbor that really devastated the Pacific fleet," Bannon said.
Exactly seventy-five years ago, the Japanese launched a surprise attack on the United States naval base in Hawaii, which left more than 2,400 Americans dead.
The next day, President Franklin Delano Roosevelt addressed Congress.
"I ask that the Congress declare that since the unprovoked and dastardly attack by Japan on Sunday, December 7, 1941, a state of war has existed between the United States and the Japanese Empire," Roosevelt declared on Nov. 8, 1941.
Three days later, Germany declared war on the United States.
"It really did change the course of history," Boyle added. "It dragged the United States into both the Pacific and then a few days later into the European theater of World War II. This day really did change the trajectory of history."
"I think the lesson of Pearl Harbor is one of resilience," Bannon concluded. "It's that the great determination of the American people really turned things around."
Breitbart News Daily airs weekdays at 6 am ET on SiriusXM Patriot (Ch. 125)
Photo Credit: AP
For a free 30-day trial, check out siriusxm.com/freetrial/blog
---
---
---