Stanford Radio Launches on SiriusXM Starting February 11
Two new programs — "The Future of Everything" and "School's In" – hosted by Stanford scholars to premiere on SiriusXM Insight channel 121.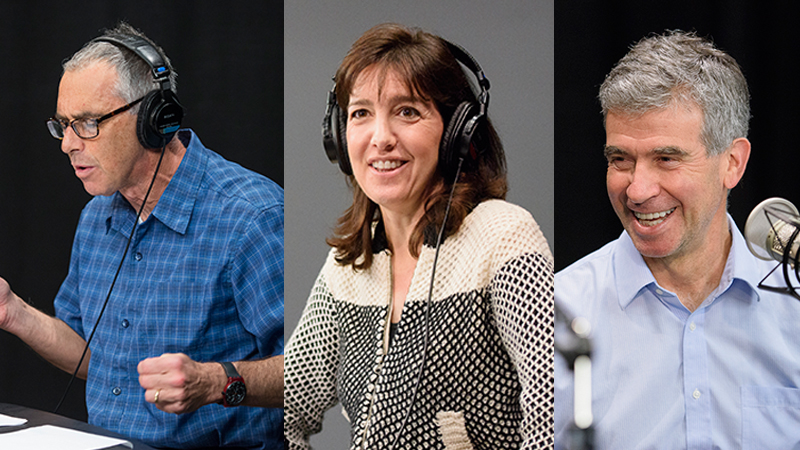 SiriusXM announced the launch of Stanford Radio in collaboration with Stanford University. The joint venture begins with the production of two all-new radio programs, granting subscribers access to the sharpest minds in the fields of technology and education. The weekly shows will debut on SiriusXM Insight channel 121 starting February 11 at 11:00 am ET.
The Future of Everything will be hosted by Stanford Bioengineering Professor Russ Altman, a recipient of the U.S. Presidential Early Career Award for Scientists and Engineers and a National Science Foundation CAREER Award. On his new program the experienced TEDxStanford talk alum will explore how technology, science, and medicine shape our lives in myriad ways – from driverless cars, to cybersecurity, to genetics and health. Offering SiriusXM subscribers a front row seat on innovations from the Stanford School of Engineering, Altman will make the extraordinary both accessible and useful as he delves into "the future of everything."
Students, parents, and teachers all agree that plenty needs to change in the classroom, but what and how? School's In promises to be a must-listen for families navigating an increasingly complex education system, and anyone interested in the state of education in the country. Hosted by Dan Schwartz, Dean of the Graduate School of Education, and Denise Pope, a Senior Lecturer with the Graduate School of Education, the show will explore difficult family topics like how much homework is too much, what technology can and can't do to help kids learn, and countless other topics affecting our youth and their parents.
"We look forward to bringing Stanford expertise and discoveries to the entire nation through this exciting collaboration with SiriusXM," said Stanford President Marc Tessier-Lavigne. "Satellite radio will deliver the insights from Stanford faculty directly to people who can benefit, with compelling topics to help them better understand how universities contribute to their daily lives."
"We're excited to partner with Stanford University and to afford our subscribers insights from the school's storied campus," said Scott Greenstein, President and Chief Content Officer, SiriusXM. "SiriusXM has a proven track record of collaborating with the country's premiere institutions to create truly unique original content that connects listeners with the preeminent experts in their respective fields. Technology and education are two subjects that touch everyone's lives, and Stanford Radio will offer unparalleled and dynamic programming on these all-important topics." 
The two Stanford Radio programs will rotate Saturdays, with The Future of Everything premiering at 11:00 am – 12:00 pm ET on February 11, and School's In taking over the time slot the following Saturday, February 18. Stanford Radio will also replay at 12:00 pm ET every Sunday.
In addition to SiriusXM Insight channel 121, SiriusXM subscribers can hear Stanford Radio via SiriusXM On Demand, through the SiriusXM app on smartphones and other connected devices, as well as online at www.siriusxm.com/player and sxm.stanford.edu. 
This slideshow requires JavaScript.
---
---
---