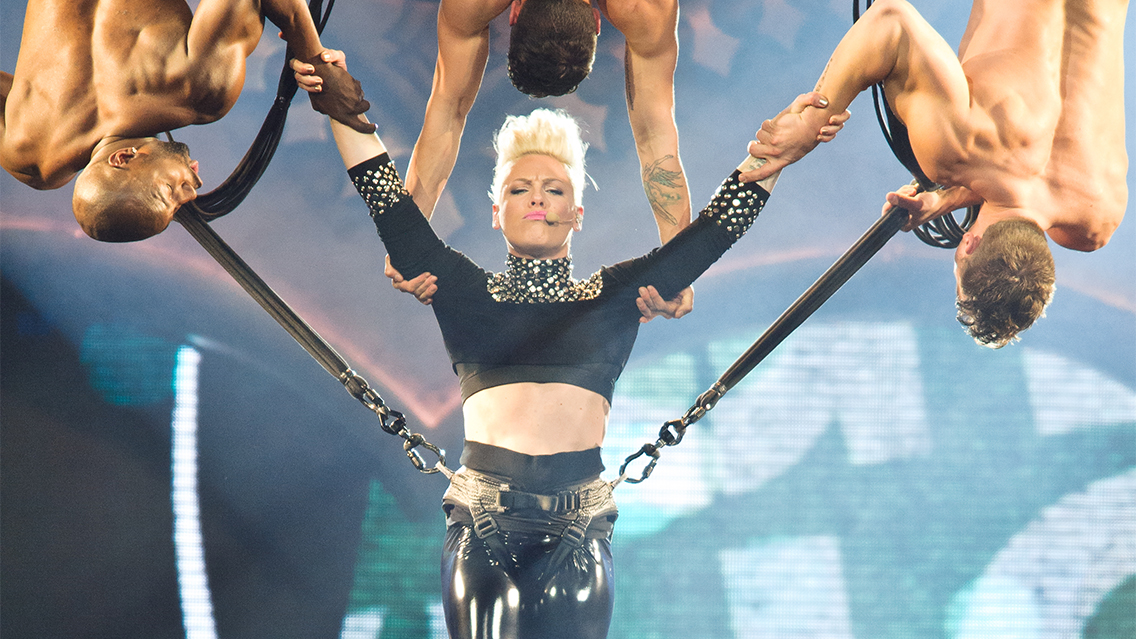 Pink performs "Raise My Glass" during an acrobatic display. (Getty)
New Year's Eve is upon us! It's nearly time to close the curtain on 2022 and see what 2023 has in store. So whether you're having a quiet celebration or dancing like nobody's watching, we've listed some of our favorite songs perfect for ringing in the new year.
Don't forget to check out SiriusXM's annual New Year's Eve celebration as we take a look back at the hits of 2022 and get excited for the new music coming in 2023!
---
"Auld Lang Syne"
Traditionally sung at midnight, "Auld Lang Syne" is a classic way to bid farewell to the year. With lyrics from Robert Burns' 1788 Scots-language poem, this song is a time-honored favorite. Make sure to fully embrace the tradition by linking arms as you sing!
"Happy New Year" – ABBA
Appearing on ABBA's 1980 album Super Trouper, this song enjoyed its own moment of fame when it was briefly released as a single in December of that year. Agnetha Fältskog leads the vocals, which combine a call for a friendlier world with ABBA's signature melancholic reflection. As gentle as it is catchy, "Happy New Year" is a timeless classic.
If this has you looking for a reason to dig out your bell bottoms, head to '70s on 7 (Ch. 7) and get jiving!
"I Wanna Dance with Somebody (Who Loves Me)" – Whitney Houston
What better way to welcome the new year than by dancing your way into it? Whitney Houston's 1987 party hit earned her a Grammy for Best Female Pop Vocal Performance, the singer's second in that category. If you want to start your year off with a challenge, why not have a try at hitting Houston's iconic high notes?
For more throwback hits that'll keep the party going into 2023, check out 80s/90s Pop (Ch. 705)!
"Girls Just Want to Have Fun" – Cyndi Lauper
If you're looking to start off 2023 with a bit of girl power, it's hard to go wrong with Cyndi Lauper's 1983 breakthrough. Now recognized as a feminist anthem, the song was originally written by Robert Hazard from a male perspective. Cyndi altered the lyrics to change the focus and, in doing so, created a floor-filling reminder that sometimes all a girl wants is to have fun!
Tune in to '80s on 8 (Ch. 8) for even more hits from this iconic decade.
"Raise Your Glass" – P!nk
Released in 2010, "Raise Your Glass" is full of P!nk's signature pop-rock energy. The song's release marked a decade since the artist's 2000 debut and is both a reflection and a celebration. Perfect for the end of the year then! Get ready to raise your glass, raise your voice, and raise the vibes for 2023.
If your party needs more pop from the 1990s and 2000s, tune in to Mosaic (Ch. 15) for a throwback pop mix like no other!
"Celebration" – Kool & The Gang
Is there a song more synonymous with partying than this? Released in 1980, this post-disco classic was the band's first and only single to reach No. 1 on the US Billboard Top 100. In 2021, the song's iconic status was cemented when it was selected by the Library of Congress for preservation in the National Recording Registry for being "culturally historically or aesthetically significant."
Be sure to keep the party going with Celebrate! (Ch. 718), the perfect place to find a mix of fun party classics!
"This Will Be Our Year" – The Zombies
Some songs never get old, and this 1968 release is proof! With a catchy melody, a laid-back vibe, and a positive message, "This Will Be Our Year" is the perfect way to carry motivation over into 2023.
For more rock from the '60s and '70s, tune in to Classic Vinyl (Ch. 26).
"The Final Countdown" – Europe
The countdown to midnight is the biggest moment of the night, and it's important to start the new year with a bang. Enter Europe's 1986 hit "The Final Countdown." Originally intended to generate excitement as a concert opener, the song was an instant success upon release, reaching No. 1 in 25 countries. Its enduring popularity is evidenced by the one billion YouTube views boasted by its music video. If you're looking for the perfect song to end the night, look no further!
---
Feeling ready to take on the new year? Make sure to check out our NYE celebrations over on SiriusXM and discover even more celebratory favorites on the SiriusXM app.
---
---
---