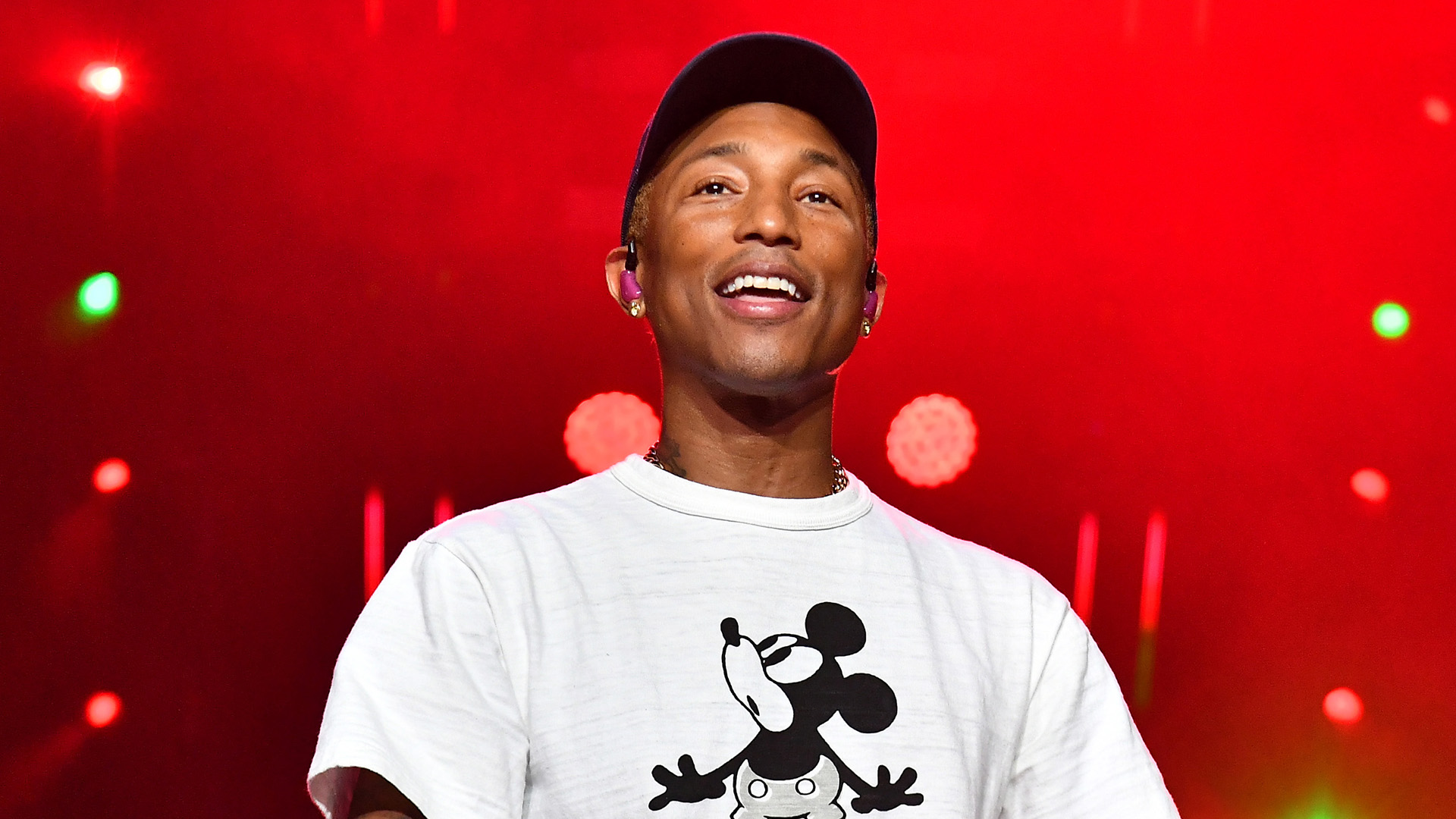 Photo by Paras Griffin/Getty Images
Feeling particularly bold and impulsive lately? That's probably because Aries season (March 20 – April 19) is in full swing!
As the first and youngest sign of the zodiac, those born under the Aries sign are all about beginnings, individuality, and passion. As the cardinal fire sign, heat exudes from everything they do, and some might see them as overly assertive and bossy. That doesn't matter to Arians, though — they're all about telling it like it is and doing things their own way!
It's no surprise, then, that some of the biggest and boldest musicians out there fall under the sign of the ram. Mariah Carey, Elton John, Diana Ross, Lil Nas X, and Lady Gaga are all Aries, and it shows in their exuberant personalities and high-energy performances.
We've compiled a fiery playlist to celebrate all things Aries! For even more Aries energy, check out our full list of music channels.
---
"Happy" — Pharrell Williams
Let's kick things off with an infectious banger from a fellow Aries musician! This neo-soul hit from 2013 is pure positivity, and it's impossible not to groove along to its catchy rhythm. Most of all though, it's completely unapologetic — just like most Aries. Pharrell sings, "can't nothing, bring me down, my level's too high to bring me down," and if that doesn't scream individuality and high-energy self-love then we don't know what does.
Looking for more feel-good hits from the 2010s? Make sure to check out The 10s Spot (Ch. 11).
"Good as Hell" — Lizzo
Flowing from one feel-good bop to another, this track is bursting with Aries vibes. In love, those born under Aries are super loyal. However, if they feel slighted, they're certainly not going to hang around! Letting go of your baggage and moving on is what Lizzo's 2019 anthem preaches: "If he don't love you anymore, just walk your fine ass out the door." It's all about being bold, reclaiming your independence, and delivering girl-boss energy. If you ever need that boost to fully feel your Aries oats, this is the song to blast.
For the freshest pop, hip-hop, rock, country, and more, including songs perfect for Aries season, tune into Hits 1 (Ch. 2).
"It's My Life" — Bon Jovi
If you're an Aries, then one trait you value most is your individuality. You "ain't gonna be just a face in the crowd," you're going to proudly state who you are and stand up for what you believe in. That's certainly the vibe Bon Jovi brought with their 2000 smash-hit "It's My Life." There's a sense of impulsiveness that radiates through the song, encouraging you to live by your own rules. This extends to the music video which sees protagonist Tommy throwing himself into increasingly dangerous situations in order to join Gina at a Bon Jovi concert. Factor in the chorus which references Frank Sinatra — "Like Frankie said, 'I did it my way'" — and you've got a throwback bop that speaks volumes about what being an Aries is all about.
Listen to Hair Nation (Ch. 39) for more from the masters of 80s hard rock, and if you need more Bon Jovi in your life, head over to Bon Jovi Radio (Ch. 709).
"Girl on Fire" — Alicia Keys
As the first fire sign of the zodiac, Aries burns the brightest. Like phoenixes rising from the ashes, people born under this sign value new beginnings and fresh starts. Sometimes they want to tear everything down and start anew, or even just escape into a daydream, and there's no better song to express that feeling than Alicia Keys' iconic ballad "Girl on Fire." Alicia's incredible vocals carry this hit to new heights as she expresses her desire to fly away, but instead uses the spark within her to keep moving forward. It's all Aries all the way. It also reminds us that if you can tame that inner fire, then you can change the world.
For the hottest R&B hits going, tune in to The Heat (Ch. 46).
"Titanium" — David Guetta ft. Sia
Anyone who knows an Aries knows that when they set their mind to something, they're unstoppable. Their determination is sometimes considered a negative, but secretly we all know it's their greatest strength. This David Guetta dance anthem captures that essence of willpower in so many ways. The beat is peak Aries energy, while Sia's vocals speak to the motivation and conviction that we all wish we had. "I'm criticized, but all your bullets ricochet, shoot me down, but I get up" she cries, and so do we! Many of us wish we could be titanium too, but in truth, only Aries know what it's like to have that resilience 24/7.
If you're looking to party with the biggest names in dance and electro, then BPM (Ch. 51) is the channel for you!
---
To discover more songs for Aries season, as well as music to fit every sign of the zodiac, listen to SiriusXM or check out our channel guide!
---
---
---