Snoop Dogg tells Heather B about smoking weed in the White House
Snoop Dogg got real with SiriusXM FLY's Heather B. about his sneakiest smoke sesh.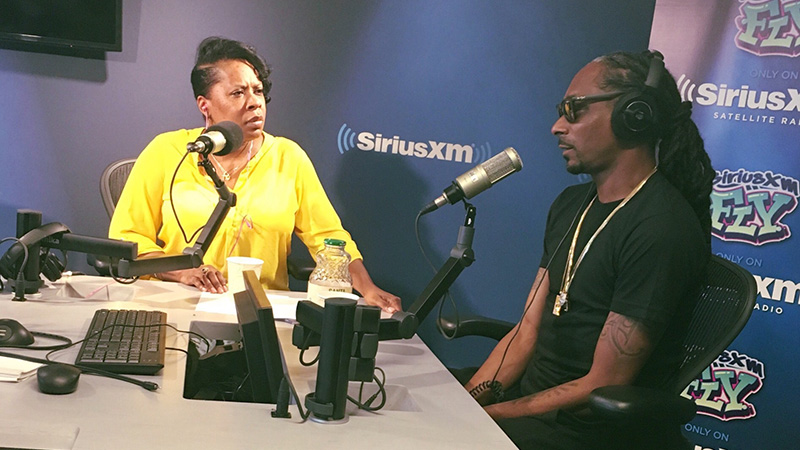 It's all family when Snoop Dogg is in the building. On Thursday, August 11, hip-hop's favorite uncle sat down for a homemade drink and a chat with Heather B on her SiriusXM FLY (Ch. 47) show, The Happy Hour with Heather B. As it was Happy Hour, the two sipped on some gin and (ginger) juice (concocted by host-mixologist Heather B.) while catching up on what's happened in Snoop's life and career since their epic freestyle duet a few years back.
What's the Doggfather living for these days? His one-year-old grandson, Zion.
"I am so happy to be a grandfather. I have the time of my life with my grandson," he said about his eldest son Cordé's first child, Zion. "He is a ball of joy. I want to grow into that cool grandfather that hangs out with his grandson."
The topic naturally turned to one of Snoop Dogg's other passions in life: marijuana.
Although he respected the building's no-smoking rule, citing his affinity for SiriusXM, he mentioned his plans for after the interview, saying, "I got somebody downstairs in the van, he rollin' up right now."
So if you can't smoke at SiriusXM studios, what's the second-best spot? The White House.
Hear him tell the story:
You can listen to full interview on the go at www.siriusxm.com/ondemand
Snoop also took some time out to drop some knowledge on us. Find out what he believes is the key to a long, successful life.
You can catch The Happy Hour with Heather B weeknights from 6 p.m. to midnight ET on SiriusXM FLY!
For a free 30-day trial, check out http://www.siriusxm.com/freetrial/blog
---
---
---