Snoop Dogg surprises En Vogue during SiriusXM studio session: 'Y'all music for Hold On got me my deal with Dr. Dre'
When legends are in the SiriusXM building, amazing things can happen. This week, SiriusXM FLY (Ch. 47) went West Coast as Heather B sat down with hip-hop's favorite uncle and the Real Funky Divas, that is, Snoop Dogg and En Vogue. … Continued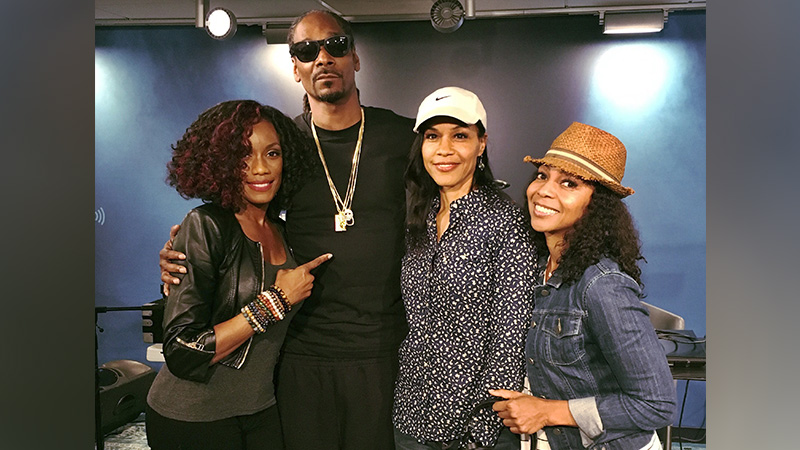 When legends are in the SiriusXM building, amazing things can happen. This week, SiriusXM FLY (Ch. 47) went West Coast as Heather B sat down with hip-hop's favorite uncle and the Real Funky Divas, that is, Snoop Dogg and En Vogue.
As Snoop was leaving the studios, he overheard the soulful crooning of En Vogue during their soundcheck. Clearly moved by the music, he made his way into the sound room where he danced along to the remainder of their performance. Once they finished, he surprised them in the studio with some news about the connection he had to their debut single.
"Y'all music for Hold On got me my deal with Dr. Dre," he told them.
"Shut up!" Terry Ellis responded.
"I swear to god. I had a song called Gangster's Life, and Warren G had played it for him, and it was off the instrumental to 'Hold On,' and that was my connection to Dr. Dre, that song right there. Lord have mercy, Jesus. For real."
But then the real magic happened. Snoop complimented the women on the song they were performing and asked about the potential to collaborate. Whether it was the amazing backstory Snoop had just shared or just a once-in-a-career opportunity, the women of En Vogue enthusiastically agreed. Since all of the artists are based in Los Angeles, they traded information on the spot and  made plans to collaborate on a song soon.
Check out their interaction above and keep an eye out for the impending collaboration. We'll be the first to let you know about it!
En Vogue is on tour now and their next album, Electric Café, is due out this year. If you're not familiar with the classic 1990 song Hold On, this music video is essential watching. Hear Snoop Dogg's demo that samples part of the track.
Snoop Dogg's new album Coolaid is out now. *PLUS* SiriusXM has your chance to win a trip for two to see Snoop Dogg and Wiz Khalifa live on The High Road Tour in Chula Vista, California. No purchase necessary. For more info, go to siriusxm.com/snoopandwiz.
The Happy Hour with Heather B airs weeknights from 6 pm to midnight ET on SiriusXM FLY. 
For a free 30-day trial, check out http://www.siriusxm.com/freetrial/blog
---
---
---