The story behind the iconic Sgt. Pepper cover art
"In my mind, I was making a piece of art, not an album sleeve." Celebrate the 50th anniversary of Sgt. Pepper's Lonely Hearts Club Band on The Beatles Channel (Ch. 18)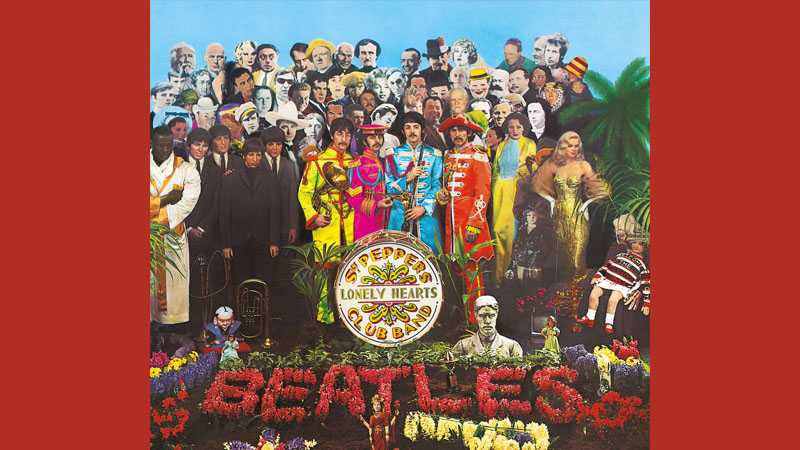 As Sgt. Pepper's Lonely Hearts Club Band celebrates its 50th anniversary, we're honoring every aspect of the seminal album.
Tune in to The Beatles Channel (Ch. 18) on June 1 to hear the album's new Anniversary Edition stereo mix in its entirety, plus special commentary by the album's original producer, the late George Martin, and by his son, Giles Martin, who produced the album's new stereo and 5.1 surround mixes from The Beatles' session tapes.
The celebration continues throughout the weekend with "Sgt. Pepper Forever," a new two-hour documentary special written and produced by Beatles historian Kevin Howlett in the UK. Hosted by Martin Freeman, the special reveals the revolutionary studio techniques used during the remarkable recording sessions dating from November 1966 to April 1967. It also examines the album's huge impact on the history of music. Featuring interviews with Paul, George, Ringo and Beatles producer George Martin, "Sgt. Pepper Forever" airs Friday, June 2 at 1 pm and 8 pm ET; Saturday, June 3 at Noon ET; and Sunday, June 4 at 10 pm ET.
Also, be sure to check out "Sgt. Pepper's Musical Revolution," a new documentary special that will premiere Saturday, June 3 at 8 pm ET on PBS channels across the country. Check your local listings for airtimes.
In addition to the musical celebration, we're dissecting the album's iconic cover art.
Check out nine fab facts excerpted from The Cover Story, an in-depth essay written by Kevin Howlett about the incredible design. The full piece appears in the book that accompanies the upcoming Sgt. Pepper's Lonely Hearts Club Band Anniversary Super Deluxe Edition.
---
The figures standing behind Sgt. Pepper and his Band would be 'a magical crowd' made up of people whom the group admired. Secondly, the image would not be produced as a two-dimensional picture; rather more ambitiously, a 'staged' collage was to be constructed into which The Beatles could enter. The group would then be photographed surrounded by life-size cutout images of the chosen 'lovely audience'. John, Paul, George, Robert Fraser, Peter Blake and Jann Haworth compiled lists of people they wished to see on the bandstand. Peter Blake recalled that, 'Ringo said, "Whatever the others say is fine by me."'


---

John's list included Jesus and Adolf Hitler. Only a matter of months after the religious controversy sparked in America by John's remark that The Beatles were 'more popular than Jesus now', it was deemed safer not to include that particular choice. However, Hitler – most probably on his list as a joke – did make it as far as having a cutout prepared for the photo shoot, but it was omitted from the final picture. More seriously, John paid tribute to his art school friend Stuart Sutcliffe, who had for a time been The Beatles' bass player. The talented painter had died tragically young in 1962. Not surprisingly, Lewis Carroll, the author ofAlice In Wonderland, was included along with writers Edgar Allan Poe – later to be mentioned in 'I Am The Walrus' – and Oscar Wilde. On a more arcane level, John remembered Albert Stubbins – a high-scoring Liverpool soccer player from 1946 to 1953.


---

Paul's selection of heroes reflected his current artistic interests, as well as favourites from the past. Contemporary Beat poet William Burroughs and avant-garde composer Karlheinz Stockhausen were listed alongside Hollywood's great song and dance man Fred Astaire. A decade after its publication, a memoir calledThe Doors Of Perceptionby Aldous Huxley had become associated with the prevailing interest in psychedelia and hallucinogenic drugs. The author, best known for his novel Brave New World, appeared on Paul's list. 'It was about time we let out the fact that we liked Aldous Huxley. That wasn't the sort of thing we'd talked about before. No one had ever asked us in an interview!'


---

George's contenders for the cover included Bob Dylan, American comedian Lenny Bruce and Swiss psychiatrist Carl Jung. Reflecting his deep immersion in Indian culture and spirituality, he also chose Mahatma Gandhi and several Yogis. One of them, Swami Paramahansa Yogananda, was the author ofAutobiography Of A Yogi– the deeply influential book Ravi Shankar had given George early on in their friendship.


---

The chairman of EMI, Sir Joseph Lockwood, was insistent about the necessity to remove Gandhi from the sleeve. He visited Paul at his home to explain why. 'I said, "Why not? We're revering him." – "Oh, no, no. It might be taken the wrong way. He's rather sacred in India, you know." So Gandhi had to go.' He was painted out by adding extra palm leaves on the right of the cover.


---

Shirley Temple Black asked to see the cover and HEAR the record in advance (she was told that would be impossible), and also to receive autographed cover for her children'.


---

Hollywood femme fatale Mae West had initially withheld consent on the grounds that she could never be a member of a 'Lonely Hearts Club', but was eventually persuaded to sign up.


---

Only one person made permission conditional on receiving a fee. Consequently, actor Leo Gorcey – known for his roles in movies about Dead End Kids, East Side Kids and Bowery Boys – was also painted out.


---

Contrary to legend, there is not a row of marijuana plants above BEATLES. Appropriately, they are Peperomia plants.


---
---
---
---